Gastro Intestinal
Complete dietetic feed for cats.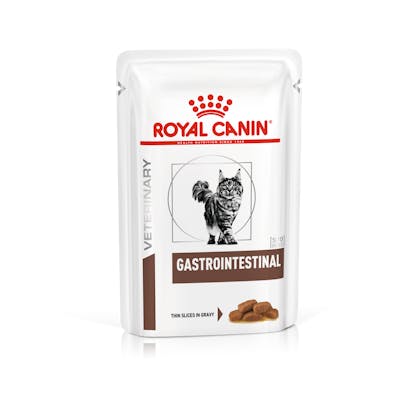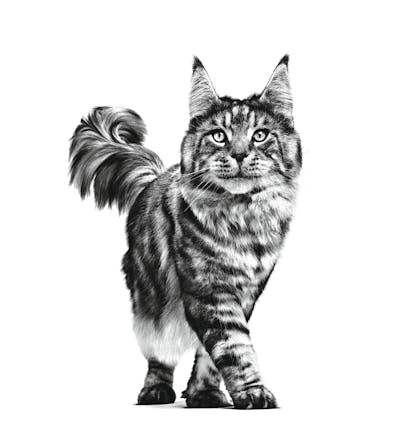 Digestive support

A highly digestible formula with balanced fibres, including prebiotics, to support a healthy digestion and transit.

High energy

A high energy content to reduce meal volume and decrease intestinal load.

High palatability

High palatability to satisfy decreased appetites.

S/O INDEX

This diet creates a urinary environment unfavourable forthe development of struvite and calcium oxalate uroliths.

ROYAL CANIN® Gastrointestinal thin slices in gravy is a complete dietetic feed for cats, formulated to help reduce acute intestinal absorptive disorders, and promote nutritional restoration and convalescence.  Highly digestible ingredients. Increased level of electrolytes and high concentration of essential nutrients.
Composition: meat and animal derivatives, cereals, oils and fats, derivatives of vegetable origin, minerals, yeasts, various sugars. Highly digestible ingredients: chicken and pork by-products, maize flour, corn starch mixture.

Additives (per kg): Nutritional additives: Vitamin D3: 330 IU, Iron (3b103): 7 mg, Iodine (3b202): 0.4 mg, Copper (3b405, 3b406): 3.3 mg, Manganese (3b502, 3b503, 3b504): 2.2 mg, Zinc (3b603, 3b605, 3b606): 22 mg - Technological additives: Clinoptilolite of sedimentary origin: 2 g.

Analytical constituants: Protein: 8.0% - Fat content: 5.6% - Crude ash: 1.8% - Crude fibres: 0.24% - Moisture: 80.0% - Sodium: 0.12% - Potassium: 0.18% - Fatty acids: w3: 0.21% - w6: 1.4% - Metabolisable Energy: 955.0 kcal/kg.

For RSA: Guaranteed analysis g/kg: Crude protein (min) 60 - Moisture (max) 830 - Crude fat (min) 36 - Crude fibre (max) 12 - Crude ash (max) 20.

Feeding instructions: see table. Batch number, factory registration number and best before date: see information on packaging. To be stored in a cool, dry place.​

| | Thin | | Normal | | Overweight | |
| --- | --- | --- | --- | --- | --- | --- |
| Cat's weight (kg) | g | pouch | g | pouch | g | pouch |
| 2 | 150 | 2 | 125 | 1+1/2 | 100 | 1 |
| 2,5 | 175 | 2 | 145 | 1+1/2 | 115 | 1+1/2 |
| 3 | 195 | 2+1/2 | 165 | 2 | 130 | 1+1/2 |
| 3,5 | 220 | 2+1/2 | 185 | 2 | 145 | 1+1/2 |
| 4 | 240 | 3 | 200 | 2+1/2 | 160 | 2 |
| 4,5 | 265 | 3 | 220 | 2+1/2 | 175 | 2 |
| 5 | 285 | 3+1/2 | 235 | 3 | 190 | 2 |
| 5,5 | 305 | 3+1/2 | 255 | 3 | 200 | 2+1/2 |
| 6 | 320 | 4 | 270 | 3 | 215 | 2+1/2 |
| 6,5 | 340 | 4 | 285 | 3+1/2 | 225 | 2+1/2 |
| 7 | 360 | 4 | 300 | 3+1/2 | 240 | 3 |
| 7,5 | 380 | 4+1/2 | 315 | 3+1/2 | 250 | 3 |
| 8 | 395 | 4+1/2 | 330 | 4 | 265 | 3 |
| 8,5 | 415 | 5 | 345 | 4 | 275 | 3 |
| 9 | 430 | 5 | 360 | 4 | 285 | 3+1/2 |
| 9,5 | 445 | 5 | 375 | 4+1/2 | 300 | 3+1/2 |
| 10 | 465 | 5+1/2 | 385 | 4+1/2 | 310 | 3+1/2 |