Sensitivity Control Chicken with Rice Pouch
ROYAL CANIN® Sensitivity control Chicken with Rice thin slices in gravy is a complete dietetic feed for cats formulated to reduce ingredient and nutrient intolerances.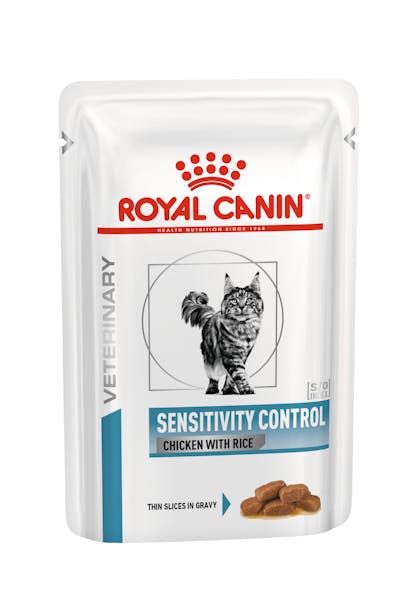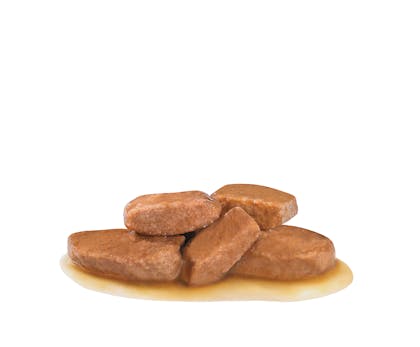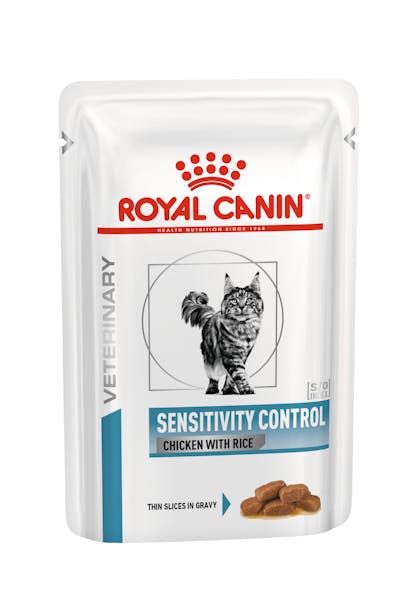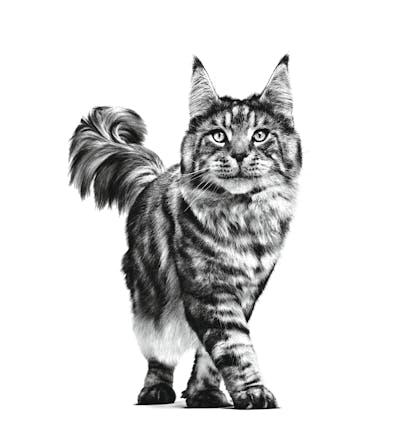 Skin Barrier

Formulated to support the skin's natural protective barrier for optimal health.

EPA/DHA

Fatty acids to help maintain a healthy digestive system and a healthy skin.

Selected Proteins

Limiting the number of protein sources may help reduce the risk of food allergies.

Digestive Health

Adapted nutrients to support a balanced digestive system.

Sensitivity control is a scientifically formulated diet with selected proteins for the management of food intolerance, food allergy and gastrointestinal sensitivity. Sensitivity Control diets are useful as non-specific supportive diets for patients with gastrointestinal or dermatological disease. They are frequently used as a convenient, complete and balanced alternative to 'bland' home-cooked chicken and rice diets.Recommended for (indications): Food hypersensitivity with dermatological and/or gastrointestinal signs, food intolerance (e.g. lactose intolerance in cats), idiopathic chronic colitis, acute or chronic diarrhoea. Not recommended for (contraindications): Pregnancy, lactation and growth.
Composition: Meat and animal derivatives, cereals, oils and fats, derivatives of vegetable origin, minerals, various sugars. Selected source of protein: chicken (38%). Selected source of carbohydrate: rice (4%).

Additives (per kg): Nutritional additives: Vitamin D3: 350 IU, E1 (Iron): 11 mg, E2 (Iodine): 0.4 mg, E4 (Copper): 3.5 mg, E5 (Manganese): 3.3 mg, E6 (Zinc): 33 mg - Technological additives: Clinoptilolite of sedimentary origin: 0.45 g.

Analytical constituants: Protein: 7.1% - Fat content: 6.1% - Crude ash: 1.5% - Crude fibres: 0.9% - Moisture: 79.6% - Essential fatty acids (Linoleic acid - Arachidonic acid): 1.76% - EPA and DHA: 0.12%.

| | Thin | Thin | Normal | Normal | Overweight | Overweight |
| --- | --- | --- | --- | --- | --- | --- |
| | grams | pouch | grams | pouch | grams | pouch |
| 2kg | 145g | 1 + 1/2 | 125g | 1 + 1/2 | 100g | 1 |
| 3kg | 195g | 2 + 1/2 | 165g | 2 | 130g | 1 + 1/2 |
| 4kg | 240g | 3 | 200g | 2 + 1/2 | 160g | 2 |
| 5kg | 285g | 3 + 1/2 | 235g | 3 | 190g | 2 |
| 6kg | 320g | 4 | 270g | 3 | 215g | 2 + 1/2 |
| 7kg | 360g | 4 | 300g | 3 + 1/2 | 240g | 3 |
| 8kg | 395g | 4 + 1/2 | 330g | 4 | 265g | 3 |
| 9kg | 430g | 5 | 360g | 4 | 285g | 3 + 1/2 |
| 10kg | 465g | 5 + 1/2 | 385g | 4 + 1/2 | 310g | 3 + 1/2 |