Renal Canine Wet
RENAL is a complete dietetic feed for dogs formulatedto support renal function in the case of chronic or temporary renal insufficiency, through its low level of phosphorus and high quality protein.Recommended for (indications):-Chronic kidney disease (CKD)Not recommended for (contraindications):-Pregnancy, lactation, growth-Pancreatitis or history of pancreatitis-HyperlipidaemiaFeeding Advice: It is recommended that a veterinarian's opinion be sought before use or before extending the period of use. Initially feed RENAL for up to 6 months in cases of chronic renal insufficiency . For cases of temporary renal insufficiency a period of 2 to 4 weeks feeding is recommended.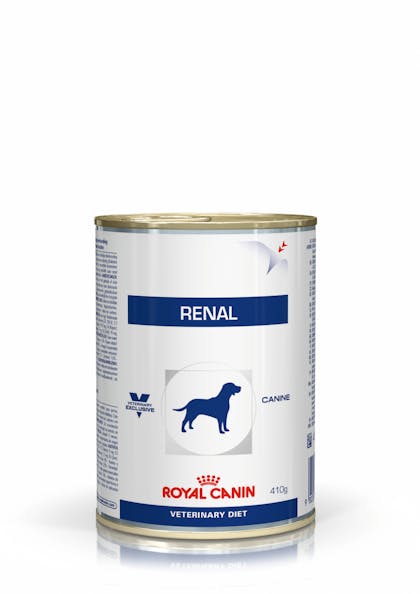 CKD dietary management

Formulated to support renal function in case of chronic kidney disease. Contains EPA and DHA, a complex of antioxidants and a low phosphorus level.

Reduces renal workload

Increased kidney workload may induce uremic crisis. An adapted content of high quality protein helps reduce kidney workload.

Metabolic equilibrium

Chronic kidney disease can lead to metabolic acidosis. Formulated with alkalinizing agents.

Appetite preference

Designed aromatic profile helps answer to dog's specific preference.
Composition: Rice, pork meats, chicken meats, sunflower oil, corn flour, minerals (including calcium carbonate, potassium citrate, zeolite), cellulose, fish oil, cassia gum, sugar beet pulp, carrageenan, taurine, Fructo-Oligo-Saccharides (FOS), marigold meal (rich in lutein), methionine, trace elements (including chelated trace elements), vitamins. Additives (per kg): Nutritional additives: vitaminD3: 250 IU, E1 (Iron): 14 mg, E2 (Iodine): 0.53 mg, E4 (Copper): 4.2 mg, E5 (Manganese): 4.3 mg, E6 (Zinc): 43 mg - Technological additives: Cassia gum: 4 g, Clinoptilolite of sedimentary origin: 0.4 g. Analytical constituents: Protein: 5.4% - Fat content: 9% - Crude ash: 1.3% - Crude fiber: 1.2% - Moisture: 66% - Calcium: 0.17% - Phosphorus: 0.11% - Potassium: 0.22% - Sodium: 0.08%- Essential fatty acids: 3% - EPA and DHA: 0.15%. Urine alkalinazing substances: calcium carbonate - potassium citrate. Metabolisable energy: 158.4 Kcal.

Can 410g
-
-
-
Dog's Weight (Kg)
LEAN
-
NORMAL
-
OVERWEIGHT
(g / day)
Can / day
(g / day)
Can / day
(g / day)
Can / day
2
125
1/4
110
1/4
95
1/4
3
170
1/2
149
1/4
129
1/4
4
210
1/2
185
1/2
160
1/2
5
249
1/2
219
1/2
189
1/2
6
285
3/4
251
1/2
217
1/2
7
320
3/4
282
3/4
243
1/2
8
354
3/4
311
3/4
269
3/4
9
387
1
340
3/4
294
3/4
10
418
1
368
1
318
3/4
15
567
1 1/2
499
1 1/4
431
1
20
704
1 3/4
619
1 1/2
535
1 1/4
25
832
2
732
1 3/4
632
1 1/2
30
954
2 1/4
839
2
725
1 3/4
35
1 071
2 1/2
942
2 1/4
814
2
40
1 183
3
1 041
2 1/2
899
2 1/4
MIXED FEEDING Daily ration with Renal Dry Range (can 410g)
-
-
-
Dog's Weight (Kg)
-
LEAN
NORMAL
OVERWEIGHT
-
CAN (410g) +
(g ) DRY
(g ) DRY
(g ) DRY
-
2
1/4
10
3
-
4
1/4
46
35
24
-
6
1/4
78
63
49
-
8
1/4
107
89
71
-
10
1/2
91
69
48
-
15
1/2
154
125
96
-
20
1/2
212
176
140
-
25
1
179
137
94
-
30
1
231
182
134
-
35
1
280
226
171
-
40
1
328
268
208
-
50
1
419
348
277
-
60
1
506
425
343
-
70
1
590
498
407
-
80
1
670
569
468
-