Multifunction Urinary + Hypoallergenic (S/O - AFR)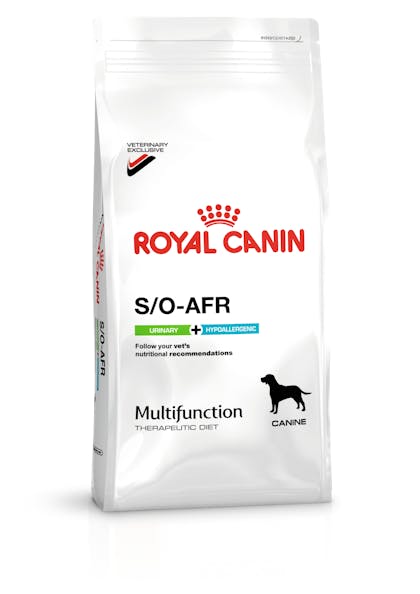 Hydrolysed protein

Hydrolysed protein with low molecular weight to help ensure very low allergenic potential.

Skin barrier

An exclusive complex to support the barrier effect of the skin.

Urine dilution

Urine dilution makes the urine less liable to form struvite and calcium oxalate stones.

Low RSS

Helps lower the concentration of ions contributing to struvite and oxalate crystal formation.
Working towards a sustainable future
Our belief that pets make our world better inspires and gives life to our purpose of making a better A BETTER WORLD FOR PETS ™
Discover more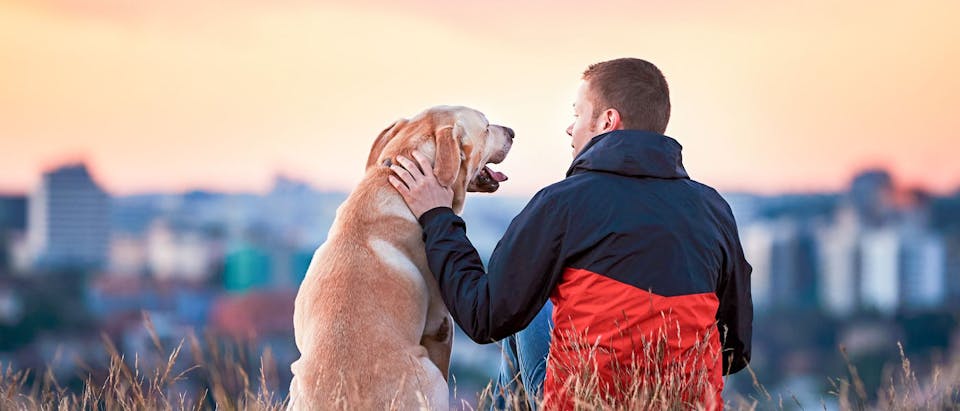 ROYAL CANIN® Multifunction Urinary + Hypoallergenic (S/O - AFR) - Complete dietetic feed for dogs. Formulated to reduce ingredient and nutrient intolerances. Selected sources of protein and carbohydrate. Also formulated dissolve struvite stones and reducing their recu

ROYAL CANIN® Multifunction Urinary + Hypoallergenic (S/O - AFR) - Complete dietetic feed for dogs. Formulated to reduce ingredient and nutrient intolerances. Selected sources of protein and carbohydrate. Also formulated dissolve struvite stones and reducing their recurrence throughits urine acidifying properties, its low level of magnesium and its restricted level of protein but of high quality. See table for batch number, factory registration number and best before date: see information on packaging. Follow your veterinarian's nutritional recommendations. To be stored in a cool, dry place.

COMPOSITION: Rice, hydrolysed soya protein isolate, animal fats, minerals, chicory pulp, soya oil, vegetable fibres, fish oil, fructo-oligo-saccharides, fatty acid salt, borage oil, marigold extract (source of lutein). Protein source: hydrolysed soya protein isolate. Carbohydrate source: rice.

ANALYTICAL CONSTITUENTS: Protein: 20.0% - Fat content: 15.0% - Crude ash: 8.3% - Crude fibres: 2.4% - Calcium: 0.5% - Phosphorus: 0.5% - Sodium: 1.3% - Magnesium: 0.04% - Potassium: 0.8% - Chloride: 1.96% - Sulphur: 0.6% - Urine acidifying substances: Calcium sulphate: 1.5% , DL- methionine: 0.14% - Essential fatty acids (linoleic acid): 33.6g/kg.

FEEDING INSTRUCTION: see table.Water should be available at all times. Batch number, factory registration number and best before date: see information on packaging. To be stored in a cool, dry place.

Dog's weight
thin
-
normal
-
overweight
grams
cups
grams
cups
grams
cups
2kg
57
5/8
50
5/8
43
4/8
4kg
95
1 + 1/8
84
1
72
6/8
6kg
129
1 + 4/8
113
1 + 2/8
98
1 + 1/8
8kg
160
1 + 6/8
141
1 + 5/8
122
1 + 3/8
10kg
189
2 + 1/8
166
1 + 7/8
144
1 + 5/8
15kg
256
2 + 7/8
226
2 + 4/8
195
2 + 2/8
20kg
318
3 + 5/8
280
3 + 1/8
242
2 + 6/8
25kg
376
4 + 2/8
331
3 + 6/8
286
3 + 2/8
30kg
431
4 + 7/8
379
4 + 2/8
328
3 + 6/8
35kg
484
5 + 4/8
426
4 + 6/8
368
4 + 1/8
40kg
535
6
471
5 + 2/8
407
4 + 5/8
50kg
633
7 + 1/8
557
6 + 2/8
481
5 + 3/8
60kg
527
8 + 1/8
638
7 + 1/8
551
6 + 2/8
70kg
592
9 + 1/8
716
8 + 1/8
619
7
80kg
654
10 + 1/8
792
8 + 7/8
684
7 + 6/8