Professional Babydog Milk- Milk Replacer for Puppies
Steady growth
Promotes Healthy Digestion
Easy Preparation
Promotes Cognitive Function
100% Complete and Balanced Nutrition
100% Satisfaction Guaranteed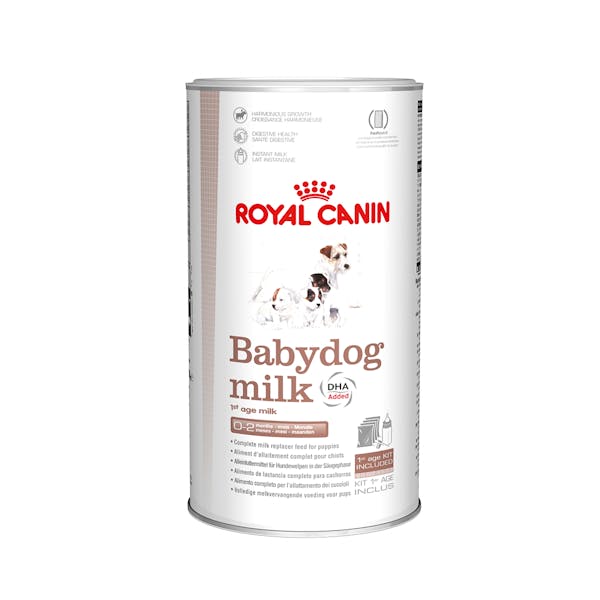 Benefits
HARMONIOUS GROWTH
For steady, harmonious growth, the composition of Babydog milk is the closest possible to the mother's milk, with high energy and protein levels.

DIGESTIVE SAFETY
Babydog milk contains carefully selected highly digestible proteins and has a lactose content very similar to maternal milk. It is particularly suitable for the puppy's digestive system because it does not contain starch (puppies do not secrete enough amylase to digest starch). Finally, the addition of Fructooligosaccharides (FOS) helps maintain a healthy balance of digestive flora.

EASY TO PREPARE
Thanks to its exclusive formula, Babydog milk dissolves instantly and completely with no sediment, creating a totally homogenous formula.

DHA ENRICHED
The puppy's nervous system continues to develop after birth. DHA naturally present in maternal milk helps develop cognitive function. Babydog milk is enriched with DHA.

Milk proteins, animal fats, whey protein, soya oil, copra oil, fish oil (source of DHA), minerals, fructo-oligosaccharides, flavour.

This diet contains 5135 kilocalories of metabolizable energy (ME) per kilogram.

Recommended Daily Feeding Portion for SMALL (1-22 lb) (1-10 kg)

Age
Number of meals/day
Reconstituted milk/puppy/meal
Milk powder (in measuring spoon)
Min
Max
Min
Max
Week 1
8 meals
3 ml
10 ml
2/10
5/10
Week 2
5 meals
10 ml
30 ml
5/10
1 5/10
Week 3
4 meals
20 ml
50 ml
1
2 5/10
Week 4
4 meals
25 ml
60 ml
1 3/10
3

Recommended Daily Feeding Portion for the MEDIUM (22-55 lb) (10-25 kg)

Age
Number of meals/day
Reconstituted milk/puppy/meal
Milk powder (in measuring spoon)
Min
Max
Min
Max
Week 1
8 meals
5 ml
20 ml
3/10
1
Week 2
5 meals
15 ml
50 ml
8/10
2 5/10
Week 3
4 meals
35 ml
90 ml
1 8/10
4 5/10
Week 4
4 meals
45 ml
125 ml
2 3/10
6 3/10

Recommended Daily Feeding Portion for LARGE (55-99 lb) (25-45 kg)

Age
Number of meals/day
Reconstituted milk/puppy/meal
Milk powder (in measuring spoon)
Min
Max
Min
Max
Week 1
8 meals
10 ml
25 ml
5/10
1 3/10
Week 2
5 meals
30 ml
70 ml
1 5/10
3 5/10
Week 3
4 meals
60 ml
120 ml
3
6
Week 4
4 meals
80 ml
170 ml
4 5/10
8 5/10

Recommended Daily Feeding Portion for the GIANT (>99 lb) (>45 kg)

Age
Number of meals/day
Reconstituted milk/puppy/meal
Milk powder (in measuring spoon)
Min
Max
Min
Max
Week 1
8 meals
15 ml
35 ml
8/10
1 8/10
Week 2
5 meals
40 ml
80 ml
2
4
Week 3
4 meals
85 ml
120 ml
4 3/10
6 3/10
Week 4
4 meals
120 ml
190 ml
6
9 5/10

| | | | | | | |
| --- | --- | --- | --- | --- | --- | --- |
| Crude Protein (min) | 31.0% Crude Fat (min) | 37.0% Crude Fiber (max) | 0.5% Moisture (max) | 5.0% Omega 6 (min) | 2.4% Omega 3 (min) | 0.2% EPA+DHA 0.15% |