Small Puppy Dry Dog Food
SMALL Puppy is designed to meet the specific needs of small breed puppies with an adult target weight between 9 and 22 lb, up to 10 months of age.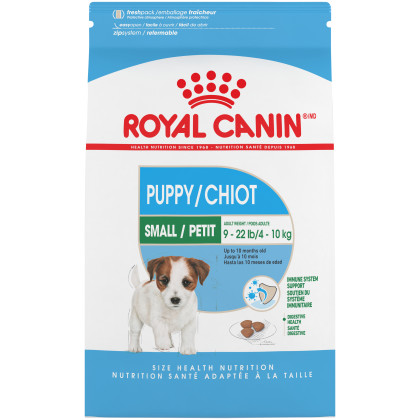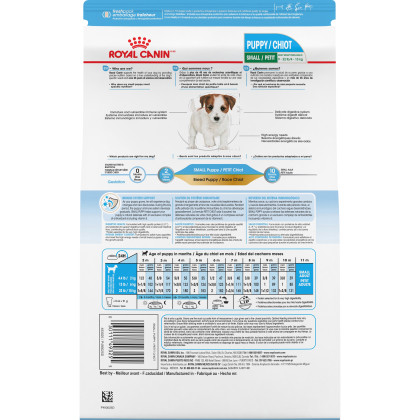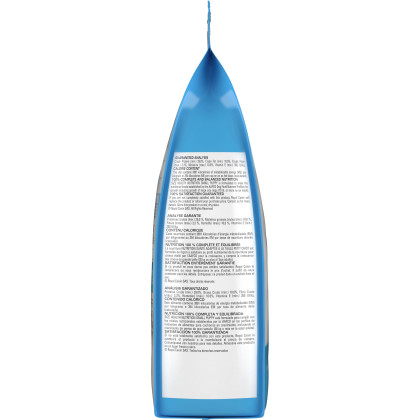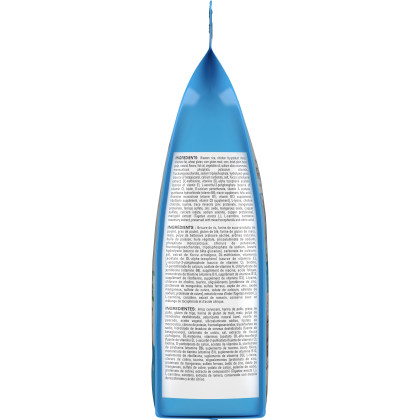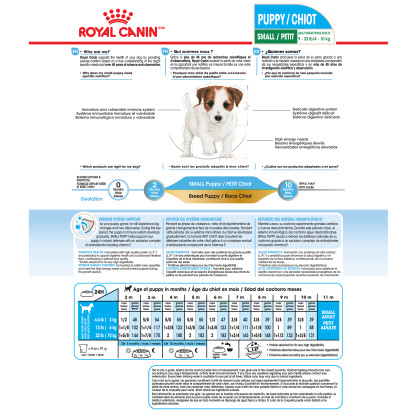 As your puppy grows, he will experience big changes and new discoveries. During this key period, the puppy's immune system develops gradually. SMALL PUPPY helps support your puppy's natural defenses with an exclusive complex of antioxidants including vitamin E.

Formulated with high quality protein (L.I.P.*) and prebiotics to support digestive health and a balanced intestinal flora, contributing to optimal stool quality.

Formulated to satisfy fussy appetites and meet the high energy needs of small breed puppies during the growth period. *Protein selected for its very high digestibility.

100% Complete and Balanced Nutrition

Small dogs need more than just a small kibble. They need more energy than large breed dogs, and they have a shorter and more intense growth period. Plus, they typically live longer than large dogs, and have a more finicky appetite.
Working toward a sustainable future
Our belief that pets make our world better inspires and gives life to our purpose of making a better A BETTER WORLD FOR PETS ™
Discover more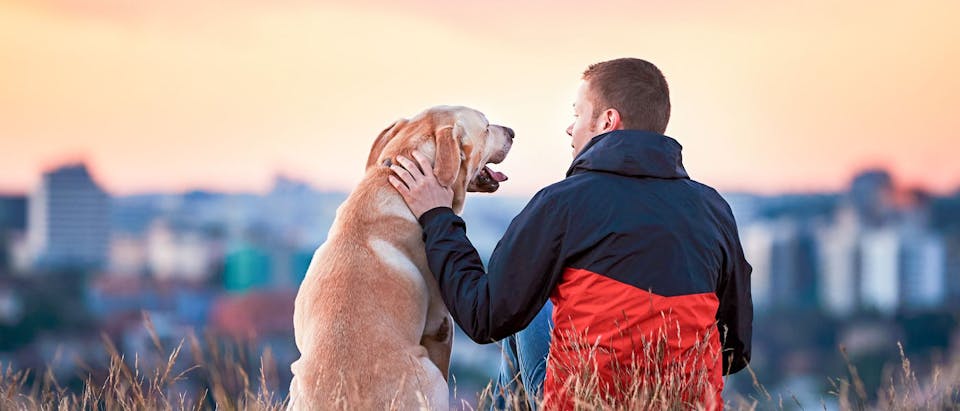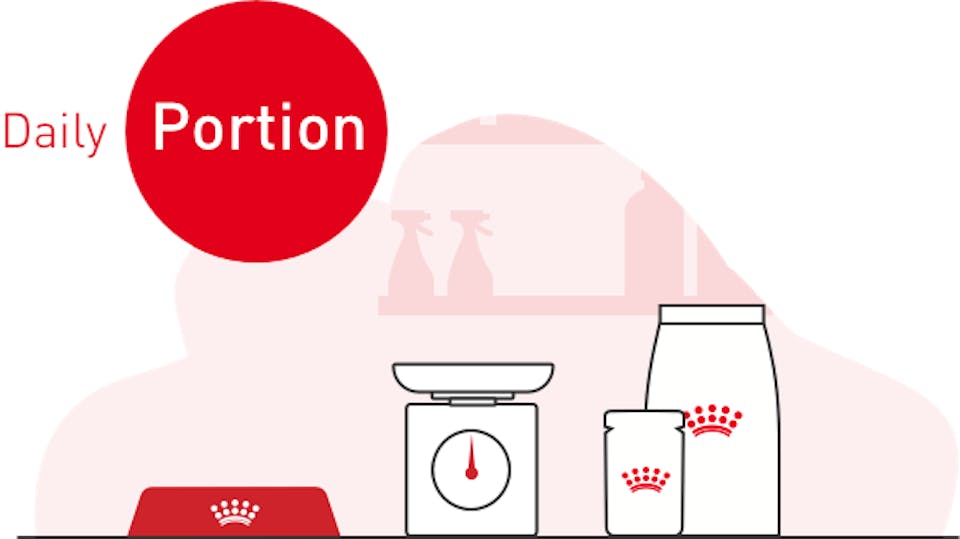 Discover our tool that calculates the daily portion for your pet. Fill in your pet's information and you will get their daily feeding recommendation. In case of weight issues, do not hesitate to consult your vet to adapt this portion. Note that this feeding recommendation is more precise than the feeding table, therefore the values may slightly differ.
Calculate
Brewers rice, chicken by-product meal, chicken fat, wheat gluten, corn gluten meal, corn, dried plain beet pulp, natural flavors, fish oil, vegetable oil, sodium silico aluminate, monocalcium phosphate, potassium chloride, fructooligosaccharides, sodium tripolyphosphate, hydrolyzed yeast (source of betaglucans), calcium carbonate, salt, Yucca schidigera extract, DL-methionine, vitamins [DL-alpha tocopherol acetate (source of vitamin E), L-ascorbyl-2-polyphosphate (source of vitamin C), biotin, D-calcium pantothenate, vitamin A acetate, pyridoxine hydrochloride (vitamin B6), niacin supplement, folic acid, thiamine mononitrate (vitamin B1), vitamin B12 supplement, riboflavin supplement, vitamin D3 supplement], L-lysine, choline chloride, taurine, trace minerals [zinc proteinate, manganese proteinate, ferrous sulfate, zinc oxide, manganous oxide, copper sulfate, calcium iodate, sodium selenite, copper proteinate], marigold extract (Tagetes erecta L.), L-carnitine, carotene, rosemary extract, preserved with mixed tocopherols and citric acid.

Calorie Content

This diet contains 3891 kilocalories of metabolizable energy (ME) per kilogram or 354 kilocalories ME per cup on an as fed basis (calculated).

| | |
| --- | --- |
| Crude Protein (min) | 29.0% |
| Crude Fat (min) | 18.0% |
| Crude Fiber (max) | 3.3% |
| Moisture (max) | 10.0% |
| Vitamin E (min) | 350 IU/kg |

Dry Feeding

| Adult Target Weight | 2 months | 3 months | 4 months | 5 months | 6 months | 7 months | 8 months | 9 months | 10 months |
| --- | --- | --- | --- | --- | --- | --- | --- | --- | --- |
| 2.2 lb (1 kg) | 3/8 cup (29 g) | 3/8 cup (32 g) | 3/8 cup (33 g) | 3/8 cup (32 g) | 1/4 cup (28 g) | 1/4 cup (23 g) | 1/4 cup (23 g) | 1/4 cup (23 g) | 1/4 cup (23 g) |
| 4.4 lb (2 kg) | 1/2 cup (48 g) | 5/8 cup (54 g) | 5/8 cup (55 g) | 5/8 cup (55 g) | 1/2 cup (47 g) | 3/8 cup (40 g) | 3/8 cup (39 g) | 3/8 cup (39 g) | 3/8 cup (39 g) |
| 6.6 lb (3 kg) | 5/8 cup (63 g) | 3/4 cup (71 g) | 3/4 cup (74 g) | 7/8 cup (74 g) | 3/4 cup (67 g) | 5/8 cup (60 g) | 5/8 cup (53 g) | 5/8 cup (53 g) | 5/8 cup (52 g) |
| 8.8 lb (4 kg) | 7/8 cup (77 g) | 1 cup (87 g) | 1 cup (91 g) | 1 cup (91 g) | 7/8 cup (83 g) | 7/8 cup (74 g) | 3/4 cup (66 g) | 3/4 cup (65 g) | 3/4 cup (65 g) |
| 11 lb (5 kg) | 1 cup (92 g) | 1 1/8 cups (104 g) | 1 1/4 cups (108 g) | 1 1/4 cups (109 g) | 1 1/8 cups (99 g) | 1 cup (89 g) | 7/8 cup (78 g) | 7/8 cup (78 g) | 7/8 cup (77 g) |
| 13.2 lb (6 kg) | 1 1/8 cups (102 g) | 1 1/4 cups (117 g) | 1 3/8 cups (123 g) | 1 3/8 cups (124 g) | 1 3/8 cups (123 g) | 1 1/4 cups (111 g) | 1 1/8 cups (100 g) | 1 cup (89 g) | 1 cup (88 g) |
| 15.4 lb (7 kg) | 1 1/4 cups (111 g) | 1 3/8 cups (131 g) | 1 1/2 cups (138 g) | 1 1/2 cups (140 g) | 1 1/2 cups (139 g) | 1 3/8 cups (126 g) | 1 1/4 cups (113 g) | 1 1/8 cups (100 g) | 1 1/8 cups (99 g) |
| 17.6 lb (8 kg) | 1 3/8 cups (122 g) | 1 5/8 cups (144 g) | 1 5/8 cups (152 g) | 1 3/4 cups (155 g) | 1 5/8 cups (153 g) | 1 1/2 cups (139 g) | 1 3/8 cups (124 g) | 1 1/4 cups (111 g) | 1 1/4 cups (110 g) |
| 22 lb (10 kg) | 1 5/8 cups (144 g) | 1 7/8 cups (170 g) | 2 cups (180 g) | 2 cups (183 g) | 2 cups (182 g) | 1 3/4 cups (165 g) | 1 5/8 cups (148 g) | 1 1/2 cups (132 g) | 1 3/8 cups (131 g) |

Mixed Feeding

| Adult Target Weight | Pouch + | 2 Months | 3 Months | 4 Months | 5 Months | 6 Months | 7 Months | 8 Months | 9 Months | 10 Months |
| --- | --- | --- | --- | --- | --- | --- | --- | --- | --- | --- |
| 2.2 lb (1 kg) | 1/2 Pouch + | 1/4 cups (18 g) | 1/4 cups (22 g) | 1/4 cups (22 g) | 1/4 cups (22 g) | 1/4 cups (18 g) | 1/8 cups (13 g) | 1/8 cups (13 g) | 1/8 cups (13 g) | 1/8 cups (13 g) |
| 4.4 lb (2 kg) | 1 Pouch + | 1/4 cups (28 g) | 3/8 cups (33 g) | 3/8 cups (34 g) | 3/8 cups (34 g) | 1/4 cups (27 g) | 1/4 cups (19 g) | 1/4 cups (18 g) | 1/4 cups (18 g) | 1/4 cups (18 g) |
| 6.6 lb (3 kg) | 1 Pouch + | 1/2 cups (42 g) | 1/2 cups (50 g) | 5/8 cups (53 g) | 5/8 cups (54 g) | 1/2 cups (47 g) | 1/2 cups (40 g) | 3/8 cups (33 g) | 3/8 cups (32 g) | 3/8 cups (32 g) |
| 8.8 lb (4 kg) | 1 Pouch + | 5/8 cups (57 g) | 3/4 cups (67 g) | 3/4 cups (71 g) | 3/4 cups (71 g) | 5/8 cups (62 g) | 5/8 cups (54 g) | 1/2 cups (45 g) | 1/2 cups (45 g) | 1/2 cups (44 g) |
| 11 lb (5 kg) | 1 Pouch + | 3/4 cups (71 g) | 7/8 cups (83 g) | 1 cups (88 g) | 1 cups (88 g) | 7/8 cups (78 g) | 3/4 cups (68 g) | 5/8 cups (58 g) | 5/8 cups (57 g) | 5/8 cups (56 g) |
| 13 lb (6 kg) | 1 Pouch + | 7/8 cups (81 g) | 1 cups (97 g) | 1 1/8 cups (103 g) | 1 1/8 cups (104 g) | 1 1/8 cups (103 g) | 1 cups (91 g) | 7/8 cups (79 g) | 3/4 cups (68 g) | 3/4 cups (67 g) |
| 15 lb (7 kg) | 1 Pouch + | 1 cups (91 g) | 1 1/4 cups (110 g) | 1 1/4 cups (118 g) | 1 3/8 cups (120 g) | 1 1/4 cups (119 g) | 1 1/8 cups (105 g) | 1 cups (92 g) | 7/8 cups (80 g) | 7/8 cups (78 g) |
| 18 lb (8 kg) | 1 Pouch + | 1 1/8 cups (102 g) | 1 3/8 cups (123 g) | 1 1/2 cups (132 g) | 1 1/2 cups (134 g) | 1 1/2 cups (133 g) | 1 1/4 cups (118 g) | 1 1/8 cups (104 g) | 1 cups (90 g) | 1 cups (89 g) |
| 22 lb (10 kg) | 1 Pouch + | 1 3/8 cups (124 g) | 1 5/8 cups (149 g) | 1 3/4 cups (160 g) | 1 3/4 cups (163 g) | 1 3/4 cups (162 g) | 1 5/8 cups (144 g) | 1 3/8 cups (127 g) | 1 1/4 cups (111 g) | 1 1/4 cups (110 g) |