MOBILITY
Complete feed for adult cats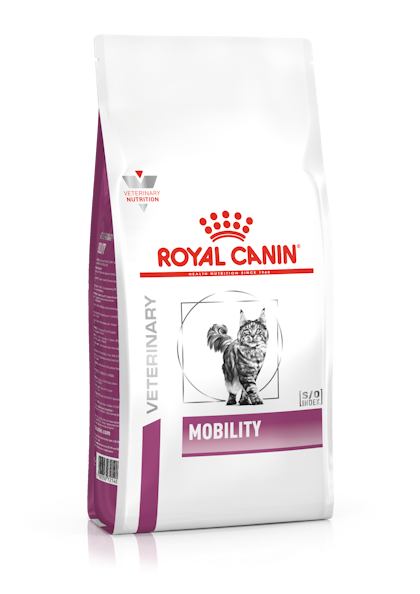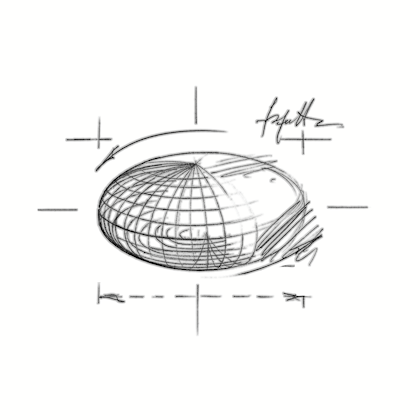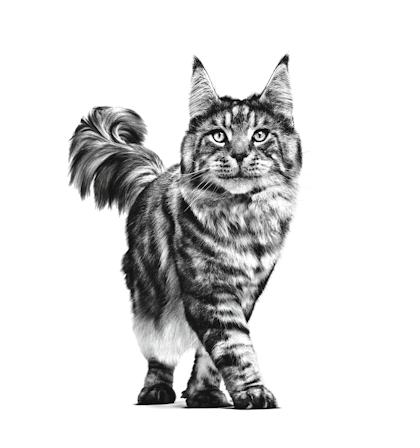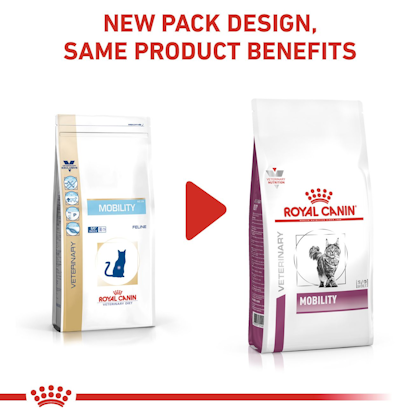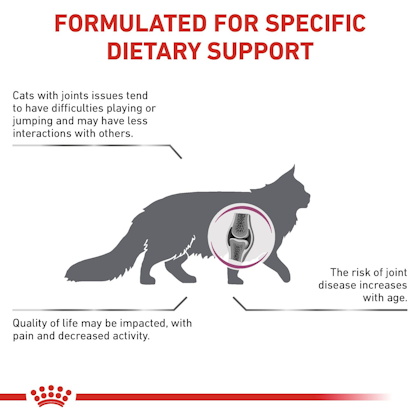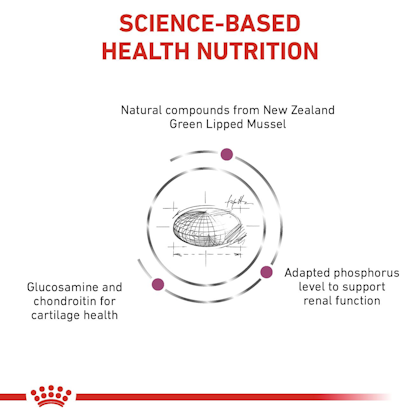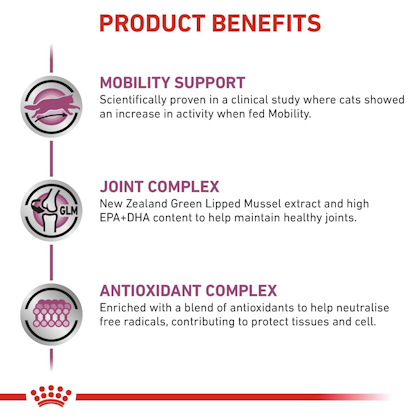 5A. MOBILITY SUPPORT

Scientifically proven in a clinical study where cats showed an improvement in mobility when fed MOBILITY.

5B. JOINT COMPLEX

New Zealand Green Lipped Mussel extract and high EPA+DHA content to help maintain healthy joints.

5C. ANTIOXIDANT COMPLEX

Enriched with a blend of antioxidants to help neutralise free radicals, contributing to protect tissues and cells.

FORMULA FEATURES TEXT

4A. Each ROYAL CANIN® formula is specifically designed and approved by scientific experts in cat and dog nutrition. The specificities of this formula are:

FORMULA FEATURES

4B. Natural compounds from New Zealand Green Lipped Mussel.
Lavorare per un futuro sostenibile
Il nostro credo che gli animali domestici rendono il mondo migliore si ispira e dà vita al nostro obiettivo di creare UN MONDO MIGLIORE PER GLI ANIMALI DOMESTICI™.
Scopri di più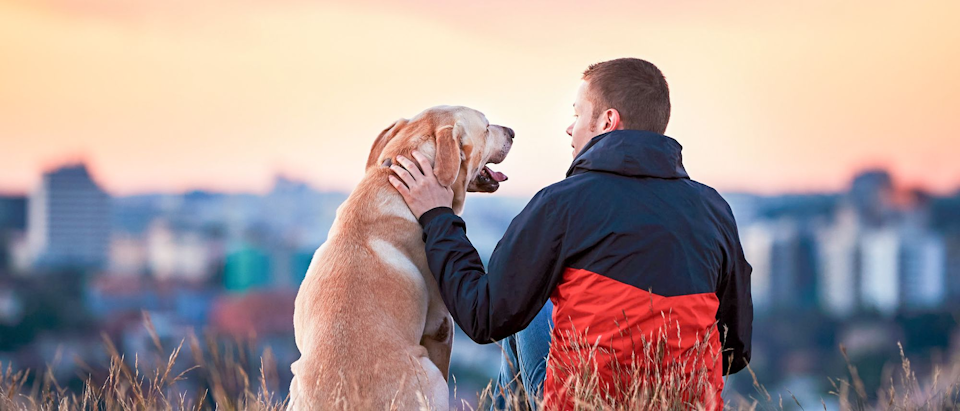 ROYAL CANIN® MOBILITY dry is a complete feed for cats formulated to support joint health. RECOMMENDATIONS: Follow your veterinarian's nutritional recommendations.

COMPOSITION: corn, wheat gluten, rice, dehydrated poultry protein (chicken, duck), animal fat (chicken, duck), powdered cellulose, corn gluten, hydrolysed animal protein (poultry), fish oil, minerals, soybean oil, chicory pulp, psyllium husks and seeds, fructo oligosaccharide, green-lipped mussel extract, hydrolysed yeast (source of manno-oligo-saccharides), glucosamine, marigold extract, mucossacharides-protein (source of chondroitin).

ADDITIVES (per kg) Vitamin A: 20500 IU, Vitamin D3: 700 IU, Iron: 48 mg, Iodine: 4.8 mg, Copper: 15 mg, Manganese: 63 mg, Zinc: 141 mg, Selenium: 0.09 mg - Antioxidants.

ANALYTICAL CONSTITUANTS: Crude Protein 26.0% (min.), Crude Fat 13.0% (min.), Calcium 0.592% (min.), Phosphorus 0.500% (min.), Ash 6.4% (max.), Crude Fiber 5.8% (max.), Moisture 6.5% (max.), EPA/DHA: 0.8%, Glucosamine: 995 mg/kg, Chondroitin: 5 mg/kg.

For RSA: Guaranteed analysis g/kg: Crude protein (min) 260 - Moisture (max) 70 - Crude fat (min) 130 - Crude fibre (max) 58 - Crude ash (max) 64. Product registration number: XXXXXX - Act 36/1947. For Namibia: N-FF XXXX.

* L.I.P.: protein selected for its very high digestibility.

FEEDING INSTRUCTION: FEEDING INSTRUCTIONS: see table. Water should be available at all times. Batch number, factory registration number and best before date: see information on packaging. To be stored in a cool, dry place.​

ANALYTICAL CONSTITUANTS: Crude Protein 26.0% (min.), Crude Fat 13.0% (min.), Calcium 0.592% (min.), Phosphorus 0.500% (min.), Ash 6.4% (max.), Crude Fiber 5.8% (max.), Moisture 6.5% (max.), EPA/DHA: 0.8%, Glucosamine: 995 mg/kg, Chondroitin: 5 mg/kg.

| - | - | Adult weight's | - | - | - | - |
| --- | --- | --- | --- | --- | --- | --- |
| - | Thin | - | Normal | - | Overweight | - |
| Cat's weight (kg) | grams | cup(s) | grams | cup(s) | grams | cup(s) |
| 2 | 39 | 3/8 | 33 | 3/8 | 26 | 2/8 |
| 2.5 | 46 | 4/8 | 39 | 3/8 | 31 | 3/8 |
| 3 | 53 | 4/8 | 44 | 4/8 | 35 | 3/8 |
| 3.5 | 59 | 5/8 | 49 | 4/8 | 39 | 3/8 |
| 4 | 65 | 5/8 | 54 | 5/8 | 43 | 4/8 |
| 4.5 | 70 | 6/8 | 59 | 5/8 | 47 | 4/8 |
| 5 | 76 | 6/8 | 63 | 5/8 | 50 | 4/8 |
| 5.5 | 81 | 7/8 | 68 | 6/8 | 54 | 5/8 |
| 6 | 86 | 7/8 | 72 | 6/8 | 57 | 5/8 |
| 6.5 | 91 | 1 | 76 | 6/8 | 61 | 5/8 |
| 7 | 96 | 1 | 80 | 7/8 | 64 | 5/8 |
| 7.5 | 101 | 1 | 84 | 7/8 | 67 | 6/8 |
| 8 | 106 | 1+1/8 | 88 | 7/8 | 71 | 6/8 |
| 8.5 | 110 | 1+1/8 | 92 | 1 | 74 | 6/8 |
| 9 | 115 | 1+2/8 | 96 | 1 | 77 | 6/8 |
| 9.5 | 120 | 1+2/8 | 100 | 1 | 80 | 7/8 |
| 10 | 124 | 1+2/8 | 103 | 1+1/8 | 83 | 7/8 |