Exigent
Alimento completo per cani - Per cani adulti e maturi di piccola taglia (tra 1 e 10 kg) - Oltre 10 mesi di età - Cani con appetito capriccioso.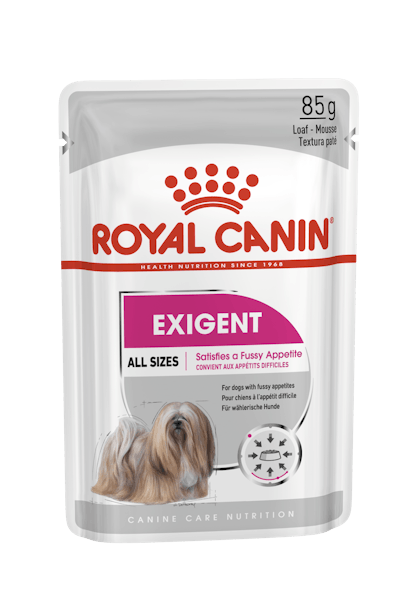 Altamente appetibile

Ingredienti e proteine di elevate qualità selezionati per la loro appetibilità.

Programma Canine Care Nutrition

fornisce una nutrizione sana ed equilibrata attraverso la perfetta combinazione delle nostre ricette secche & umide.

Did you know that your dog has good taste? At mealtimes your dog will consider not only the texture, but also the aroma and bite size of the food you give him. If your dog is a fussy eater, you can satisfy his appetite with delicious-tasting, complete nutrition that he'll not only eat, but also enjoy. Suitable for dogs of all sizes, ROYAL CANIN® Exigent Loaf is full of nutrients that your dog needs to lead a healthy life. Get your dog eating right with this delicious gourmet recipe that's adored by even the choosiest of dogs. ROYAL CANIN® Exigent Loaf's rich pâté is cooked right inside the pouch, with all the aroma locked in. Our high quality nutrients ensure a taste and texture that your dog won't be able to resist. All Royal Canin foods are nutritionally complete and contain 100% of the high-quality fats, proteins, fibers, vitamins, and minerals your dog needs for lifelong wellbeing. In addition to this delicious pâté, our Exigent nutritional program is also available as crunchy kibble. Both are nutritionally complete and perfectly complement each other. Why not try the pâté as a delicious topping to the kibble?
Composizione: Carni e derivati, sottoprodotti di origine vegetale, cereali, sali minerali, zuccheri.

Additivi (per kg): Additivi nutrizionali: Vitamina D3: 170 UI, E1 (Ferro): 4 mg, E2 (Iodio): 0,3 mg, E4 (Rame): 2,5 mg, E5 (Manganese): 1,2 mg, E6 (Zinco): 12 mg. Proteina grezza: 8,5% - Oli e grassi grezzi: 5,9% - Ceneri grezze: 1,7% - Fibra grezza: 1,3% - Umidità: 79,5%.

| Peso del cane | Bustina |
| --- | --- |
| 2 kg | 2 |
| 4 kg | 3 + 1/2 |
| 10 kg | 7 + 1/2 |