CARDIAC
Complete dietetic feed for adult dogs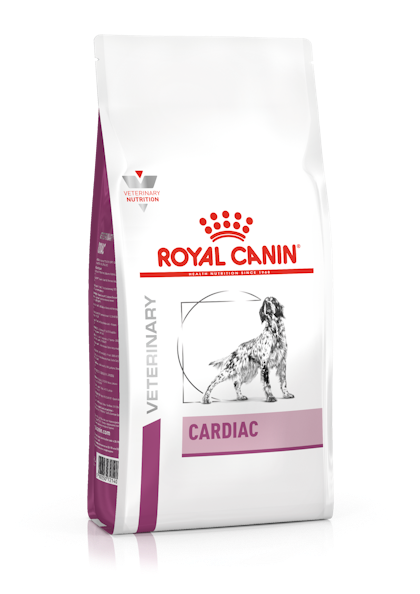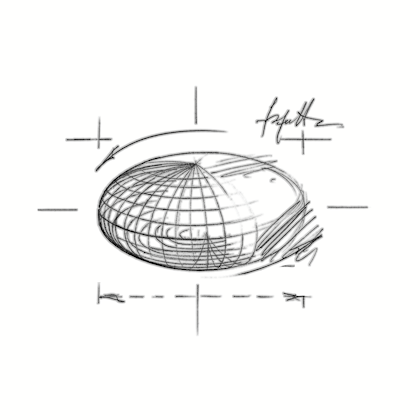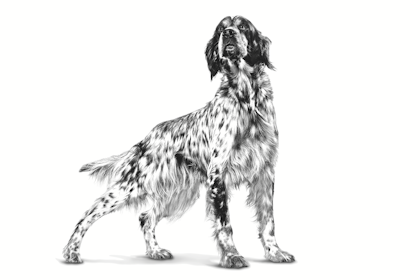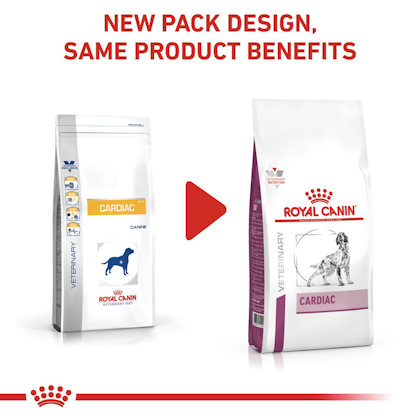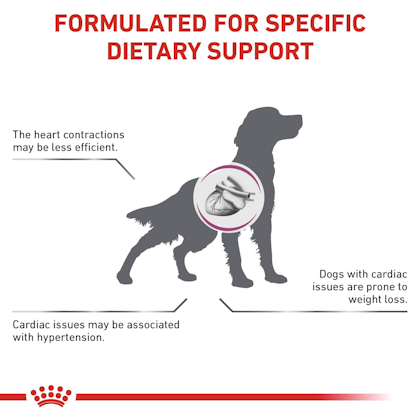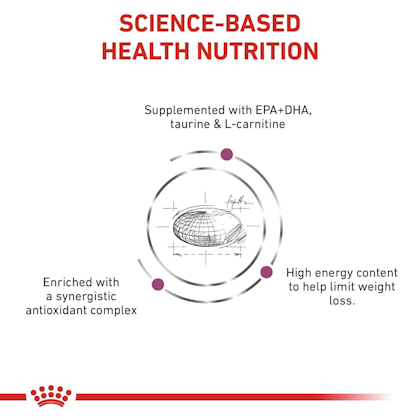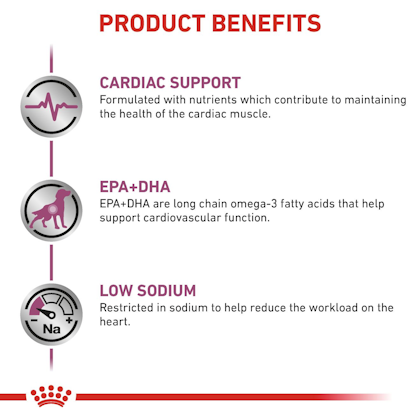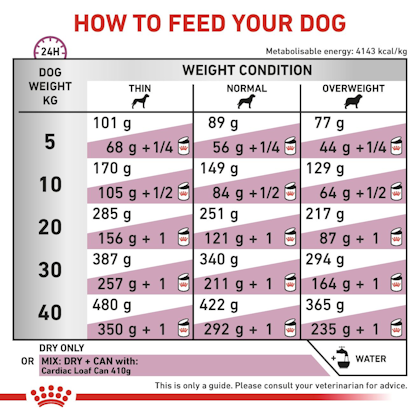 5A. CARDIAC SUPPORT

Formulated with nutrients which contribute to maintaining the health of the cardiac muscle.

5B. EPA+DHA

EPA+DHA are long chain omega-3 fatty acids that help support cardiovascular function.

5C. LOW SODIUM

Restricted in sodium to help reduce the workload on the heart.

Supporto cardiaco

Nutrienti che contribuiscono al corretto funzionamento del muscolo cardiaco.
Lavorare per un futuro sostenibile
Il nostro credo che gli animali domestici rendono il mondo migliore si ispira e dà vita al nostro obiettivo di creare UN MONDO MIGLIORE PER GLI ANIMALI DOMESTICI™.
Scopri di più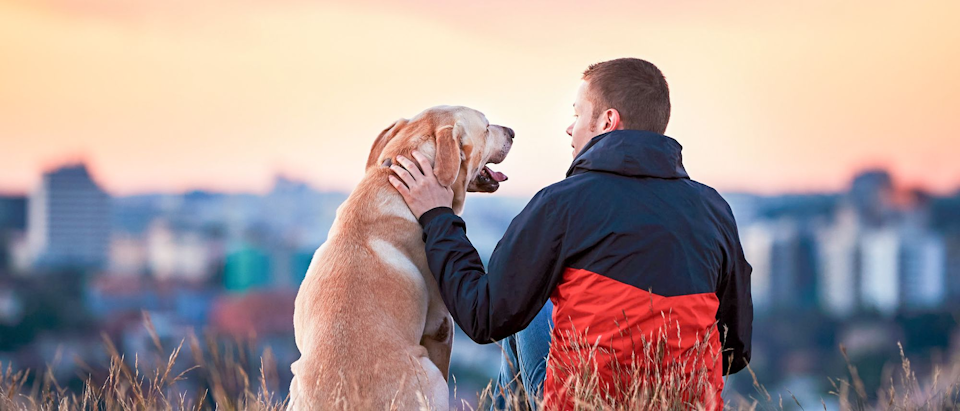 ROYAL CANIN® CARDIAC dry is a complete dietetic feed for dogs formulated to support heart function in the case of chronic cardiac insufficiency. This diet contains a restricted level of sodium. RECOMMENDATIONS: It is recommended that a veterinarian's opinion be sought before use or before extending the period of use. Initially feed CARDIAC dry for up to 6 months.

ADDITIVES (per kg): Nutritional additives: Vitamin A: 18500 IU, Vitamin D3: 1200 IU, Iron (3b103): 43 mg, Iodine (3b201, 3b202): 4.3 mg, Copper (3b405, 3b406): 13 mg, Manganese (3b502, 3b504): 56 mg, Zinc (3b603, 3b605, 3b606): 137 mg, Selenium (3b801, 3b811, 3b812): 0.08 mg - Sensory additives: Tea extract (source of polyphenols): 1250 mg - Preservatives - Antioxidants.

ANALYTICAL CONSTITUANTS: Protein: 26.0%, Fat content: 20.0%, Crude ash: 4.9%, Crude fibres: 1.7%, Sodium: 0.15%, Potassium: 0.8%, Magnesium: 0.15%, EPA/DHA: 0.38%, Taurine: 0.34%, 0mega-3 fatty acids: 0.85%, L-carnitine: 830 mg/kg.

COMPOSITION : Rice, dehydrated poultry protein, maize flour, animal fats, maize gluten, egg powder, hydrolysed animal proteins, beet pulp, minerals, fish oil, vegetable fibres, soya oil, yeasts products, fructo-oligosaccharides, marigold extract (source of lutein).

FEEDING INSTRUCTION: FEEDING INSTRUCTIONS: see table. Water should be available at all times. Batch number, factory registration number and best before date: see information on packaging. To be stored in a cool, dry place.​

For RSA: Guaranteed analysis g/kg: Crude protein (min) 240 - Moisture (max) 110 - Crude fat (min) 180 - Crude fibre (max) 27 - Crude ash (max) 54. Product registration number: XXXXXX - Act 36/1947. For Namibia: N-FF XXXX.

ANALYTICAL CONSTITUANTS: Protein: 26.0%, Fat content: 20.0%, Crude ash: 4.9%, Crude fibres: 1.7%, Sodium: 0.15%, Potassium: 0.8%, Magnesium: 0.15%, EPA/DHA: 0.38%, Taurine: 0.34%, 0mega-3 fatty acids: 0.85%, L-carnitine: 830 mg/kg.

| | | Adult weight | | | | |
| --- | --- | --- | --- | --- | --- | --- |
| | Thin | | Normal | | Overweight | |
| Dog weight (kg) | grams | cup(s) | grams | cup(s) | grams | cup(s) |
| 2 | 51 | 4/8 | 45 | 4/8 | 39 | 3/8 |
| 4 | 85 | 7/8 | 75 | 6/8 | 65 | 5/8 |
| 6 | 116 | 1+2/8 | 102 | 1+1/8 | 88 | 7/8 |
| 8 | 144 | 1+4/8 | 126 | 1+3/8 | 109 | 1+1/8 |
| 10 | 170 | 1+6/8 | 149 | 1+4/8 | 129 | 1+3/8 |
| 11 | 182 | 1+7/8 | 160 | 1+5/8 | 139 | 1+4/8 |
| 15 | 230 | 2+3/8 | 202 | 2+1/8 | 175 | 1+7/8 |
| 20 | 285 | 3 | 251 | 2+5/8 | 217 | 2+2/8 |
| 25 | 337 | 3+4/8 | 297 | 3+1/8 | 256 | 2+5/8 |
| 30 | 387 | 4 | 340 | 3+4/8 | 294 | 3+1/8 |
| 35 | 434 | 4+4/8 | 382 | 4 | 330 | 3+4/8 |
| 40 | 480 | 5 | 422 | 4+3/8 | 365 | 3+6/8 |
| 45 | 524 | 5+4/8 | 461 | 4+6/8 | 398 | 4+1/8 |
| 50 | 567 | 5+7/8 | 499 | 5+2/8 | 431 | 4+4/8 |
| 55 | 609 | 6+3/8 | 536 | 5+5/8 | 463 | 4+7/8 |
| 60 | 650 | 6+6/8 | 572 | 6 | 494 | 5+1/8 |
| 70 | 730 | 7+5/8 | 643 | 6+6/8 | 555 | 5+6/8 |
| 80 | 807 | 8+3/8 | 710 | 7+3/8 | 613 | 6+3/8 |