EARLY RENAL
Complete dietetic feed for adult dogs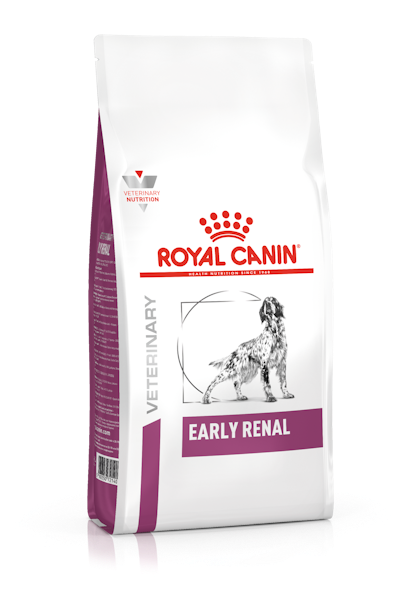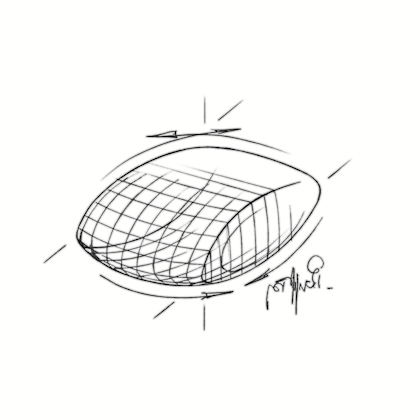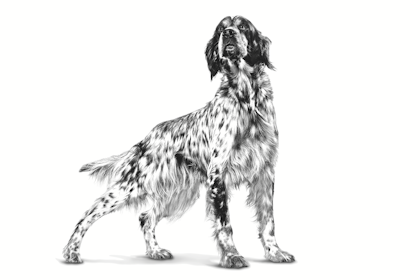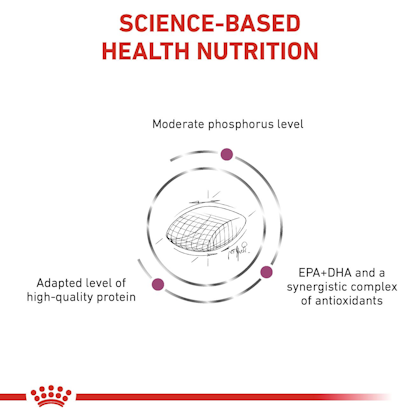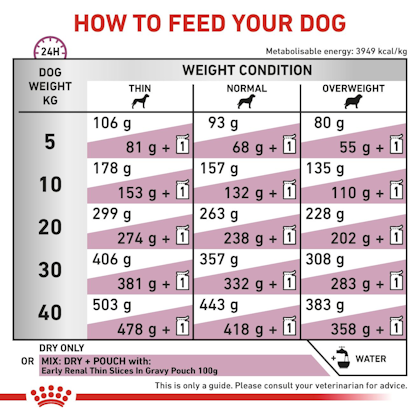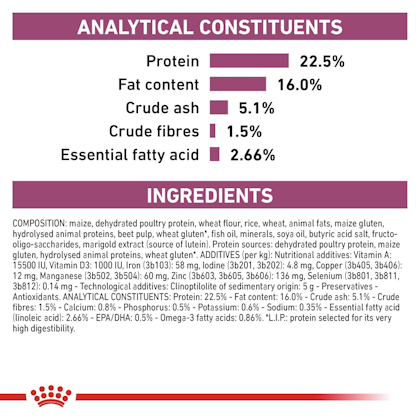 BRAND TEXT VETERINARY

In 1968 in the South of France, a veterinarian named Jean Cathary discovered he could better support dogs' health through tailored nutrition. In this visionary act, ROYAL CANIN® was born. Today, using advanced veterinary science and careful observation to identify the most adapted nutrients, our 220+ individual formulas support the health of every individual cat and dog.

5A. EARLY RENAL SUPPORT

Formulated with moderate phosphorus, EPA+DHA and an antioxidant complex to support the kidneys at first signs of impairment.

5B. EPA+DHA

EPA+DHA are long chain omega-3 fatty acids that help support renal function.

5C. ANTIOXIDANT COMPLEX

Enriched with a blend of antioxidants to help neutralise free radicals, contributing to protect tissues and cells.

FORMULA FEATURES TEXT

4A. Each ROYAL CANIN® formula is specifically designed and approved by scientific experts in cat and dog nutrition. The specificities of this formula are:

FORMULA FEATURES

4B. Moderate phosphorus level.
Lavorare per un futuro sostenibile
Il nostro credo che gli animali domestici rendono il mondo migliore si ispira e dà vita al nostro obiettivo di creare UN MONDO MIGLIORE PER GLI ANIMALI DOMESTICI™.
Scopri di più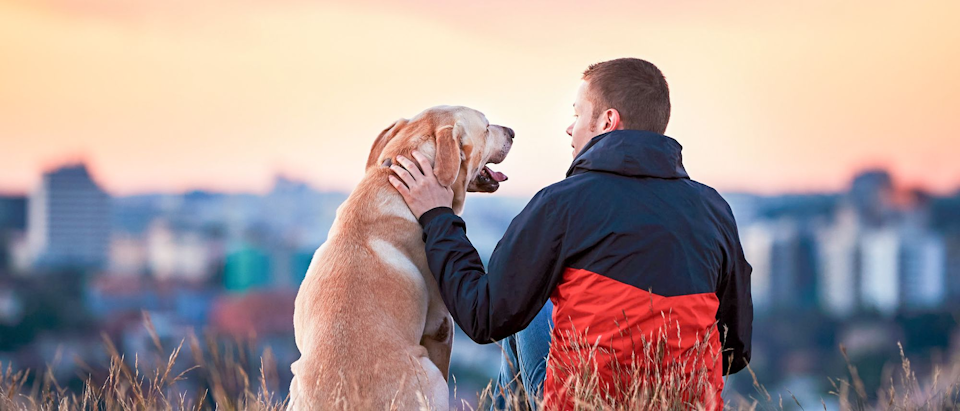 ROYAL CANIN® EARLY RENAL dry is a complete dietetic feed for dogs formulated to support renal function in the case of chronic renal insufficiency, through its restricted levels of phosphorus and high-quality proteins. EARLY RENAL dry is formulated for the earlier stages of the chronic renal insufficiency. RECOMMENDATIONS: It is recommended that a veterinarian's opinion be sought before use or before extending the period of use. Initially feed EARLY RENAL dry for up to 6 months in cases of chronic renal insufficiency.

ADDITIVES (per kg): Nutritional additives: Vitamin A: 15500 IU, Vitamin D3: 1000 IU, Iron (3b103): 58 mg, Iodine (3b201, 3b202): 4.8 mg, Copper (3b405, 3b406): 12 mg, Manganese (3b502, 3b504): 60 mg, Zinc (3b603, 3b605, 3b606): 136 mg, Selenium (3b801, 3b811, 3b812): 0.14 mg - Technological additives: Clinoptilolite of sedimentary origin: 5 g - Preservatives - Antioxidants.

ANALYTICAL CONSTITUANTS: Protein: 22.5% - Fat content: 16.0% - Crude ash: 5.1% - Crude fibres: 1.5% - Calcium: 0.8% - Phosphorus: 0.5% - Potassium: 0.6% - Sodium: 0.35% - Essential Fatty Acids (Linoleic Acid): 2.66% - EPA/DHA: 0.5% - Omega 3 fatty acids: 0.86%.

COMPOSITION : Maize, dehydrated poultry protein, wheat flour, rice, wheat, animal fats, maize gluten, hydrolysed animal proteins, beet pulp, wheat gluten*, fish oil, minerals, soya oil, butyric acid salt, fructo-oligosaccharides, marigold extract (source of lutein).Protein sources: dehydrated poultry protein, maize gluten, hydrolysed animal proteins, wheat gluten*.

FEEDING INSTRUCTION: FEEDING INSTRUCTIONS: see table. Water should be available at all times. Batch number, factory registration number and best before date: see information on packaging. To be stored in a cool, dry place.​

* L.I.P.: protein selected for its very high digestibility.

For RSA: Guaranteed analysis g/kg: Crude protein (min) 205 - Moisture (max) 110 - Crude fat (min) 140 - Crude fibre (max) 25 - Crude ash (max) 56. Product registration number: XXXXXX - Act 36/1947. For Namibia: N-FF XXXX.

ANALYTICAL CONSTITUANTS: Protein: 22.5% - Fat content: 16.0% - Crude ash: 5.1% - Crude fibres: 1.5% - Calcium: 0.8% - Phosphorus: 0.5% - Potassium: 0.6% - Sodium: 0.35% - Essential Fatty Acids (Linoleic Acid): 2.66% - EPA/DHA: 0.5% - Omega 3 fatty acids: 0.86%.

| | | Adult weight | | | | |
| --- | --- | --- | --- | --- | --- | --- |
| | Thin | | Normal | | Overweight | |
| Dog's weight (kg) | grams | cup(s) | grams | cup(s) | grams | cup(s) |
| 2 | 53 | 5/8 | 47 | 4/8 | 40 | 4/8 |
| 4 | 90 | 1+1/8 | 79 | 1 | 68 | 6/8 |
| 6 | 121 | 1+4/8 | 107 | 1+2/8 | 92 | 1+1/8 |
| 8 | 151 | 1+6/8 | 133 | 1+5/8 | 114 | 1+3/8 |
| 10 | 178 | 2+1/8 | 157 | 1+7/8 | 135 | 1+5/8 |
| 15 | 241 | 2+7/8 | 212 | 2+4/8 | 183 | 2+1/8 |
| 20 | 299 | 3+4/8 | 263 | 3+1/8 | 228 | 2+6/8 |
| 25 | 354 | 4+2/8 | 311 | 3+6/8 | 269 | 3+2/8 |
| 30 | 406 | 4+7/8 | 357 | 4+2/8 | 308 | 3+5/8 |
| 35 | 455 | 5+3/8 | 401 | 4+6/8 | 346 | 4+1/8 |
| 40 | 503 | 6 | 443 | 5+2/8 | 383 | 4+4/8 |
| 45 | 550 | 6+4/8 | 484 | 5+6/8 | 418 | 5 |
| 50 | 595 | 7+1/8 | 524 | 6+2/8 | 452 | 5+3/8 |
| 55 | 639 | 7+5/8 | 563 | 6+6/8 | 486 | 5+6/8 |
| 60 | 682 | 8+1/8 | 601 | 7+1/8 | 519 | 6+1/8 |
| 70 | 766 | 9+1/8 | 674 | 8 | 582 | 6+7/8 |
| 80 | 847 | 10+1/8 | 745 | 8+7/8 | 644 | 7+5/8 |