Gastrointestinal Low Fat
Complete dietetic feed for adult dogs.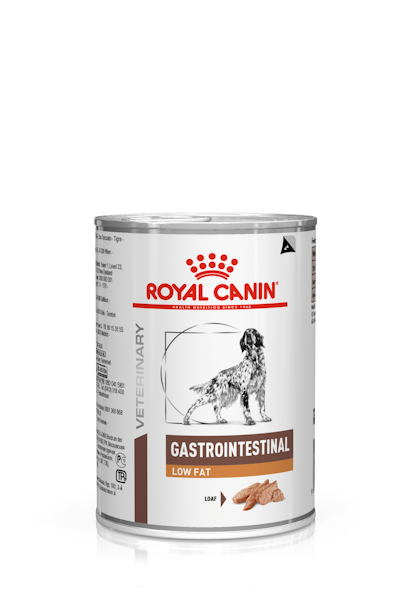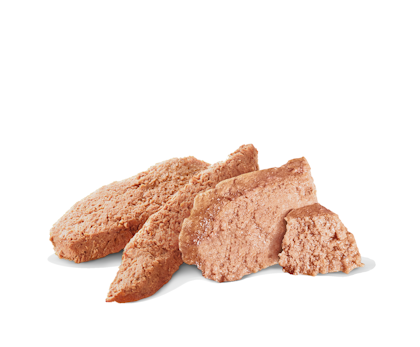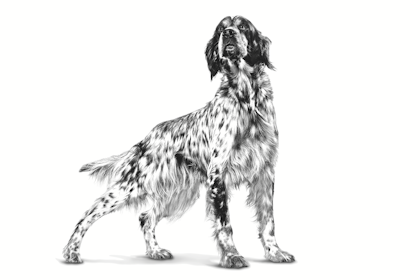 Digestive support

A highly digestible formula with balanced fibres, including prebiotics, to help support a healthy digestion and transit.

Low fat

For the nutritional management of dogs needing a fat restricted diet.

Fibre balance

Limited fibre content to allow provision of maintenance energy levels despite fat restriction.
Lavorare per un futuro sostenibile
Il nostro credo che gli animali domestici rendono il mondo migliore si ispira e dà vita al nostro obiettivo di creare UN MONDO MIGLIORE PER GLI ANIMALI DOMESTICI™.
Scopri di più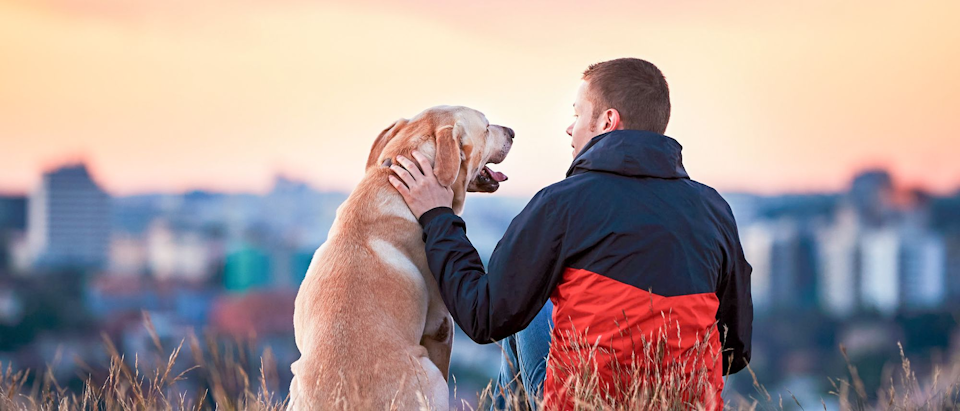 ROYAL CANIN® GASTROINTESTINAL LOW FAT loaf is a complete dietetic feed for dogs, formulated for the regulation of lipid metabolism in the case of hyperlipidaemia. This feed contains a low level of fat and a high level of essential fatty acids. RECOMMENDATIONS : It is recommended that a veterinarian's opinion be sought before use or before extending the period of use. Initially feed GASTROINTESTINAL LOW FAT loaf up to 2 months in the case of hyperlipidaemia.

Additives (per kg): Nutritional additives: Vitamin D3: 200 IU, Iron (3b103): 4 mg, Iodine (3b202): 0.3 mg, Copper (3b405, 3b406): 2 mg, Manganese (3b502, 3b503, 3b504): 1.3 mg, Zinc (3b603, 3b605, 3b606): 13 mg - Technological additives: Clinoptilolite of sedimentary origin: 2.5 g.

Analytical constituants: Protein: 8.1% - Fat content: 1.7% - Crude ash: 1.7% - Crude fibres: 1.5% - Moisture: 73.6% - Fatty acids: w3: 0.04% - Essential Fatty acid (Linoleic Acid): 0.35%.

Composition: meat and animal derivatives, cereals, derivatives of vegetable origin, minerals, yeasts, oils and fats.

Feeding instructions: see table. Batch number, factory registration number and best before date: see information on packaging. To be stored in a cool, dry place. (for 200g only) >>> FEEDING INSTRUCTIONS: for a 4 Kg dog give 1.5 can/day or less if fed in combination with dry food. Batch number, factory registration number and best before date: see information on packaging. To be stored in a cool, dry place.​

For RSA: Guaranteed analysis g/kg: Crude protein (min) 61 - Moisture (max) 766 - Crude fat (min) - 3 - Crude fibre (max) 25 - Crude ash (max) 19. Product registration number: XXXXXX - Act 36/1947. For Namibia: N-FF XXXX.

Analytical constituants: Protein: 8.1% - Fat content: 1.7% - Crude ash: 1.7% - Crude fibres: 1.5% - Moisture: 73.6% - Fatty acids: w3: 0.04% - Essential Fatty acid (Linoleic Acid): 0.35%.

| - | Body Condition | - | - | - | - | - | - | - | - | - | - | - |
| --- | --- | --- | --- | --- | --- | --- | --- | --- | --- | --- | --- | --- |
| Dog's weight (kg) | Thin | - | Thin | - | Normal | - | Normal | - | Overweight | - | Overweight | - |
| - | 200g | - | 400g | - | 200g | - | 400g | - | 200g | - | 400g | - |
| - | Grams | Can | Grams | Can | Grams | Can | Grams | Can | Grams | Cans | Grams | Cans |
| 2 | 214 | 1 | 214 | 1/2 | 188 | 1 | 188 | 1/2 | 163 | 3/4 | 163 | 1/2 |
| 4 | 360 | 1+3/4 | 360 | 1 | 317 | 1+1/2 | 317 | 3/4 | 274 | 1+1/4 | 274 | 3/4 |
| 6 | 488 | 2+1/2 | 488 | 1+1/4 | 429 | 2+1/4 | 429 | 1 | 371 | 1+3/4 | 371 | 1 |
| 8 | 606 | 3 | 606 | 1+1/2 | 533 | 2+3/4 | 533 | 1+1/4 | 460 | 2+1/4 | 460 | 1 |
| 10 | 716 | 3+1/2 | 716 | 1+3/4 | 630 | 3+1/4 | 630 | 1+1/2 | 544 | 2+3/4 | 544 | 1+1/4 |
| 15 | 970 | 4+3/4 | 970 | 2+1/4 | 854 | 4+1/4 | 854 | 2 | 737 | 3+3/4 | 737 | 1+3/4 |
| 20 | 1204 | 6 | 1204 | 3 | 1059 | 5+1/4 | 1059 | 2+1/2 | 915 | 4+1/2 | 915 | 2+1/4 |
| 25 | 1423 | 7 | 1423 | 3+1/2 | 1252 | 6+1/4 | 1252 | 3 | 1082 | 5+1/2 | 1082 | 2+3/4 |
| 30 | 1632 | 8+1/4 | 1632 | 4 | 1436 | 7+1/4 | 1436 | 3+1/2 | 1240 | 6+1/4 | 1240 | 3 |
| 35 | 1832 | 9+1/4 | 1832 | 4+1/2 | 1612 | 8 | 1612 | 4 | 1392 | 7 | 1392 | 3+1/2 |
| 40 | 2025 | 10+1/4 | 2025 | 5 | 1782 | 9 | 1782 | 4+1/4 | 1539 | 7+3/4 | 1539 | 3+3/4 |
| 45 | 2212 | 11 | 2212 | 5+1/2 | 1946 | 9+3/4 | 1946 | 4+3/4 | 1681 | 8+1/2 | 1681 | 4 |
| 50 | 2393 | 12 | 2393 | 5+3/4 | 2106 | 10+1/2 | 2106 | 5+1/4 | 1819 | 9 | 1819 | 4+1/2 |
| 55 | 2571 | 12+3/4 | 2571 | 6+1/4 | 2262 | 11+1/4 | 2262 | 5+1/2 | 1954 | 9+3/4 | 1954 | 4+3/4 |
| 60 | 2744 | 13+3/4 | 2744 | 6+3/4 | 2415 | 12 | 2415 | 6 | 2086 | 10+1/2 | 2086 | 5 |
| 70 | 3081 | 15+1/2 | 3081 | 7+1/2 | 2711 | 13+1/2 | 2711 | 6+1/2 | 2341 | 11+3/4 | 2341 | 5+3/4 |
| 80 | 3405 | 17 | 3405 | 8+1/4 | 2996 | 15 | 2996 | 7+1/4 | 2588 | 13 | 2588 | 6+1/4 |