Yorkshire Terrier
Fuldfoder/Helfoder til voksne/vuxna og modne/äldre hunde/hundar af racen/rasen Yorkshire Terrier - Over 10 måneder (pate).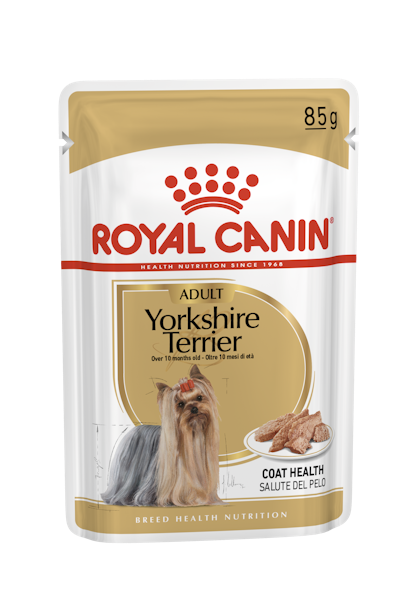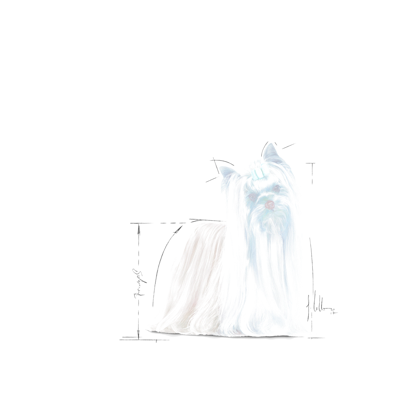 Coat health

Contributes to maintaining the health of the Yorkshire Terrier's skin and long coat with an exclusive blend of nutrients.

Appetite stimulation

Help satisfy the Yorkshire Terrier's appetite.

Stool quality

Helps support digestive health.

Adapted texture

Adapted texture.

Suitable for Yorkshire Terriers over 10 months old, ROYAL CANIN® Yorkshire Terrier in Loaf is specially formulated with all the nutritional needs of your adult dog in mind.ROYAL CANIN® Yorkshire Terrier in Loaf contributes to maintaining the skin and long coat health of Yorkshire Terriers with an exclusive blend of optimal nutrients – to help keep their coat glossy, shiny and silky.This food also helps support digestive health with a precise level of nutrition that has been formulated specifically for the Yorkshire Terrier breed.ROYAL CANIN® Yorkshire Terrier in Loaf is crafted to provide an adapted texture in order to increase levels of palatability to help stimulate your dog's appetite. The scent and softness of this tasty loaf should help satisfy the appetite of even the fussiest Yorkshire Terrier!To cater to each dog's individual preferences, ROYAL CANIN® Yorkshire Terrier in Loaf is also available as dry food, with crunchy and tasty kibble.If you're considering mixed feeding, simply follow our feeding guidelines to ensure your dog gets an accurate amount of both wet and dry food for optimal benefit.

SAMMENSÆTNING/INNEHÅLL: kød/kött og animalske biprodukter, vegetabilske biprodukter, korn/spannmål, mineraler, olie og fedtstoffer/fetter, sukker. TILSÆTNINGSSTOFFER/TILLSATSER (pr. kg): Tilsætningsstoffer med ernæringsmæssige egenskaber/Näringsmässiga egenskaper: D3-vitamin: 190 IE, E1 (Jern): 9 mg, E2 (Jod): 0,3 mg, E4 (Kobber/Koppar): 2,2 mg, E5 (Mangan): 2,7 mg, E6 (Zink): 27 mg - Teknologiske tilsætningsstoffer: Clinoptilolit/Klinoptilolit af sedimentær/sedimentärt oprindelse/ursprung: 2,2 g. ANALYTISKE BESTANDDELE/GENOMSNITTLIGT ANALYSVÄRDE: Protein: 8,5% - Råfedt/Råfett: 6,0% - Råaske: 2,2% - Træstof/Växttråd: 1,6% - Vand/Vatten: 78,0%. FODRINGSANVISNING/UTFODRINGSANVISNING: Se tabel. Udløbsdato/Bäst före datum, batch- og registreringsnummer: Se pakken/förpackningen. Opbevares køligt og tørt/Förvaras svalt och torrt.

| Dog's weight | Wet food only | Wet and dry food |
| --- | --- | --- |
| 2 kg | 2 Pouches per day | 1/2 Pouch + 35 g dry food |
| 3 kg | 3 Pouches per day | 1/2 Pouch + 52 g dry food |
| 4 kg | 3+1/2 Pouches per day | 1/2 Pouch + 67 g dry food |
Har du stadig spørgsmål til dette produkt?
Find ud af, hvordan du kan komme i kontakt med os.
Stil et spørgsmål