/
Home
/
Breed Page Template
The Labrador Retriever
About the Labrador Retriever breed
THE LABRADOR RETRIEVER
What Makes Your Labrador Retriever Incredible?
According to the American Kennel Club, the Labrador Retriever has been the most popular breed in the United States for the past 26 years! These dogs are known for their intelligence, trainability and friendly demeanor. Learn more about these unique dogs below.
The Labrador Retriever: The Voracious Eater
Learn more about what makes the Labrador Retriever one of the most popular pets around.
What Makes Your Lab Unique?
His Characteristic Coat
Labrador Retrievers have a thick double coat that acts like a wetsuit when they swim!
His Enormous Appetite
Labs can and will eat anything and everything if you let them!
His Magnificent Stature
Labrador Retrievers can weigh up to 80 pounds, so healthy bones and joints are important.
Labrador Retriever Adult Dry Dog Food
The Labrador Retriever is a breed that tends to eat quickly without chewing its food. The donut shaped kibble of the LABRADOR RETRIEVER dry formulas help to slow the rate of ingestion and encourage the Labrador to chew his food. Labrador Retriever Adult dry dog food is designed exclusively for pure breed Labrador Retrievers over 15 months.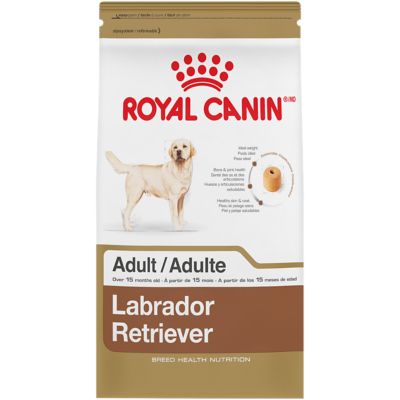 MORE LABRADOR RETRIEVER DIETS
Incredible in Every Detail™
Royal Canin obsesses about the precise nutritional needs of cats and dogs based on their size, age, lifestyle, breed and specific health needs. We partner with veterinarians and nutritionists to understand the impact of each nutrient in order to develop nutritional solutions that help bring out the magnificence in every cat and dog.