French Bulldog Puppy
Complete feed for dogs - Specially for French Bulldog puppies - Up to 12 months old.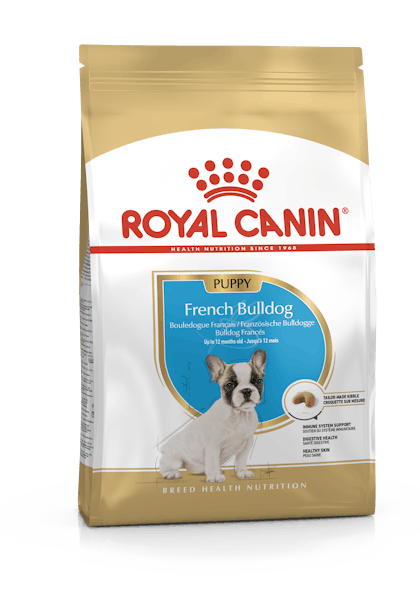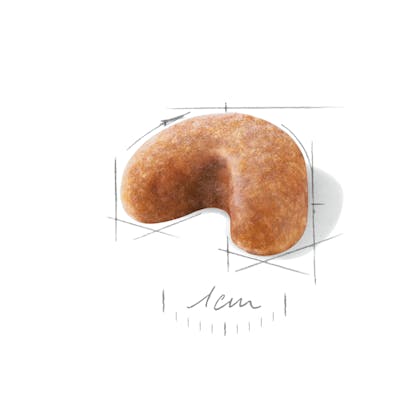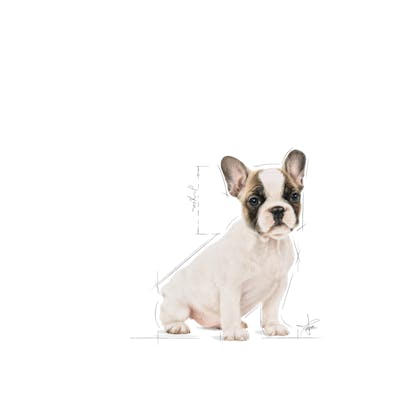 Immune system support

Growth is an essential stage in your dog's life: it is the time of big changes, discoveries and new encounters. During this key period, the puppy's immune system develops gradually.French Bulldog Puppy helps support your puppy's natural defences thanks particularly to a patented* complex of antioxidants including vitamin E. *France, patent no EP1146870.

Digestive health

Combination of nutrients with high quality protein (L.I.P.*) and prebiotics (FOS) to support digestive health and balance of intestinal flora, which contributes to good stool quality. *Protein selected for its very high digestibility.

Healthy skin

This formula helps support the skin's "barrier" role (exclusive complex) and maintain skin health.

Exclusive kibble: Special brachycephalic jaw

A kibble exclusively designed to make it easier for the French Bulldog puppy to pick up and to encourage him to chew.

Suitable for puppies up to 12 months old, ROYAL CANIN® French Bulldog Puppy is specially formulated with all the nutritional needs of your growing puppy in mind. Thanks to a patented complex of antioxidants – including vitamin E – ROYAL CANIN® French Bulldog Puppy helps to support your puppy's natural defences whilst its immune system gradually develops. ROYAL CANIN® French Bulldog Puppy contains nutrients with very high quality proteins (L.I.P.), specially selected for their high digestibility. It also contains highly beneficial prebiotics. The combination of these nutrients helps to support good digestive health. What's more, this exclusive formula also helps to support your dog's skin's barrier role – which ultimately contributes to the maintenance of your dog's good skin health. The kibble in ROYAL CANIN® French Bulldog Puppy is designed exclusively for your French Bulldog puppy. Because this breed has a particularly brachycephalic jaw, the shape and size of this kibble is specially adapted to make it easier for your puppy to pick up. Additionally, the texture of the kibble encourages your puppy to chew it before swallowing.
KOOSTUMUS: riisi, kuivattu siipikarjanvalkuainen, vehnä, kasvivalkuaisuute*, eläinrasvat, hydrolysoidut eläinvalkuaiset, juurikaskuitu, kuivattu sikavalkuainen, kivennäisaineet, soijaöljy, kalaöljy, frukto-oligosakkaridit (0,34%), hydrolysoitu hiiva (mannaanioligosakkaridien lähde), äyriäishydrolysaatti (glukosamiinin lähde), hiivauutteet (beeta-glu- kaanien lähde), isosamettikukkauute (luteiinin lähde), rustohydrolysaatti (kondroitiinin lähde). LISÄAINEET (kg:ssa): Ravitsemukselliset lisäaineet: A-vitamiini: 31500 KY, D3-vitamiini: 800 KY, E-vitamiini: 630 mg, E1 (Rauta): 41 mg, E2 (Jodi): 4,1 mg, E4 (Kupari): 13 mg, E5 (Mangaani): 54 mg, E6 (Sinkki): 137 mg, E8 (Seleeni): 0,09 mg - Teknologiset lisäaineet: Sedimenttiperäinen klinoptiloliitti: 10 g - Sensoriset lisäaineet: Yuccauute: 125 mg - Säilöntäaineet - Hapettumisenestoaineet. RAVINTOAINEET: Raakavalkuainen: 30,0% - Raakarasva: 20,0% - Tuhka: 8,0% - Raakakuitu: 1,2%. RUOKINTAOHJE: ks. annostelutaulukko. Eränumero ja sarjanumero, parasta ennen -päivä: ks. pakkaus. Säilytetään viileässä ja kuivassa. *L.I.P.: erinomaisen sulavuutensa perusteella valittu valkuaisaine.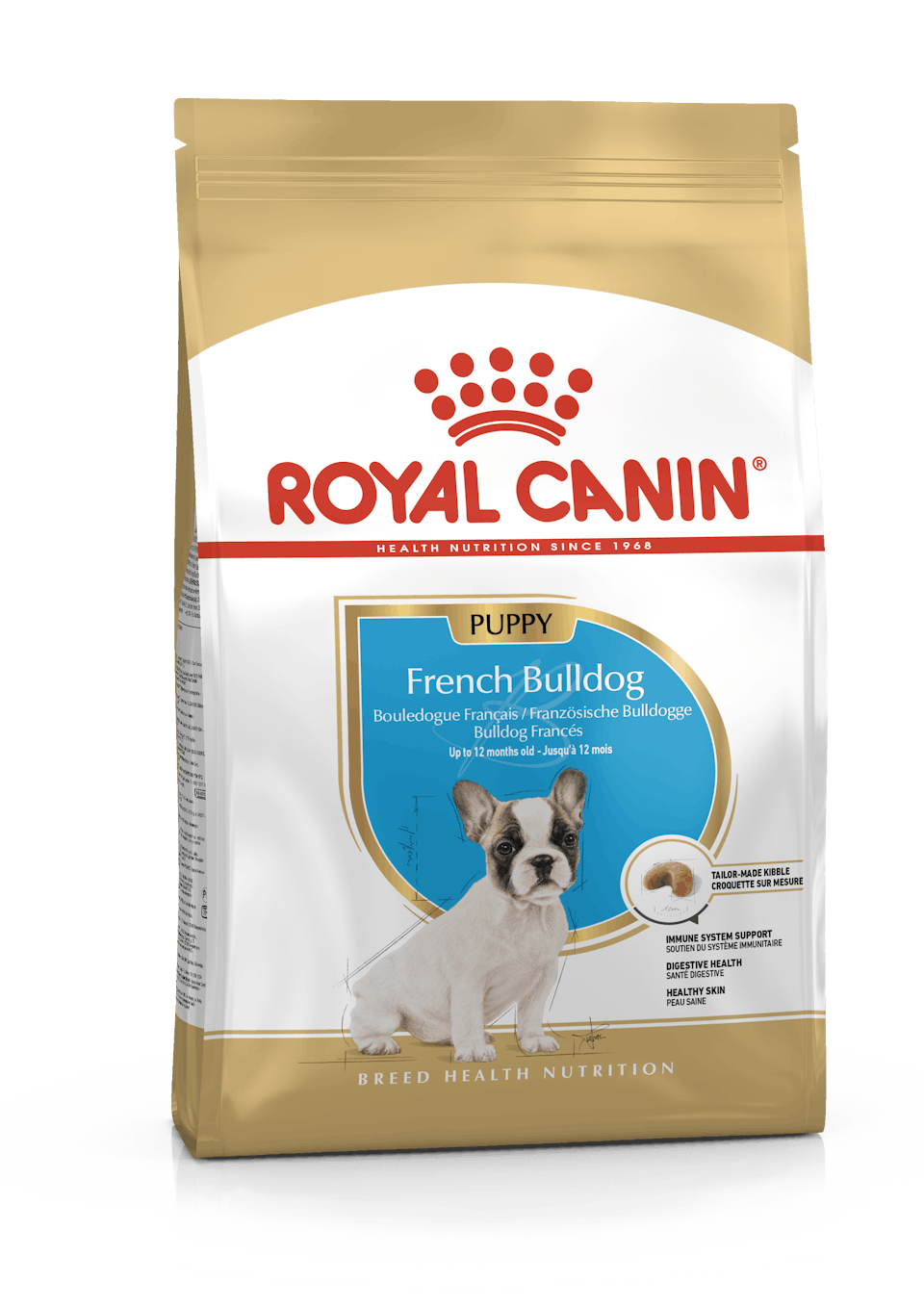 Onko sinulla edelleen kysyttävää tästä tuotteesta?
Katso yhteystietomme ja ota yhteyttä.
Esitä kysymys