Sterilised
Täysrehu - Aikuisille kastroiduille koirille yli 10 kk ikäisille - Koirille, joilla on taipumus ylipainoon.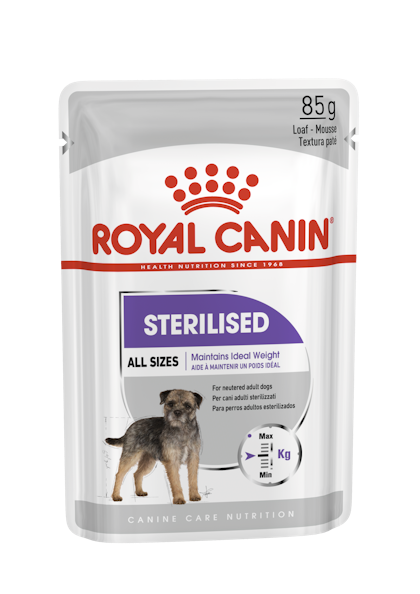 Maintain ideal weight

Helps maintaining ideal weight of sterilised dogs through a reduction of the calories by 10%.

Sensitivity Description

After sterilization, your dog's metabolism slows down. Even if he is still happy at home, he is burning less energy, you may notice that he's hungrier than before. Keeping him trim is now key.

Canine Care Nutrition Programme

Providing a healthy & balanced nutrition with the perfect combination of our dry & wet formulas.

Your dog's metabolism often slows down after sterilisation, you may find that your dog is happier on the sofa than off adventuring, though still ravenous at mealtimes. It's well known that balanced nutrition can help animals cope better with health challenges. Decades of advanced scientific research into canine nutrition are at your service in this food for sterilised dogs like yours. Suitable for dogs of all sizes, ROYAL CANIN® Sterilised Loaf is specially tailored with active nutrients that help to satisfy your dog's hunger, while also keeping him trim and active. ROYAL CANIN® Sterilised Loaf's tasty recipe is rich in highly digestible protein, specially adapted to your dog's specific needs. The proteins in this food help your dog maintain muscle mass, while also reducing his calorie and fat intake. What's more, ROYAL CANIN® Sterilised Loaf contains a moderate fat content, and an optimal combination of dietary fiber to help your dog maintain an ideal weight, while also helping them feel full. In addition to this delicious pâté, our Sterilised nutritional program is also available as crunchy kibble. Both are nutritionally complete and perfectly complement each other. Why not try the pâté as a delicious topping to the kibble? Switch your dog to ROYAL CANIN® Sterilised Loaf and witness the benefits of high-quality nutrients calibrated to keep your dog active, trim, and healthy.


KOOSTUMUS: liha- ja eläinperäiset tuotteet, viljat, kasviperäiset tuotteet, kivennäisaineet, sokerit, öljyt ja rasvat. LISÄAINEET (kg:ssa): Ravitsemukselliset lisäaineet: D3-vitamiini: 190 KY, E1 (Rauta): 2 mg, E2 (Jodi): 0,3 mg, E4 (Kupari): 2,4 mg, E5 (Mangaani): 0,6 mg, E6 (Sinkki): 6 mg. RAVINTOAINEET: Raakavalkuainen: 8,4% - Raakarasva: 4,0% - Tuhka: 1,5% - Raakakuitu: 1,3% - Kosteus: 81,0%. RUOKINTAOHJE: ks. annostelutaulukko. Eränumero ja sarjanumero, parasta ennen -päivä: ks. pakkaus. Säilytetään viileässä ja kuivassa.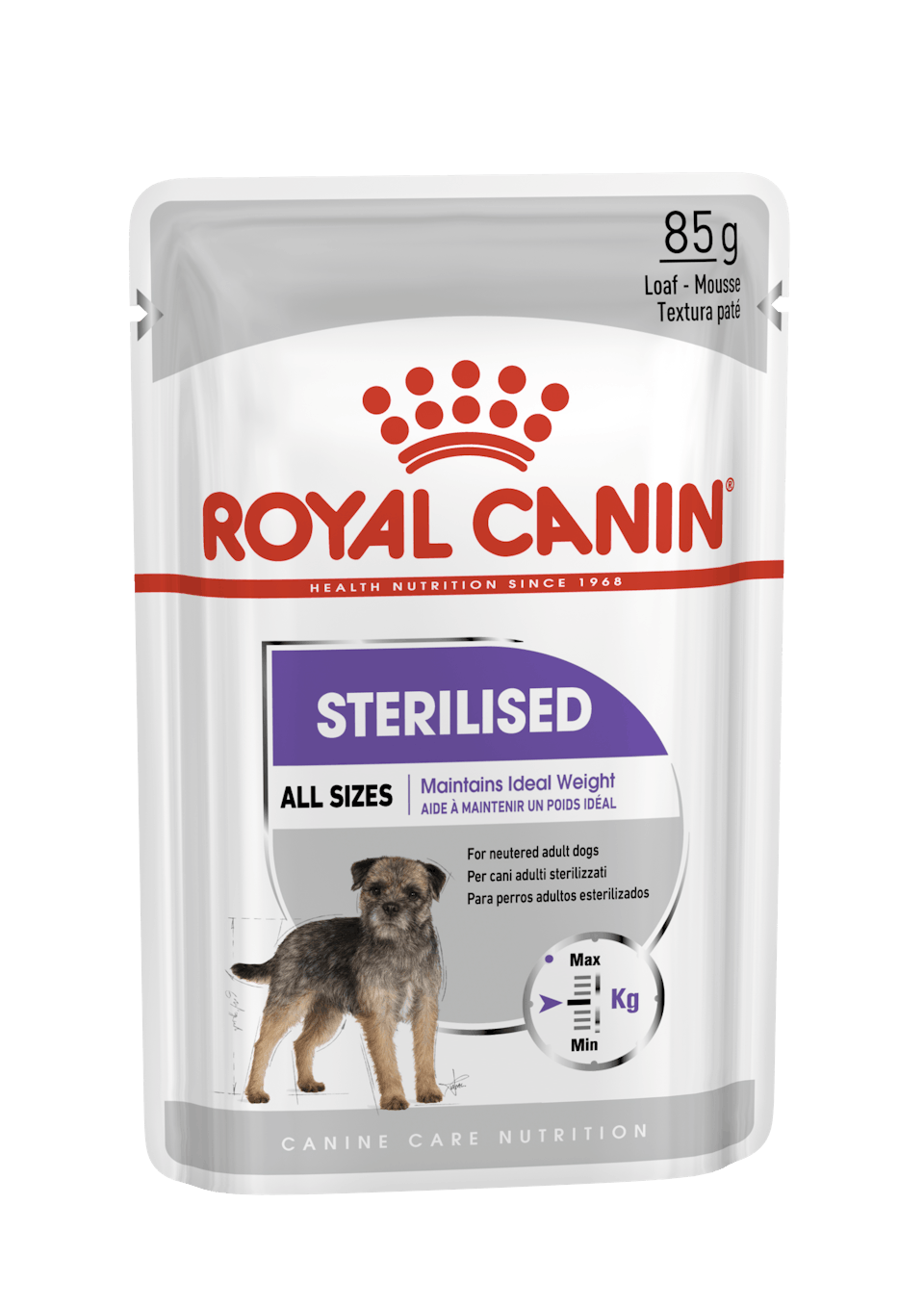 Onko sinulla edelleen kysyttävää tästä tuotteesta?
Katso yhteystietomme ja ota yhteyttä.
Esitä kysymys