Renal Feline Loaf in Can
It is recommended that a veterinarian's opinion be sought before use or before extending the period of use. Initially feed Renal  for up to 6 months in cases of chronic renal insufficiency and reduction of oxalate stone formation. For cases of temporary renal insufficiency a period of 2 to 4 weeks feeding is recommended.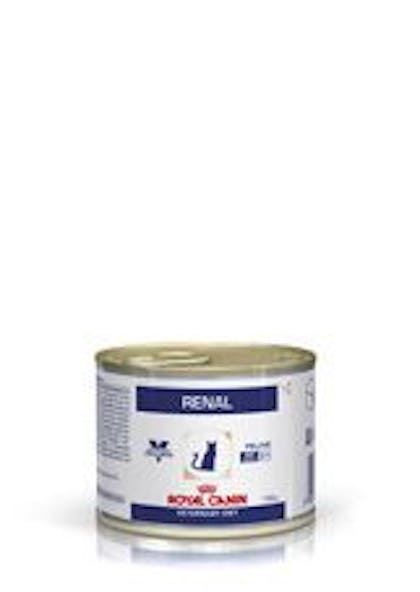 Antioxidant complex

A patented synergistic complex of antioxidants to help neutralise free radicals.

Low phosphorus

A low phosphorus intake is key to help support renal function in cats with chronic renal insufficiency.

Metabolic equilibrium

S/O Index

CKD Dietary Management

Formulated to support renal function in case of chronic kidney disease. Contains EPA and DHA, a complex of antioxidants and a low phosphorus level.
COMPOSITION: meat and animal derivatives (pork,chicken), cereals, fish and fish derivatives (salmon), oils and fats, derivatives of vegetable origin, minerals, various sugars.

ADDITIVES (per kg): vitamin D3: 360 IU, E1 (Iron): 4 mg, E2 (Iodine): 0.25 mg, E4 (Copper): 2 mg, E5 (Manganese): 1.3 mg, E6 (Zinc): 13 mg - Technological additives: Clinoptilolite of sedimentary origin: 0.2 g.

ANALYTICAL CONSTITUENTS : Protein: 7.5% - Fat content: 6.5% - Crude ash: 1% - Crude fiber: 1.2% - Moisture: 77.5% - Calcium: 0.15% - Phosphorus: 0.1% - Potassium: 0.17% - Sodium: 0.09% - Magnesium: 0.01% - Chloride: 0.11% - Sulphur: 0.13% - Vitamin D (total): 450 IU/Kg - Hydroxyproline: 0.13% - Essential fatty acids: 2.05% - EPA and DHA: 0.06% . Urine alkalinizing substances: calcium carbonate - potassium citrate.

-
-
-
Cat's
LEAN
-
NORMAL
-
OVERWEIGHT
weight (kg)
-
-
-
(g / day)
Can / day
(g / day)
Can / day
(g / day)
Can / day
2
141
3/4
117
1/2
94
1/2
3
188
1
156
3/4
125
3/4
4
230
1 1/4
192
1
154
3/4
5
270
1 1/2
225
1 1/4
180
1
6
307
1 1/2
256
1 1/4
205
1
7
343
1 3/4
286
1 1/2
229
1 1/4
8
377
2
314
1 1/2
251
1 1/4
9
410
2
341
1 3/4
273
1 1/2
10
441
2 1/4
368
2
294
1 1/2
MIXED FEEDING Daily ration with all Renal Feline dry range
-
-
-
Cat's
-
LEAN
NORMAL
OVERWEIGHT
-
weight (kg)
-
-
-
CAN (195g) +
(g ) DRY
(g ) DRY
(g ) DRY
-
2
1/4
25
19
12
-
3
1/4
38
30
21
-
4
1/2
37
26
15
-
5
1/2
48
35
23
-
6
1/2
58
44
30
-
7
1/2
68
52
36
-
8
1/2
77
60
42
-
9
1
59
40
22
-
10
1
68
48
27
-