דייג'סטיב סנסיטיב פאוץ' , נתחים ברוטב
מזון רטוב לחתולים בעלי רגישות במערכת העיכול , נתחים ברוטב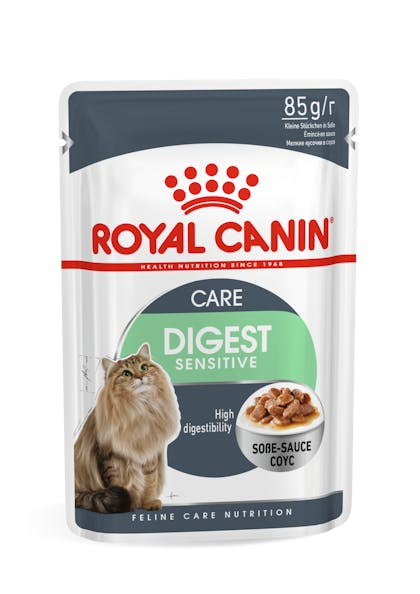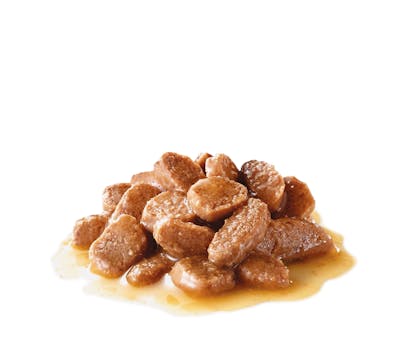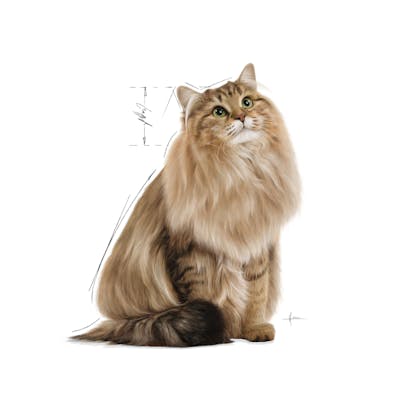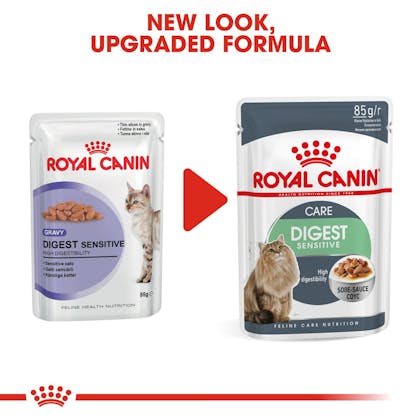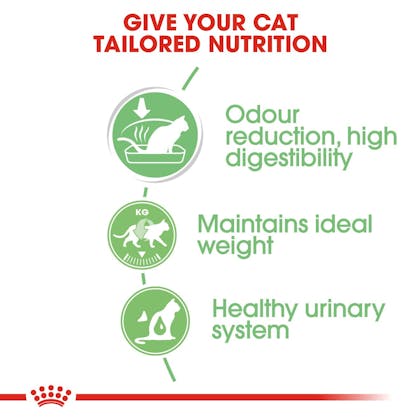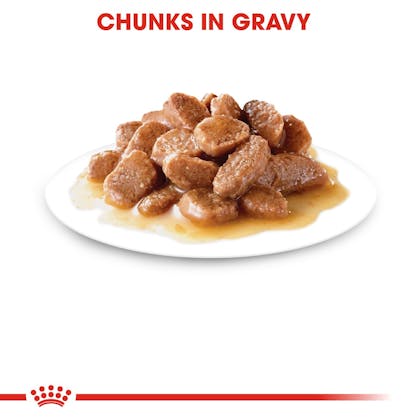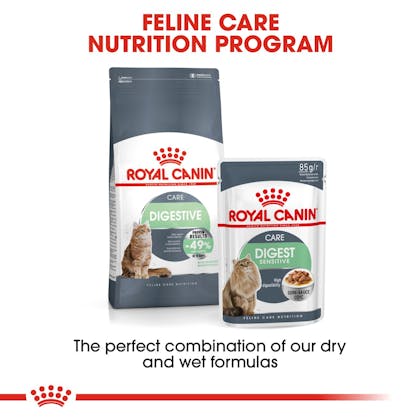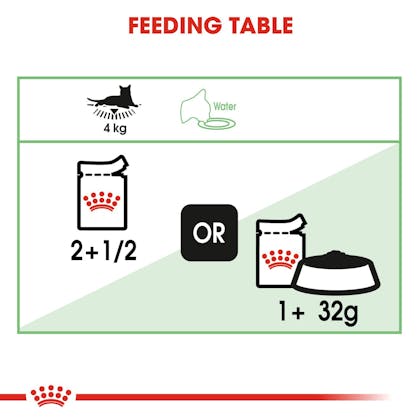 עבודה לקראת עתיד בר-קיימא
‏‎‎‏אנחנו מאמינים שחיות מחמד הופכות את העולם שלנו לטוב יותר, הן מספקות לנו השראה ומטרה לחיינו. התפקיד שלנו לספק עולם טוב יותר לחיות המחמד ™A BETTER WORLD FOR PETS.‏‎‎‏
מידע נוסף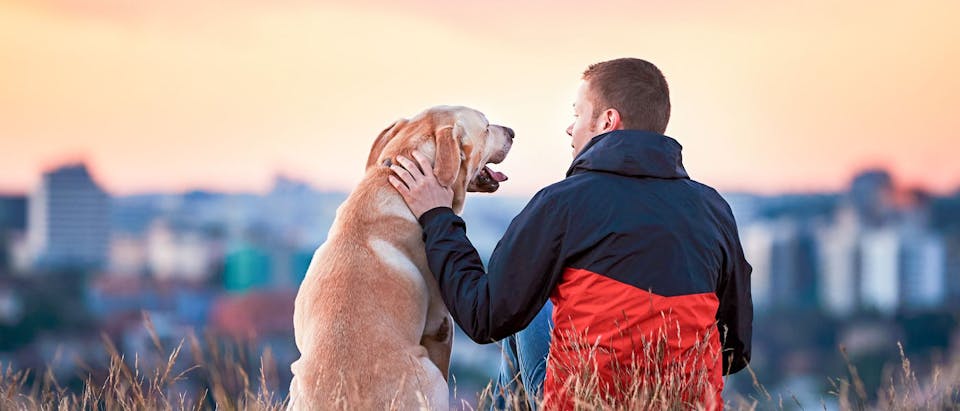 רכיבים: בשר ותוצרים מן החי, דגניים, תוצרים ממוצא צמחי, מינרלים, תמציות חלבון מן הצומח, סוכרים למיניהם, קלינופטילולייט (2 גר'/ק"ג).

תוספי תזונה מוספים (לק"ג): ויטמין 3D – 200 יחב"ל, 1E (ברזל) – 3.6 מ"ג, 2E (יוד) – 0.35  מ"ג, 4E (נחושת) – 2.8 מ"ג, 5E (מנגן) – 1 מ"ג, 6E (אבץ) – 11 מ"ג.

ערכים תזונתיים:  חלבון 9.5%, שומן 4%, לחות 80.5%, אפר גולמי 1.7%, סיבים גולמיים 0.6% אנרגיה מטבולית: 935 קק"ל/ק"ג

| משקל החתול (ק"ג | ללא פעילות | - | רמת פעילות ממוצעת | - | רמת פעילות גבוהה | |
| --- | --- | --- | --- | --- | --- | --- |
| - | גרם ליום | פאוצ' ליום | גרם ליום | פאוצ' ליום | גרם ליום | פאוצ' ליום |
| 2 | 110 | 1 + 1/4 | 135 | 1 + 1/2 | 165 | 2 |
| 3 | 145 | 1 + 3/4 | 180 | 2 | 215 | 2 + 1/2 |
| 4 | 180 | 2 | 220 | 2 + 1/2 | 265 | 3 |
| 5 | 210 | 2 + 1/2 | 260 | 3 | 315 | 3 +3/4 |
| 6 | 235 | 2 + 3/4 | 295 | 3 + 1/2 | 355 | 4 + 1/4 |
| 7 | 265 | 3 | 330 | 4 | 395 | 4 +3/4 |
| 8 | 290 | 3 + 1/2 | 365 | 4 + 1/4 | 435 | 5 |
| 9 | 315 | 3 + 3/4 | 395 | 4 + 3/4 | 475 | 5 +1/2 |
| 10 | 340 | 4 | 425 | 5 | 510 | 6 |
Tori13
30 אוק 2019
Love the texture and shape
My cats love this food! Other food they would eat to fast and throw back up, the shape of this food makes them chew it! We love this food!
Kfango
05 יונ 2019
My cat loved the flavor
I was going to try the Royal Canin Feline Care Digest Sensitive Pouch cat food as part as a free trial promotion. Sadly that promotion ran out, but I still wanted to try these cat food pouches so I purchased them for my two Ragdoll cats. Both of my cats loved the flavor of the wet food and begged for it as a treat. I like that it was for a sensitive stomach, and that they did not throw up after eating. I would definitely buy these again for my cats as an added treat to their dry food.
TuxedoCatLover
31 מאי 2019
My Senior IBD Cat loved this food
For the past two months my senior cat has turned his nose up at most foods, concerned about his IBD and his picky nature I was looking for a food that was good for him but helpful in his sensitive tummy, he loved this food, enough that I was able to place his meds for IBD in the middle of it and he didn't even notice, highly recommend this food, now off to go buy some more :)
Smokechichhr
23 אפר 2019
Great kitty food
My 2 cats loved this stuff! Will buy again since my cats are very picky eaters..my cats are very picky about there kitty food and this cat food they like very much and will continue to buy as long as they dont get tired of it
AmazonPrincess
21 נוב 2018
Our cats love it!
I have always heard good things about Royal Canin but hadn't tried it until now. Our cats love this food. They mostly eat dry food but they get wet food at least once a day or every other day. Our female cat can't keep certain brands of food down, she will vomit not long after eating. Sometimes I think its because she eats the food too fast but not always. She has been able to keep this food down and that's a good thing. I would highly recommend this product to people that have a cat with a sensitive stomach.
Janet77
06 נוב 2018
Cat loves this
I got this cat food and could not wait to give it to my cat. He loved it. I will definitely be buying more for him. He seemed to love it he ate it all so fast. Will be trying other varieties for him to see what he likes best.
MUFFIE
31 אוק 2018

My kitties Jingles the Savannah & Belles the Bengal love this!!!
Asma
31 אוק 2018
AWESOME!
Since i started buying Royal canin my cats dont like to eat anything else. It is in their diet for 6 months now and I hope I will be one of the winners.
Shadownmom
30 אוק 2018
Helps my cat's sensitive tummy
My cat has a very sensitive stomach and is prone to diarrhea periodically. Since feeding him the Digest Sensitive formula, his stomach has settled down.
Value_mom
30 אוק 2018
Easy to serve pouches with gravy that my cat likes
My cat is picky and he lapped up the gravy and even ate many of the chunks. This food seemed to stay down unlike some other food so that is good. The pouches are very convenient.