אינטנס ביוטי פאוץ', נתחים ברוטב
מזון רטוב לחתולים לשמירה על בריאות העור ופרווה מבריקה/לעור בריא ופרווה מבריקה , נתחים ברוטב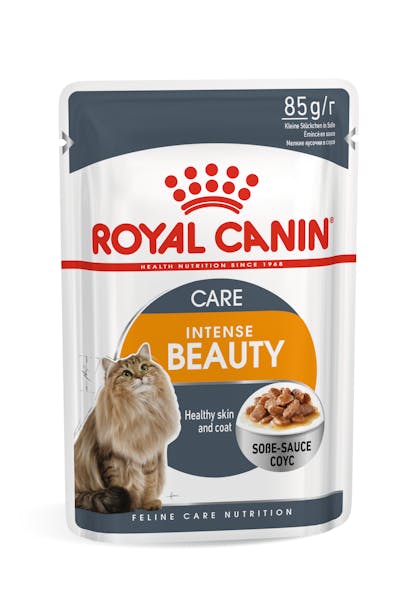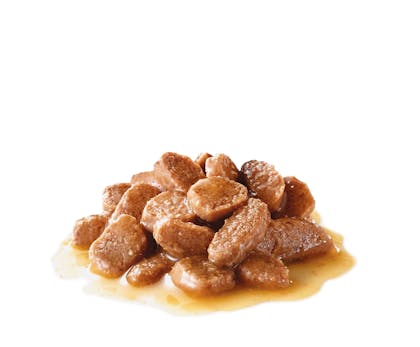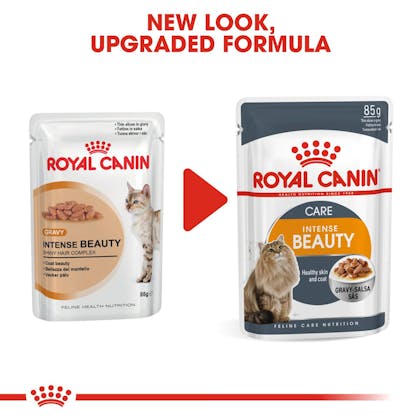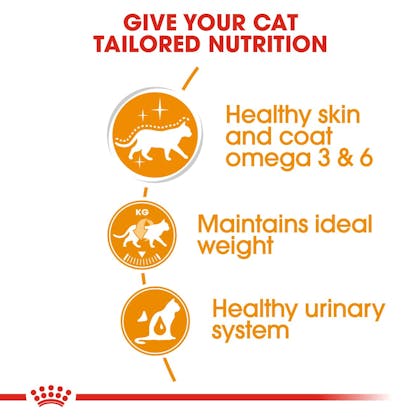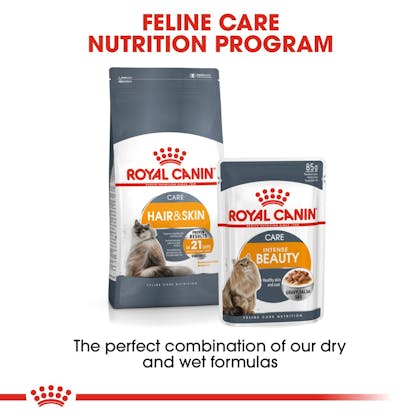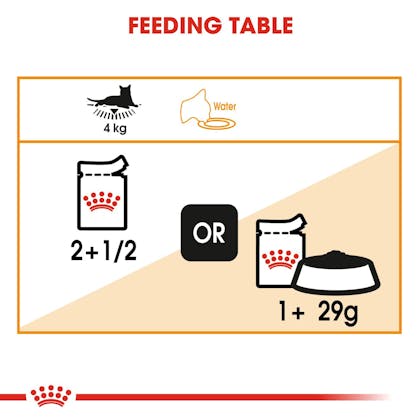 עבודה לקראת עתיד בר-קיימא
‏‎‎‏אנחנו מאמינים שחיות מחמד הופכות את העולם שלנו לטוב יותר, הן מספקות לנו השראה ומטרה לחיינו. התפקיד שלנו לספק עולם טוב יותר לחיות המחמד ™A BETTER WORLD FOR PETS.‏‎‎‏
מידע נוסף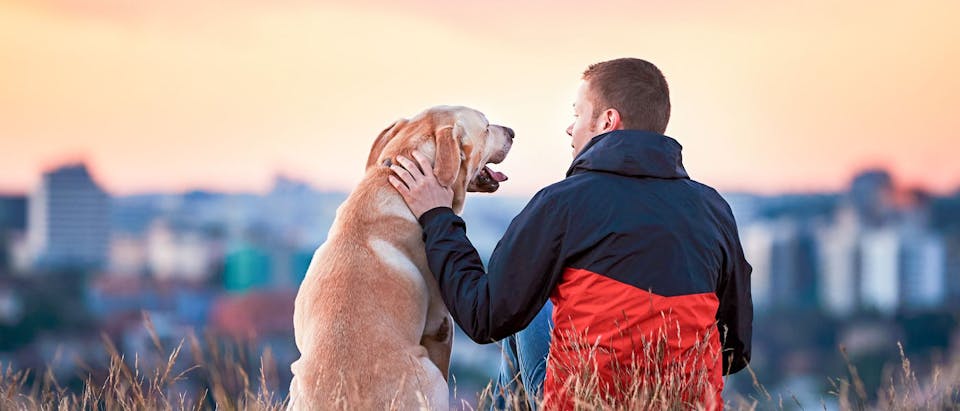 רכיבים: בשר ותוצרים מן החי, דגניים, תמציות חלבון מהצומח, שמנים ושומנים, תוצרים ממוצא צמחי, מינרלים, סוכרים למיניהם.

תוספי תזונה מוספים (לק"ג): ויטמין 3D – 105 יחב"ל, 1E (ברזל) – 9 מ"ג, 2E (יוד) – 0.32  מ"ג, 4E (נחושת) – 2.6 מ"ג, 5E (מנגן) – 2.8 מ"ג, 6E (אבץ) – 28 מ"ג.

ערכים תזונתיים:  חלבון 12%, שומן 3.7%, לחות 78%, אפר גולמי 1.4%, סיבים גולמיים 1.2%  אנרגיה מטבולית: 1016 קק"ל/ק"ג

| משקל החתול | פאוצ'ים בלבד | רטוב + יבש |
| --- | --- | --- |
| 3 ק"ג | 2 | פאוצ' + 20 גרם |
| 4 ק"ג | 2 +1/2 | פאוצ' + 29 גרם |
| 5 ק"ג | 2 +3/4 | פאוצ'+ 38 גרם |
| 6 ק"ג | 3 + 1/4 | פאוצ' + 46 גרם |
Scottish Fold
22 אוק 2019
mentalreck
02 אוג 2019
Smells delicious!
I received a sample of Royal Canin ® Feline Care Nutrition ™ Intense Beauty Pouch Cat Food 3 oz - Chunks in Gravy. My cat totally devoured it, (it looked and smelled good enough for me to eat!) Unfortunately due to her sensitive stomach it came up almost as fast as it went down.
MUFFET57
11 מרץ 2019
ROYAL CANIN
PILLOW LOVED IT ALOT. HE JUST WANTED MORE BECAUSE HE IS A BIG CAT. WHEN I GAVE IT TO HIM OF COURSE HE HAD TO SNIFF IT FOR AWHILE BEFORE HE TASTED IT. HE LOOKED AT ME AND BEGIN TO LICK IT FIRST THEN HE ATE THE WHOLE THING AND WANTED MORE
Dessy254
04 ינו 2019
Love!
I bought this over a month ago and I love it! I would definitely recommend to all my friends! My cats loved this and refused to eat anything else besides these! They're really affordable as well!!!!!!!
תגובת Royal Canin
Great to hear!
JapanKorea
28 דצמ 2018
Amazing
I never received the sample i was suppose to get in my mailbox and decided to buy it in store since it never got sent. I saw at my local petsmart that there were different "flavors" that were interesting. I got the same one i requested which was for beauty. My cat is a snowshoe which is a siamese mix and she tends to be picky with her food. The reason i got the beauty pouch was because of her breed we need to take care of her hair to be nice and smooth and not matte. So this helped with that. The smell is strong almost like ham smell but my cat enjoyed it and eventually we bought more
Aengle
22 דצמ 2018
Great product
I gave this product to my cats and they loved. The ingredients were a plus and my cats seemed to really enjoy it and want more of it. The flavor of this product seems to be a hit with my cats. I highly recommend this product.
mrsdwb
05 דצמ 2018
Kitty gives this two jellybeans up
Our kitty loves the Royal Canin Feline Care Nutrition Intense Beauty Pouch Cat Food 3 oz Chunks in Gravy. The chunks are nicely sized and the pouch contains the perfect amount of food to satisfy him. He meows and purrs when I open the package and anxiously awaits the contents to fill his bowl then devours every last drop.
תגובת Royal Canin
Wonderful feedback, thank you!
Jls2018
04 דצמ 2018
Good cat food
My cats seemed to like this food ok they are just set in their ways and prefer to stick to their regular food. We did not have any problems when switching brands and I would proudly try this product with any new cars I got.
Eve1
20 נוב 2018
Happy cat
I got this for my cat who is very picky when it comes to anything and especially food. Just wanted to give this a try, not really expecting too much. She LOVES it! I gave her a little bit for lunch to try and she even licked the bowl clean! This food is definitely a keeper!
Faithful316
05 נוב 2018
Great taste
I always buy my cat hard food when I got this in the mail and gave it to her she loves it so now I have to mix the food up for her a little. Some days give her wet and other days give her dry. I would recommend this to anyone.