מקסי אייג'ינג  +8
מזון יבש לכלבים מבוגרים במשקל 26-44 ק"ג, מגיל 8 שנים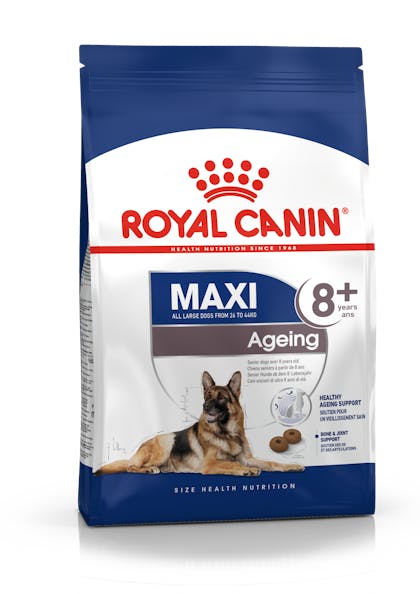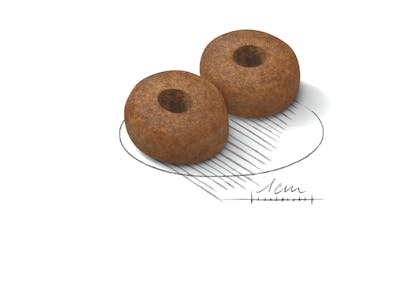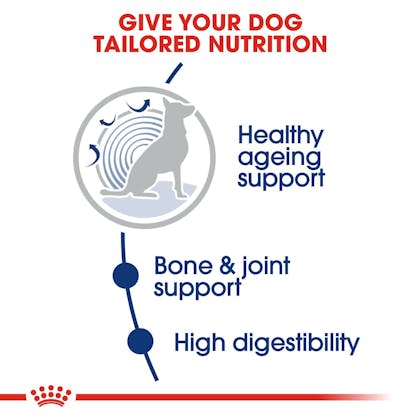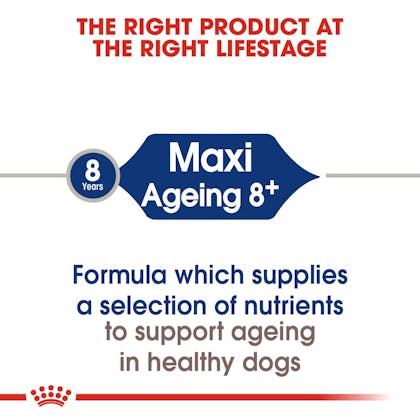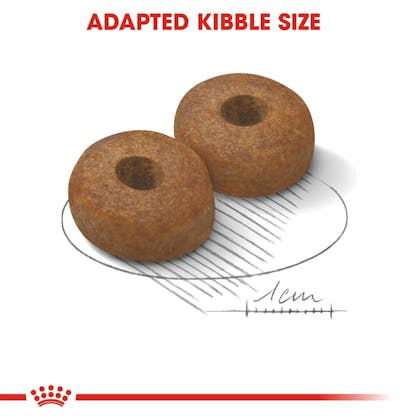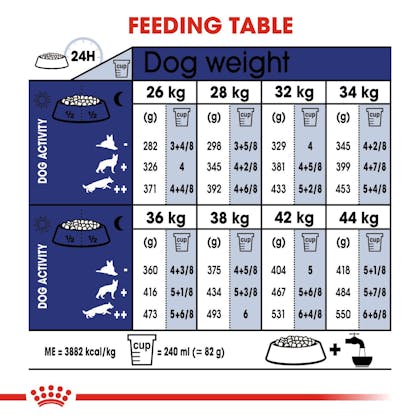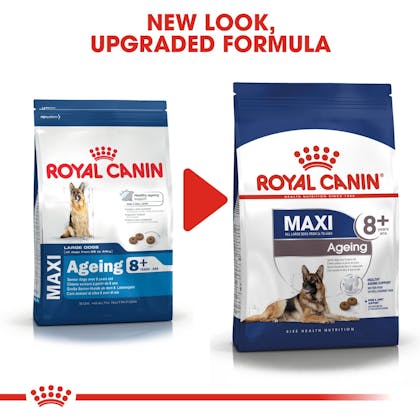 עבודה לקראת עתיד בר-קיימא
‏‎‎‏אנחנו מאמינים שחיות מחמד הופכות את העולם שלנו לטוב יותר, הן מספקות לנו השראה ומטרה לחיינו. התפקיד שלנו לספק עולם טוב יותר לחיות המחמד ™A BETTER WORLD FOR PETS.‏‎‎‏
מידע נוסף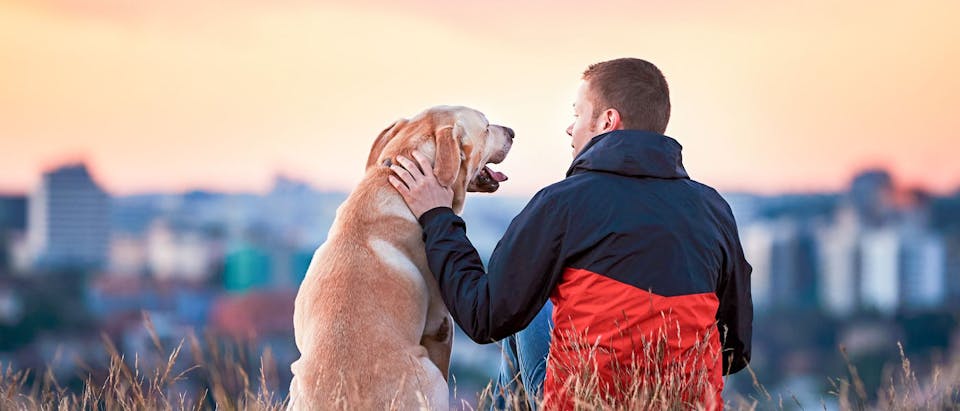 סחוס שעבר הידרוליזה (מקור לכונדרויטין), קלינופטילולייט (10 גר'\ק"ג), תמצית תה (מקור לפוליפנולים) (150 מ"ג\ק"ג), חומרים משמרים- חומרים נוגדי חימצון.

תוספי תזונה מוספים (לק"ג): ויטמין A – 29000 יחב"ל, ויטמין 3D – 800 יחב"ל, 1E (ברזל) – 41 מ"ג, 2E (יוד) – 4.1 מ"ג, 4E (נחושת) – 13 מ"ג, 5E (מנגן) – 53 מ"ג, 6E (אבץ) – 134 מ"ג, 8E (סלניום) – 0.09 מ"ג.

ערכים תזונתיים:  חלבון 27%, שומן 17%, לחות 9.5%, אפר גולמי 5.8%, סיבים גולמיים 2.9% אנרגיה מטבולית: 3978 קק"ל/ק"ג

| משקל הכלב | רמת פעילות נמוכה | רמת פעילות ממוצעת | רמת פעילות גבוהה |
| --- | --- | --- | --- |
| 26 ק"ג | 282 גרם (3+4/8 כוס מדידה) | 326 גרם (4 כוס מדידה) | 371 גרם (4+4/8 כוס מדידה) |
| 28 ק"ג | 298 גרם (3+5/8 כוס מדידה) | 345 גרם (4+2/8 כוס מדידה) | 392 גרם (4+6/8 כוס מדידה) |
| 30 ק"ג | 314 גרם (3+7/8 כוס מדידה) | 363 גרם (4+4/8 כוס מדידה) | 413 גרם (5 כוס מדידה) |
| 32 ק"ג | 329 גרם (4 כוס מדידה) | 381 גרם (4+5/8 כוס מדידה) | 433 גרם (5+2/8 כוס מדידה) |
| 34 ק"ג | 345 גרם (4+2/8 כוס מדידה) | 399 גרם (4+7/8 כוס מדידה) | 453 גרם (5+4/8 כוס מדידה) |
| 36 ק"ג | 360 גרם (4+3/8 כוס מדידה) | 416 גרם (5+1/8 כוס מדידה) | 473 גרם (5+6/8 כוס מדידה) |
| 38 ק"ג | 375 גרם (4+5/8 כוס מדידה) | 434 גרם (5+3/8 כוס מדידה) | 493 גרם (6 כוס מדידה) |
| 40 ק"ג | 389 גרם (4+6/8 כוס מדידה) | 451 גרם (5+4/8 כוס מדידה) | 512 גרם (6+2/8 כוס מדידה) |
| 42 ק"ג | 404 גרם (5 כוס מדידה) | 467 גרם (5+6/8 כוס מדידה) | 531 גרם (6+4/8 כוס מדידה) |
| 44 ק"ג | 418 גרם (5+1/8 כוס מדידה) | 484 גרם (5+7/8 כוס מדידה) | 550 גרם (6+6/8כוס מדידה) |
Husky Shepherd
30 אוק 2019
The best for his breed!!!
This stuff is great! I have a German shepherd, husky mix who has folding the Maxi brand since I got him. I've tried other brands both expensive and inexpensive and nothing compared to this. Nothing agreed with his stomach/digestive system the way the Maxi branding does. Blue Buffalo gave hi excessive gas, pedigree came out the same way it went in. You can clearly see the difference!!
Deb53
26 אוק 2019
There are so many options to choose from !
My two Labradoodles are 12 and 11 now and they have been eating Royal Canin food since we first brought them home! a couple years ago I did switch to the 8+ food for them since they are getting older but they have been healthy and they really like the food!
anonymous987
22 אוק 2019
Best Senior Food Ever!
My niece is a veterinarian and she recommended this product for my aging dog, Rocco. Soon after he began eating Royal Canin 8+, he's been quite active and his coat is so shiny. Plus, I swear he sheds less too. He gets so excited when it's time to eat. Recently, after filling his dish and brining it up the steps, he actually stuck his big nose into sneak a few bites before placing the bowl down.
Tallen
22 אוק 2019
Our dogs love Royal Canin
We started with Royal Canin about 7 years ago, we have two boxers. And our oldest boxer was having a lot of allergy issues when we moved to Illinois. We visited the vet, tried lots of different foods. Then tried Royal Canin Boxer blend. And WOW what a difference, the throwing up stopped and the hives stopped. My dogs love the food, and are doing great. No more emergency vet visits because of hives and dehydration. My older dog is not having joint pain issues. We have switched them to Royal Canin 8+, and my pups are still doing great. I definitely recommend Royal Canin to all my friends.
Bnettles
22 אוק 2019
Old dog has more life!
I started giving this to my 12yo Bassett Hound 6 months ago. After a month, he started to be more mobile and active. Now he runs and plays with my 2yo German Shepard.
Wild_Violet11
09 פבר 2019
Only the best for the best!
I bought this a few months ago for my 10 year old Pyrenees mix. He had been slowing down and was showing his age despite medical management for osteoarthritis an DJD. I CANNOT believe the difference this has made in him! After about 30 days on the food he is much more spry and playful with my other dogs. The biggest difference- he jumps! He was never a dog to jump into the car or the bed even in his younger days and he does now- with confidence! The only difference was the food. It almost brought tears to my eyes- thank you Royal Canin for bringing new life to my boy!
תגובת Royal Canin
So wonderful to hear! These are the stories we love! Please reach out to our Consumer Care team at
[email protected]
for a special thank you!
jferrone15
07 נוב 2018
Excellent dry dog food
My dogs love Royal Canin. Vet recommended this food.
Cool Cooper
02 נוב 2018
Wonderful Selection For Very SpecificDogs
When we brought our Wired Hair Pointing Griffon puppy home from the breeder in May 2018 she highly recommended Royal Canin max puppy chow since he was 18 pounds. Five months later he weighs 65 pounds, has great energy, a wonderful coat and eats his Royal Canin Large Dry Food so fast that 2 cups are gone in less than 1 minute. Our Vet & Dog Trainer also highly recommended that the best dog is is Royal Canin.
Barbetta29
01 נוב 2018
Easy to chew
Been using Royal Canin dog food since our German Shepherd Angel was 6 mos old we had to put her on adult dog food because of birth defects. She just loved the adult food but when it started to get hard to chew we switched her over to the aging dog food. The adult food was a star shaped about an inch in diameter but the aging food was a oval shaped O that was easier to chew. She ate this food up until we had to put her to sleep at 13 1/2 yrs old. All Royal Canin food stayed with her not like the other food where she would have to go the bathroom 2 to 3 times a day this food she had her regular bathroom goings once a day. And our dog was very picky on what she ate this passed her pickyness because when we would take her to the vet the vet would give her treats she would not eat them at all. Thank you Royal Canin for being here in the time of need.
Cindy07
05 אוק 2018
Great dog food
Both dogs love the taste but don't over eat b/c they get full quickly and are able to maintain weight. Love that it has the nutrients to keep them healthy as they are getting older