מקסי אדולט פאוץ
מזון רטוב לכלבים במשקל 26-44 ק"ג, מעל גיל 15 חודשים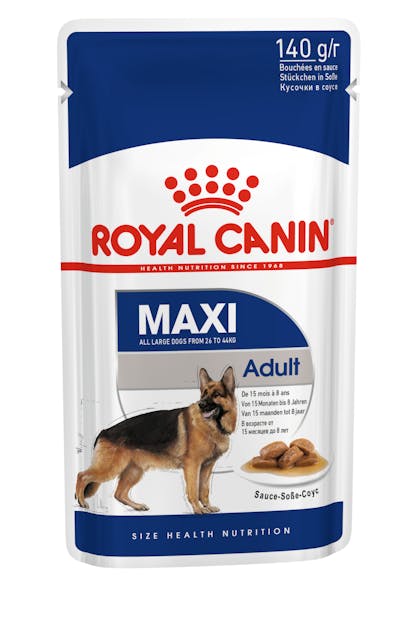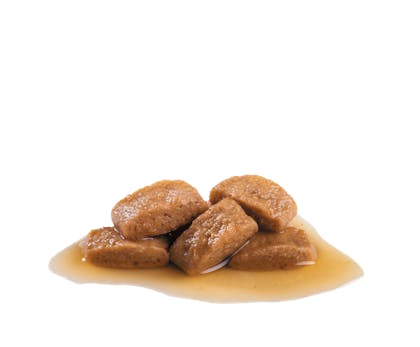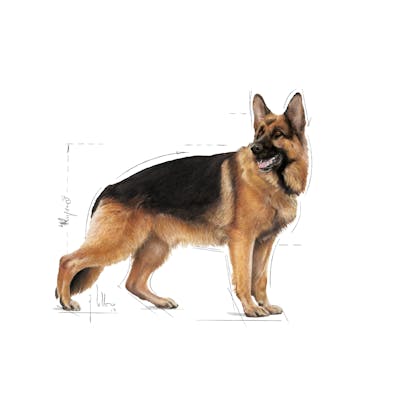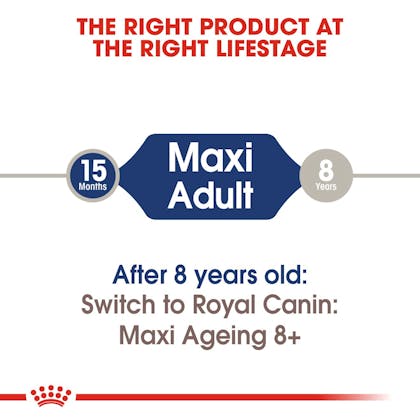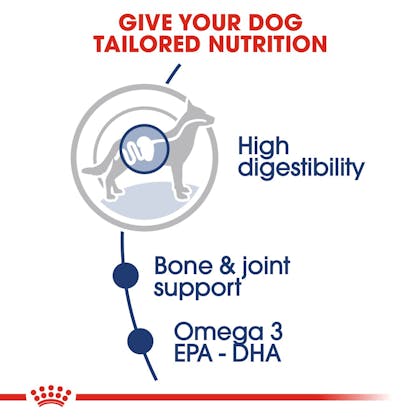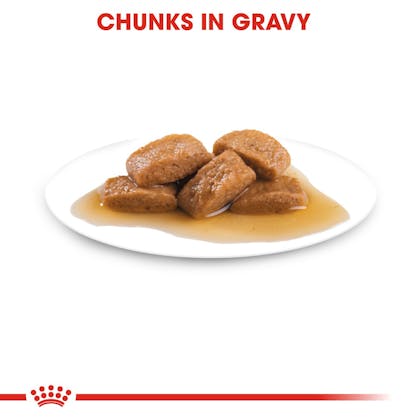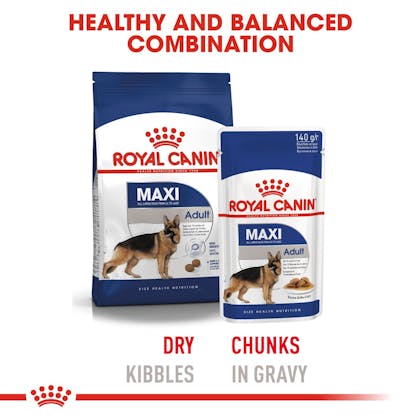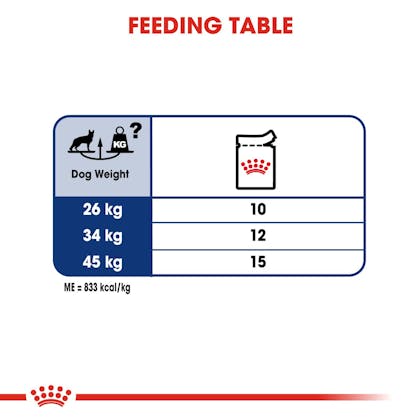 עבודה לקראת עתיד בר-קיימא
‏‎‎‏אנחנו מאמינים שחיות מחמד הופכות את העולם שלנו לטוב יותר, הן מספקות לנו השראה ומטרה לחיינו. התפקיד שלנו לספק עולם טוב יותר לחיות המחמד ™A BETTER WORLD FOR PETS.‏‎‎‏
מידע נוסף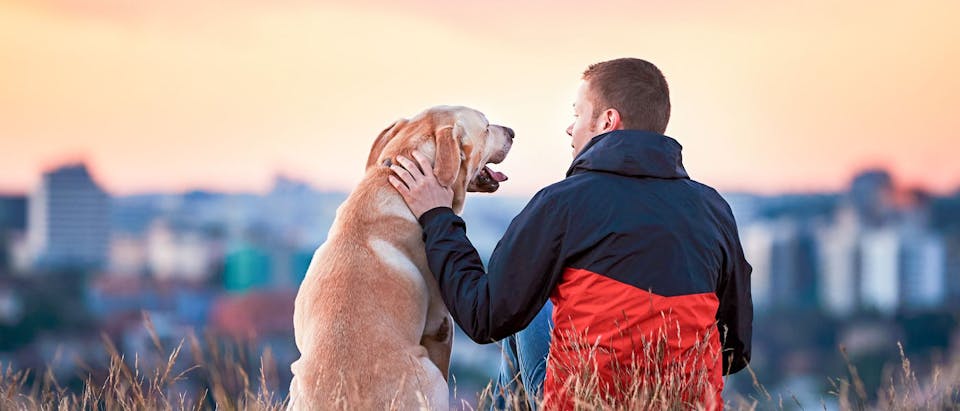 רכיבים: בשר ותוצרים מן החי, שמנים ושומנים, דגניים, תוצרים ממוצא צמחי, תמציות חלבון מהצומח, מינרלים, סוכרים למיניהם, רכיכות וסרטנאים, קלינופטילולייט (2 גר'/ק"ג).

תוספי תזונה מוספים (לק"ג): ויטמין 3D – 200 יחב"ל, 1E (ברזל) – 3 מ"ג, 2E (יוד) – 0.26  מ"ג, 4E (נחושת) – 2 מ"ג, 5E (מנגן) – 1 מ"ג, 6E (אבץ) – 10 מ"ג.

ערכים תזונתיים:  חלבון 7.5%, שומן 5.5%, לחות 81%, אפר גולמי 1.5%, סיבים גולמיים 1.4%   אנרגיה מטבולית: 922 קק"ל/ק"ג

מומלץ לעקוב אחר הנחיות האכלה בטבלה המבוססות על משקל כלבך, ורמת האקטיביות שלו. מספר אצווה ותאריך אחרון לשימוש מסומנים על האריזה המקורית. מומלץ להוביל ולאחסן במקום קריר ויבש.  מזון יבש.
aleaves
26 ינו 2021
HELP
Great food. My dogs coat has never been shinier. He no longer has skin dryness issues and he loves it. Problem......cant get any. Why all of a sudden is there a shortage? Anyone know? Petsmart Petco Chewy and Amazon do not have it.
Ashelt
11 ינו 2020
Good product
I have 5 dogs so finding the right balance for each activity levels and around ages and allergies getting food everyone can eat is difficult these pouches are great in addition to raw diet items or even kibble to add nutrition or on their own during travel and all my dogs enjoy them
Early shirl
09 ינו 2020
Lots of gravy
I've been feeding Royal Canin kibble first quite some time but never considered adding a wet food to the mix, my dog loved it and licked he's bowl around to ensure he got all the gravy. I've given it 4 stars because if I wanted to feed just this he would need 15 packets a day which is a little extreme so it really can only be a juicy extra and not a meal
Juniper12
09 ינו 2020
Great and Convenient!
This is our first time trying Royal Canin wet food and my dog absolutely loves it! I love that it's formulated specifically for large breed dogs so I know she is getting the nutrients she needs. The convenience of the pouch is a huge plus as it's super easy to serve up.
Symi323
30 דצמ 2019
My dog loves it!
We used to give our dog grain-free but recently we were strongly advised to switch him to food with grains. So we tried Royal Canin. We give our dog the dry food version of Royal Canin's Large Bree's Adult dog food. He loves both the wet and dry versions! No complaints whatsoever!
gustom122
29 דצמ 2019
Quality food, well loved, easy to use pouches
We are extremely happy with these Royal Canin pouches of wet food. First of all, the pouches are amazing! No mess! No dirty spoon, no cut fingers, no can opener or pull tabs, no can to deal with after, no nasty smell in the trash can. Second, they are easy to store and dispose of. Third, Royal Canin makes quality food, and these pouches are no different. Convenience, quality, my dogs love the taste, smells better than many other brands we have tried, and so easy to store, carry, open, dispose of, etc. A win in my book!
28 דצמ 2019
Dog loved it
My dog loved this food. I loved knowing he was getting higher quality ingredients and the premeasured packages made feeding time easy and less mess. We do some light traveling and these packages made packing food and traveling a breeze. I would recommend them to anyone with a large adult dog looking for easy mess free feeding
Inkmama
27 דצמ 2019
My dog loves it
I received a free box of ROYAL CANIN® - Large Adult Pouch Dog Food to home test and review. My dog loves these pouches. The package is really easy to open. The food chunks are big too. My dog loves when I mix the Pouch food with the dry food. I will definitely be purchasing this product again.
Kittenbooger
23 דצמ 2019
Dog loved it !
I think it's a great product my dog loves it but it seems like such a small portion. But if your dog is not such a pig like mine, definitely try this. It has so many great benefits that you'll love.!!
Amanda05
19 דצמ 2019
My dog really likes this
This is a great dog food for adult large breed dogs. This comes in a good size pouch, thats easy to open. I add this to boys dry food. He loves it and eats every piece. This food is good for their digestive system, omega-3 fatty acids for skin health and nutrients to help keep large bones and joints healthy plus strong. I'm glad I was able to find a food that is made for my large adult dog.