Renal with Chicken
Complete dietetic feed for adult cats.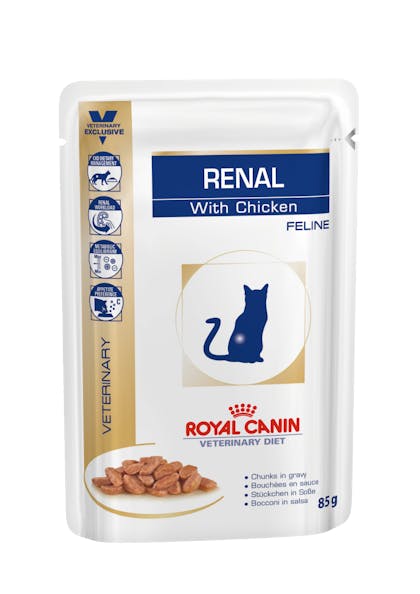 CKD dietary management

Formulated to support renal function in case of chronic kidney disease. Contains EPA and DHA, a complex of antioxidants and a low phosphorus level.

Low phosphorus

A low phosphorus intake is key to help support renal function in cats with chronic renal insufficiency.

EPA/DHA

EPA/DHA to help maintain a healthy digestive system.

Antioxidant complex

A patented synergistic complex of antioxidants to help neutralise free radicals.
Composition: meat and animal derivatives (chicken 4%,pork), cereals, oils and fats, minerals, derivatives of vegetable origin, various sugars.





Additives (per kg): Nutritional additives: vitamin D3: 275 IU, E1 (Iron): 4 mg, E2 (Iodine): 0.11 mg, E4 (Copper): 0.9 mg, E5 (Manganese): 1.4 mg, E6 (Zinc): 14 mg - Technological additives: Clinoptilolite of sedimentary origin: 0.2 g.

Analytical constituents: Protein: 8% - Fat content: 8% - Crude ash: 1.2% - Crude fiber: 0.5% - Moisture: 77% - Calcium: 0.14% - Phosphorus: 0.085% - Potassium: 0.2% - Sodium: 0.11% - Magnesium: 0.015% - Chloride: 0.15% - Sulphur: 0.16% - Vitamin D (total): 450 IU/Kg - Hydroxyproline: 0.08% - Essential Fatty acids: 2.44% - EPA and DHA: 0.05%. Urine alkalinizing substances: potassium citrate - calcium carbonate.

| Cat's weight | Thin | - | Normal | - | Overweight | - |
| --- | --- | --- | --- | --- | --- | --- |
| | grammes | pouch | grammes | pouch | grammes | pouch |
| 2 kg | 110 | 1 | 85 | 3/4 | - | - |
| 3 kg | 165 | 1 3/4 | 130 | 1 1/4 | - | - |
| 4 kg | 215 | 2 1/4 | 170 | 1 3/4 | 140 | 1 1/2 |
| 5 kg | 270 | 2 3/4 | 215 | 2 1/4 | 175 | 1 3/4 |
| 6 kg | 325 | 3 1/4 | 255 | 2 1/2 | 210 | 2 |
| 7 kg | - | | 300 | 3 | 245 | 2 1/2 |
| 8 kg | - | | 340 | 3 1/2 | 280 | 2 3/4 |
| 9 kg | - | | 385 | 3 3/4 | 315 | 3 1/4 |
| 10 kg | - | | 425 | 4 1/4 | 350 | 3 1/2 |