Urinary S/O Adult
It is recommended that a veterinarian's opinion be sought before use. Feed Urinary S/O for 5 to 12 weeks for the dissolution of struvite stones and up to 6 months for the reduction of struvite stone recurrence. Indications-Dissolution of struvite uroliths-Management of recurrent struvite and calcium oxalate urolithiasis using a single diet Note:- the wet version of Urinary S/O Feline is recommended for recurrent idiopathic cystitis- in older cats, renal function should be checked before Urinary S/O Feline is prescribed.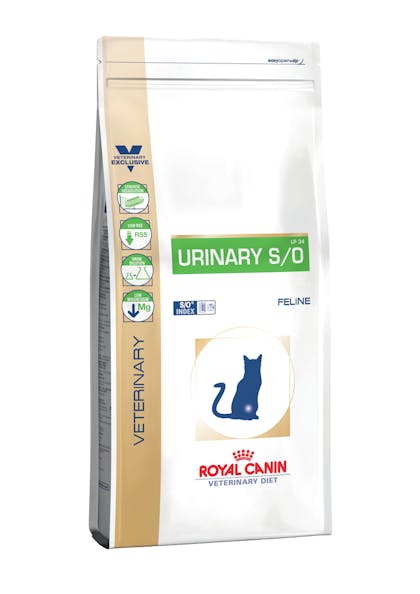 Struvite dissolution

Helps dissolve all types of struvite stones.

Low RSS

Helps lower the concentration of ions contributing to crystal formation.

Urine dilution

Urine dilution makes the urine less liable to form struvite and calcium oxalate stones.

Low magnesium

Reduced level of magnesium, a natural component of struvite crystals.
Cat's weight
2 kg
-
3 kg
-
4 kg
-
5 kg
-
6 kg
-
7 kg
-
8 kg
-
9 kg
-
10 kg
Thin
35 g
3/8 cup
55 g
5/8 cup
70 g
7/8 cup
90 g
1+1/8 cup
110 g
1+3/8 cup
---
Normal
30 g
3/8 cup
40 g
4/8 cup
55 g
5/8 cup
70 g
7/8 cup
85 g
1 cup
100 g
1+2/8 cup
115 g
1+3/8 cup
125 g
1+4/8 cup
140 g
1+6/8 cup
Overweight
-60 g
6/8 cup
70 g
7/8 cup
80 g
1 cup
95 g
1+1/8 cup
105 g
1+2/8 cup
115 g
1+3/8 cup