Cardiac Canine
Cardiac is a complete dietetic feed for dogs formulated to support heart function in the case of chronic cardiac insufficiency. This diet contains a low level of sodium and an increased K/Na ratio.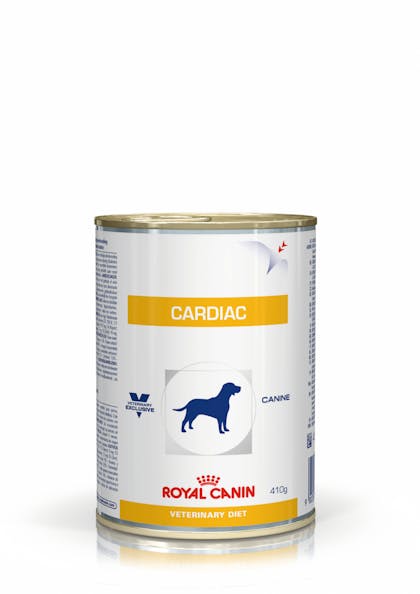 Vascular support

Specific nutrients to help support the vascular system and help neutralise free radicals.

Cardiac support

Nutrients which contribute to maintaining health of the cardiac muscle.

Electrolyte balance

Potassium, magnesium and sodium content adapted to help support dogs with chronic heart insufficiency.

Low sodium

A lowsodium intake is key to help supportcardiac function in dogs with cardiac insufficiency.
Composition: meat and animal derivatives, cereals, oils and fats, derivatives of vegetable origin, minerals, vegetables.

Additives (per kg): Nutritional additives: Vitamin D3: 225 IU, E1 (Iron): 12 mg, E2 (Iodine): 0.5 mg, E4 (Copper): 3.5 mg, E5 (Manganese): 3.7 mg, E6 (Zinc): 37 mg - Technological additives: Cassia gum: 3.3 g.

Analytical constituents: Protein: 8.1% - Fat content: 7.1% - Crude ash: 1.3% - Crude fibres: 1% - Moisture: 73.5% - Sodium: 0.05% - Magnesium: 0.04% - Potassium: 0.23%.

| Can 200g | - | | - | | - | - |
| --- | --- | --- | --- | --- | --- | --- |
| Dog's | Lean | - | Normal | - | Overweight | - |
| weight (kg) | - | | - | | - | - |
| | (g / day) | Can / day | (g / day) | Can / day | (g / day) | Can / day |
| 2 | 170 | 3/4 | 150 | 3/4 | 129 | 3/4 |
| 4 | 286 | 1 1/2 | 252 | 1 1/4 | 217 | 1 |
| 6 | 388 | 2 | 341 | 1 3/4 | 295 | 1 1/2 |
| 8 | 481 | 2 1/2 | 423 | 2 | 366 | 1 3/4 |
| 10 | 569 | 2 3/4 | 500 | 2 1/2 | 432 | 2 1/4 |
| 12 | 652 | 3 1/4 | 574 | 2 3/4 | 496 | 2 1/2 |
| 14 | 732 | 3 3/4 | 644 | 3 1/4 | 556 | 2 3/4 |
| 15 | 771 | 3 3/4 | 678 | 3 1/2 | 586 | 3 |
| | - | | - | | - | - |
| CAN 410g | - | | - | | - | - |
| Dog 's | Lean | - | Normal | - | Overweight | - |
| weight (kg) | - | | - | | - | - |
| | (g / day) | Can / day | (g / day) | Can / day | (g / day) | Can / day |
| 2 | 170 | 1/2 | 150 | 1/4 | 129 | 1/4 |
| 4 | 286 | 3/4 | 252 | 1/2 | 217 | 1/2 |
| 6 | 388 | 1 | 341 | 3/4 | 295 | 3/4 |
| 8 | 481 | 1 1/4 | 423 | 1 | 366 | 1 |
| 10 | 569 | 1 1/2 | 500 | 1 1/4 | 432 | 1 |
| 15 | 771 | 2 | 678 | 1 3/4 | 586 | 1 1/2 |
| 20 | 956 | 2 1/4 | 842 | 2 | 727 | 1 3/4 |
| 25 | 1 131 | 2 3/4 | 995 | 2 1/2 | 859 | 2 |
| 30 | 1 296 | 3 1/4 | 1 141 | 2 3/4 | 985 | 2 1/2 |
| 35 | 1 455 | 3 1/2 | 1 281 | 3 | 1 106 | 2 3/4 |
| 40 | 1 609 | 4 | 1 416 | 3 1/2 | 1 223 | 3 |
| 45 | 1 757 | 4 1/4 | 1 546 | 3 3/4 | 1 335 | 3 1/4 |
| 50 | 1 902 | 4 3/4 | 1 673 | 4 | 1 445 | 3 1/2 |
| 60 | 2 180 | 5 1/4 | 1 919 | 4 3/4 | 1 657 | 4 |
| 70 | 2 447 | 6 | 2 154 | 5 1/4 | 1 860 | 4 1/2 |
| 80 | 2 705 | 6 1/2 | 2 381 | 5 3/4 | 2 056 | 5 |
| | - | | - | | - | - |
| | - | | - | | - | - |
| Dog 's | - | Lean | Normal | Overweight | - | - |
| weight (kg) | - | | - | | - | - |
| Mix feeding ration table with Cardiac dry | - | | - | | - | - |
| | CAN (200g) + | (g ) DRY | (g ) DRY | (g ) DRY | - | - |
| 2 | 1/4 | 36 | 30 | 24 | - | - |
| 4 | 1/2 | 56 | 45 | 35 | - | - |
| 6 | 1/2 | 86 | 72 | 58 | - | - |
| 8 | 1 | 84 | 67 | 49 | - | - |
| 10 | 1 | 110 | 90 | 69 | - | - |
| 14 | 1 | 159 | 132 | 106 | - | - |
| 15 | 1 | 170 | 143 | 115 | - | - |
| | - | | - | | - | - |
| Can 410g | - | | - | | - | - |
| Dog's | - | Lean | Normal | Overweight | - | - |
| weight (kg) | - | | - | | - | - |
| Mix feeding ration table with Cardiac dry | - | | - | | - | - |
| | CAN (410g)+ | (g ) DRY | (g ) DRY | (g ) DRY | - | - |
| 2 | 1/4 | 20 | 14 | 8 | - | - |
| 4 | 1/4 | 55 | 45 | 34 | - | - |
| 6 | 1/4 | 85 | 71 | 57 | - | - |
| 8 | 1/2 | 82 | 65 | 48 | - | - |
| 10 | 1/2 | 109 | 88 | 68 | - | - |
| 15 | 1/2 | 169 | 141 | 114 | - | - |
| 20 | 1 | 163 | 129 | 95 | - | - |
| 25 | 1 | 215 | 175 | 134 | - | - |
| 30 | 1 | 264 | 218 | 172 | - | - |
| 35 | 1 | 312 | 260 | 208 | - | - |
| 40 | 1 | 358 | 300 | 242 | - | - |
| 45 | 1 | 402 | 339 | 276 | - | - |
| 50 | 1 | 445 | 377 | 309 | - | - |
| 60 | 1 | 528 | 450 | 372 | - | - |
| 70 | 1 | 608 | 520 | 433 | - | - |
| 80 | 1 | 685 | 588 | 491 | - | - |