Diabetic Adult
Complete dietetic feed for adult dogs.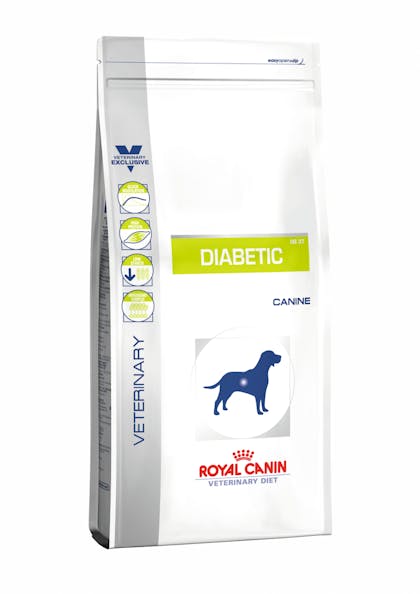 Glucomodulation

Specific formula to help in the management of post-prandial blood glucose in diabetic dogs.

High protein

High protein level promotes lean muscle mass and helps limit postpandrial glycemia. Enriched with L-carnitine.

Low starch

A low carbohydrate intake helps control postpandrial blood glucose to facilitate global diabetes mellitus management.

Antioxidant complex

Diabetes mellitus increases oxidative stress, which in turn favours the development of diabetes-associated chronic complications (Opara 2002). A high level of antioxidants helps combat this.
Composition: dehydrated poultry protein, barley, wheat gluten*, maize gluten, vegetable fibres, animal fats,tapioca, beet pulp, hydrolysed animal proteins, fish oil, psyllium husks and seeds, fructo-oligo-saccharides, minerals, marigold extract (source of lutein).

Additives (per kg): Nutritional additives: Vitamin A: 15900 IU, Vitamin D3: 1000 IU, E1 (Iron): 30 mg, E2 (Iodine): 3 mg, E4 (Copper): 4 mg, E5 (Manganese): 39 mg, E6 (Zinc): 118 mg, E8 (Selenium): 0.03 mg - Preservatives - Antioxidants.

Analytical constituents: Protein: 37% - Fat content: 12% - Crude ash:5.2% - Crude fibres: 6.4% - Starch: 19.1% - Essential fatty acids: 2.76% - Total sugars: 1.5%

*L.I.P.: protein selected for its very high assimilation.

| Target adult | Overweight | - | Normal | - | Lean | - |
| --- | --- | --- | --- | --- | --- | --- |
| Dog weight (kg) | (g) | cup* | (g) | cup* | (g) | cup* |
| 2 | 46 | 1/2 | 54 | 5/8 | 61 | 5/8 |
| 3 | 63 | 5/8 | 73 | 3/4 | 83 | 7/8 |
| 4 | 78 | 7/8 | 90 | 1 | 103 | 1 1/8 |
| 5 | 92 | 1 | 107 | 1 1/8 | 121 | 1 1/4 |
| 6 | 106 | 1 1/8 | 122 | 1 3/8 | 139 | 1 1/2 |
| 7 | 119 | 1 1/4 | 137 | 1 1/2 | 156 | 1 3/4 |
| 8 | 131 | 1 3/8 | 152 | 1 5/8 | 172 | 1 7/8 |
| 9 | 143 | 1 1/2 | 166 | 1 3/4 | 188 | 2 |
| 10 | 155 | 1 5/8 | 179 | 1 7/8 | 204 | 2 1/4 |
| 15 | 210 | 2 1/4 | 243 | 2 5/8 | 276 | 3 |
| 20 | 261 | 2 7/8 | 302 | 3 1/4 | 343 | 3 3/4 |
| 25 | 308 | 3 3/8 | 357 | 3 7/8 | 405 | 4 3/8 |
| 30 | 353 | 3 7/8 | 409 | 4 3/8 | 465 | 5 |
| 35 | 397 | 4 1/4 | 459 | 5 | 522 | 5 5/8 |
| 40 | 438 | 4 3/4 | 508 | 5 1/2 | 577 | 6 1/4 |
| 45 | 479 | 5 1/8 | 554 | 6 | 630 | 6 7/8 |
| 50 | 518 | 5 5/8 | 600 | 6 1/2 | 682 | 7 3/8 |
| 55 | 557 | 6 | 645 | 7 | 732 | 7 7/8 |
| 60 | 594 | 6 3/8 | 688 | 7 1/2 | 782 | 8 1/2 |
| 65 | 631 | 6 7/8 | 731 | 7 7/8 | 830 | 9 |
| 70 | 667 | 7 1/4 | 772 | 8 3/8 | 878 | 9 1/2 |