Gastrointestinal Low Fat
Complete dietetic feed for adult dogs.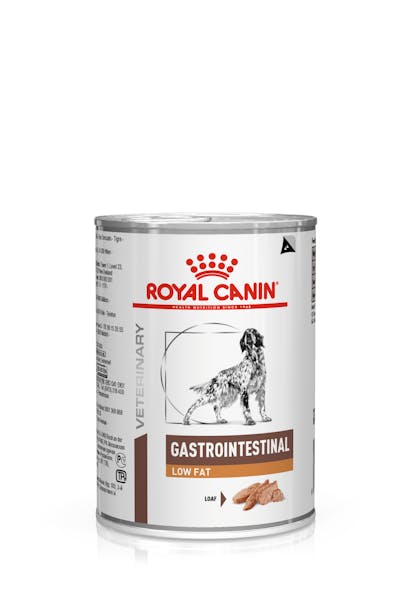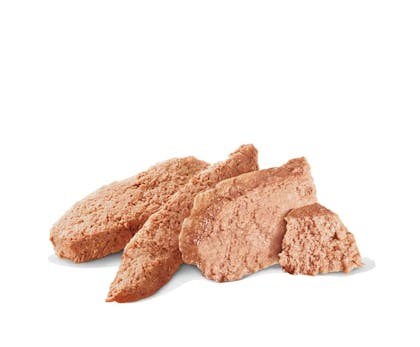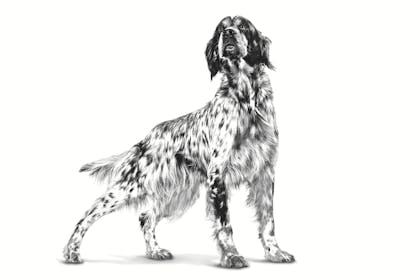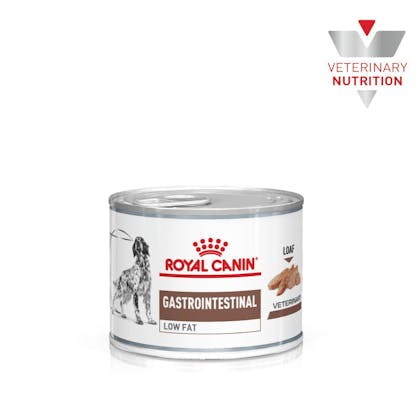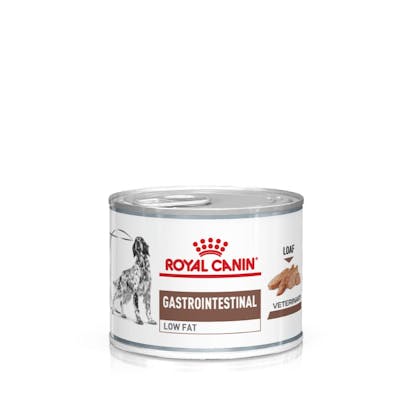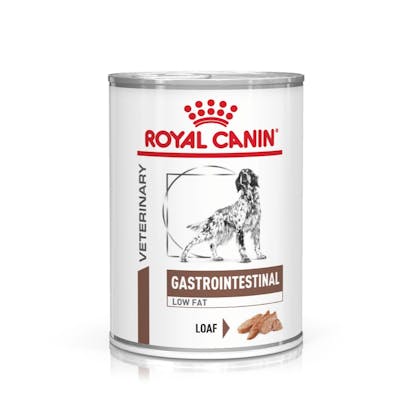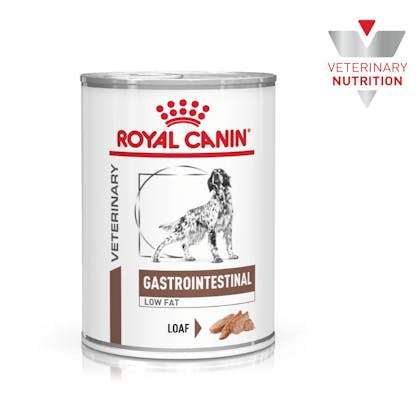 Digestive support

A highly digestible formula with balanced fibres, including prebiotics, to help support a healthy digestion and transit.

Low fat

For the nutritional management of dogs needing a fat restricted diet.

Fibre balance

Limited fibre content to allow provision of maintenance energy levels despite fat restriction.

Gastrointestinal Low Fat WET
Working towards a sustainable future
Our belief that pets make our world better inspires and gives life to our purpose of making a better A BETTER WORLD FOR PETS ™
Discover more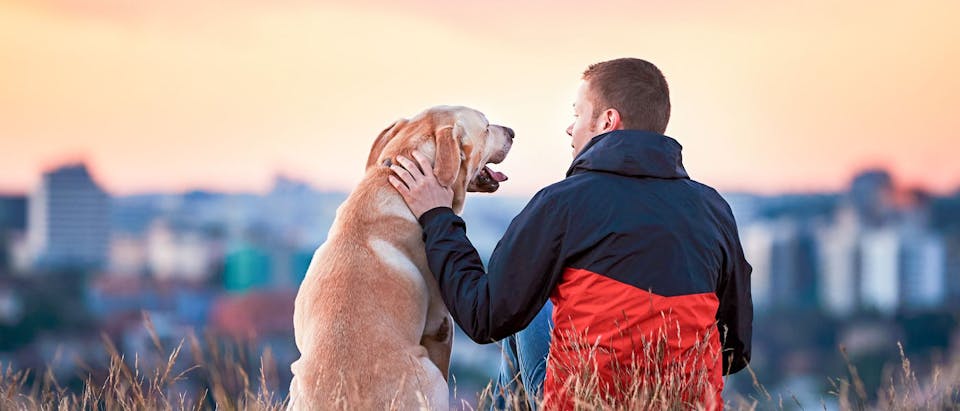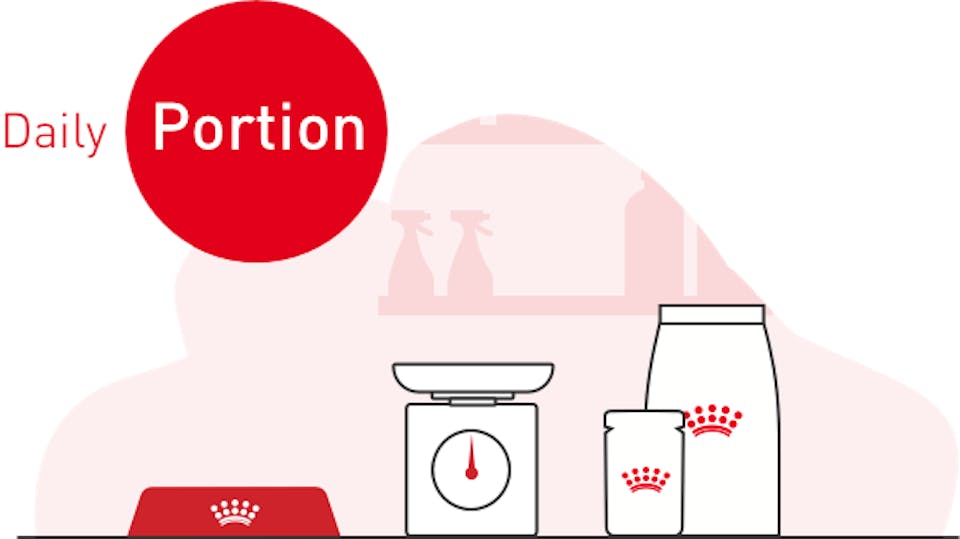 Discover our tool that calculates the daily portion for your pet. Fill in your pet's information and you will get their daily feeding recommendation. In case of weight issues, do not hesitate to consult your vet to adapt this portion. Note that this feeding recommendation is more precise than the feeding table, therefore the values may slightly differ.
Calculate
Composition: meat and animal derivatives, cereals, derivatives of vegetable origin, minerals, yeasts, oils and fats.

Additives (per kg): Nutritional additives: Vitamin D3: 200 IU, Iron (3b103): 4 mg, Iodine (3b202): 0.3 mg, Copper (3b405, 3b406): 2 mg, Manganese (3b502, 3b503, 3b504): 1.3 mg, Zinc (3b603, 3b605, 3b606): 13 mg - Technological additives: Clinoptilolite of sedimentary origin: 2.5 g.

Analytical constituants: Protein: 8.1% - Fat content: 1.7% - Crude ash: 1.7% - Crude fibres: 1.5% - Moisture: 73.6% - Fatty acids: w3: 0.04% - Essential Fatty acid (Linoleic Acid): 0.35%.

For RSA: Guaranteed analysis g/kg: Crude protein (min) 61 - Moisture (max) 766 - Crude fat (min) - 3 - Crude fibre (max) 25 - Crude ash (max) 19. Product registration number: XXXXXX - Act 36/1947. For Namibia: N-FF XXXX.

Feeding instructions: see table. Batch number, factory registration number and best before date: see information on packaging. To be stored in a cool, dry place. (for 200g only) >>> Feeding instructions: for a 4 Kg dog give 1.5 can/day or less if fed in combination with dry food. Batch number, factory registration number and best before date: see information on packaging. To be stored in a cool, dry place.​

Analytical constituants: Crude Protein 6.1% (min.), Crude Fat 0.5% (min.), Calcium 0.160% (min.), Phosphorus 0.128% (min.), Ash 1.9% (max.), Crude Fiber 2.5% (max.), Moisture 74.6% (max.).

Composition: meat and animal derivatives (chicken, pork), cereals (corn, rice), derivatives of vegetable origin (gelling agent, marigold extract, sugar beet pulp, cellulose), minerals, yeasts (MOS), oils and fats (fish oil).

Additives (per kg): Vitamin D3: 200 IU, Iron: 4 mg, Iodine: 0.3 mg, Copper: 2 mg, Manganese: 1.3 mg, Zinc: 13 mg, Clinoptilolite of sedimentary origin: 2.5 g.

Feeding instructions: see table. Batch number, factory registration number and best before date: see information on packaging. To be stored in a cool, dry place. (for 200g only) >>> Feeding instructions: for a 4 Kg dog give 1.5 can/day or less if fed in combination with dry food. Batch number, factory registration number and best before date: see information on packaging. To be stored in a cool, dry place.​

Legal notice Expiration date: Displayed on the container (date/month/year) Manufacture date: 24 months before the expiration date Manufacturing country &  source: Austria, MARS AUSTRIA Net Weight: Separately declared on the bag Importer & Address: ROYAL CANIN KOREA, Jipyungsun-sandan-2 gil, 72, Baeksan-myun, Gymje City, Jeollabukdo Importer phone number: 080-041-5161 Animal medicine & Re-packaging: Not applied NOTICE: Feed for companion animals. Do not feed the ruminant cattle. Store in a cool, dry place away from direct sunlight and pests. This product can be exchanged or compensated for the legitimate consumer damage in accordance with the Fair Trade Commission's Notice of Consumer Dispute Resolution Standards. Country of origin: Austria.

Composition: meat and animal derivatives, cereals, derivatives of vegetable origin, minerals, yeasts, oils and fats.

Additives (per kg): Nutritional additives: Vitamin D3: 200 IU, Iron (3b103): 4 mg, Iodine (3b202): 0.3 mg, Copper (3b405, 3b406): 2 mg, Manganese (3b502, 3b503, 3b504): 1.3 mg, Zinc (3b603, 3b605, 3b606): 13 mg - Technological additives: Clinoptilolite of sedimentary origin: 2.5 g.

Analytical constituants: Protein: 8.1% - Fat content: 1.7% - Crude ash: 1.7% - Crude fibres: 1.5% - Moisture: 73.6% - Fatty acids: w3: 0.04% - Essential Fatty acid (Linoleic Acid): 0.35%.

For RSA: Guaranteed analysis g/kg: Crude protein (min) 61 - Moisture (max) 766 - Crude fat (min) - 3 - Crude fibre (max) 25 - Crude ash (max) 19. Product registration number: XXXXXX - Act 36/1947. For Namibia: N-FF XXXX.

Feeding instructions: see table. Batch number, factory registration number and best before date: see information on packaging. To be stored in a cool, dry place. (for 200g only) >>> Feeding instructions: for a 4 Kg dog give 1.5 can/day or less if fed in combination with dry food. Batch number, factory registration number and best before date: see information on packaging. To be stored in a cool, dry place.​

Analytical constituants: Crude Protein 6.1% (min.), Crude Fat 0.5% (min.), Calcium 0.160% (min.), Phosphorus 0.128% (min.), Ash 1.9% (max.), Crude Fiber 2.5% (max.), Moisture 74.6% (max.).

Composition: meat and animal derivatives (chicken, pork), cereals (corn, rice), derivatives of vegetable origin (gelling agent, marigold extract, sugar beet pulp, cellulose), minerals, yeasts (MOS), oils and fats (fish oil).

Additives (per kg): Vitamin D3: 200 IU, Iron: 4 mg, Iodine: 0.3 mg, Copper: 2 mg, Manganese: 1.3 mg, Zinc: 13 mg, Clinoptilolite of sedimentary origin: 2.5 g.

Feeding instructions: see table. Batch number, factory registration number and best before date: see information on packaging. To be stored in a cool, dry place. (for 200g only) >>> Feeding instructions: for a 4 Kg dog give 1.5 can/day or less if fed in combination with dry food. Batch number, factory registration number and best before date: see information on packaging. To be stored in a cool, dry place.​

Legal notice Expiration date: Displayed on the container (date/month/year) Manufacture date: 24 months before the expiration date Manufacturing country &  source: Austria, MARS AUSTRIA Net Weight: Separately declared on the bag Importer & Address: ROYAL CANIN KOREA, Jipyungsun-sandan-2 gil, 72, Baeksan-myun, Gymje City, Jeollabukdo Importer phone number: 080-041-5161 Animal medicine & Re-packaging: Not applied NOTICE: Feed for companion animals. Do not feed the ruminant cattle. Store in a cool, dry place away from direct sunlight and pests. This product can be exchanged or compensated for the legitimate consumer damage in accordance with the Fair Trade Commission's Notice of Consumer Dispute Resolution Standards. Country of origin: Austria.

| - | Body Condition | - | - | - | - | - | - | - | - | - | - | - |
| --- | --- | --- | --- | --- | --- | --- | --- | --- | --- | --- | --- | --- |
| Dog's weight (kg) | Thin | - | Thin | - | Normal | - | Normal | - | Overweight | - | Overweight | - |
| - | 200g | - | 400g | - | 200g | - | 400g | - | 200g | - | 400g | - |
| - | Grams | Can | Grams | Can | Grams | Can | Grams | Can | Grams | Cans | Grams | Cans |
| 2 | 214 | 1 | 214 | 1/2 | 188 | 1 | 188 | 1/2 | 163 | 3/4 | 163 | 1/2 |
| 4 | 360 | 1+3/4 | 360 | 1 | 317 | 1+1/2 | 317 | 3/4 | 274 | 1+1/4 | 274 | 3/4 |
| 6 | 488 | 2+1/2 | 488 | 1+1/4 | 429 | 2+1/4 | 429 | 1 | 371 | 1+3/4 | 371 | 1 |
| 8 | 606 | 3 | 606 | 1+1/2 | 533 | 2+3/4 | 533 | 1+1/4 | 460 | 2+1/4 | 460 | 1 |
| 10 | 716 | 3+1/2 | 716 | 1+3/4 | 630 | 3+1/4 | 630 | 1+1/2 | 544 | 2+3/4 | 544 | 1+1/4 |
| 15 | 970 | 4+3/4 | 970 | 2+1/4 | 854 | 4+1/4 | 854 | 2 | 737 | 3+3/4 | 737 | 1+3/4 |
| 20 | 1204 | 6 | 1204 | 3 | 1059 | 5+1/4 | 1059 | 2+1/2 | 915 | 4+1/2 | 915 | 2+1/4 |
| 25 | 1423 | 7 | 1423 | 3+1/2 | 1252 | 6+1/4 | 1252 | 3 | 1082 | 5+1/2 | 1082 | 2+3/4 |
| 30 | 1632 | 8+1/4 | 1632 | 4 | 1436 | 7+1/4 | 1436 | 3+1/2 | 1240 | 6+1/4 | 1240 | 3 |
| 35 | 1832 | 9+1/4 | 1832 | 4+1/2 | 1612 | 8 | 1612 | 4 | 1392 | 7 | 1392 | 3+1/2 |
| 40 | 2025 | 10+1/4 | 2025 | 5 | 1782 | 9 | 1782 | 4+1/4 | 1539 | 7+3/4 | 1539 | 3+3/4 |
| 45 | 2212 | 11 | 2212 | 5+1/2 | 1946 | 9+3/4 | 1946 | 4+3/4 | 1681 | 8+1/2 | 1681 | 4 |
| 50 | 2393 | 12 | 2393 | 5+3/4 | 2106 | 10+1/2 | 2106 | 5+1/4 | 1819 | 9 | 1819 | 4+1/2 |
| 55 | 2571 | 12+3/4 | 2571 | 6+1/4 | 2262 | 11+1/4 | 2262 | 5+1/2 | 1954 | 9+3/4 | 1954 | 4+3/4 |
| 60 | 2744 | 13+3/4 | 2744 | 6+3/4 | 2415 | 12 | 2415 | 6 | 2086 | 10+1/2 | 2086 | 5 |
| 70 | 3081 | 15+1/2 | 3081 | 7+1/2 | 2711 | 13+1/2 | 2711 | 6+1/2 | 2341 | 11+3/4 | 2341 | 5+3/4 |
| 80 | 3405 | 17 | 3405 | 8+1/4 | 2996 | 15 | 2996 | 7+1/4 | 2588 | 13 | 2588 | 6+1/4 |