Hepatic Adult
Hepatic is a complete dietetic feed for dogs formulated to support liver function in the case of chronic liver insufficiency and for the reduction of copper in the liver. Moderate level of high quality protein. High level of essential fatty acids and highly digestible carbohydrates. Low level of copper.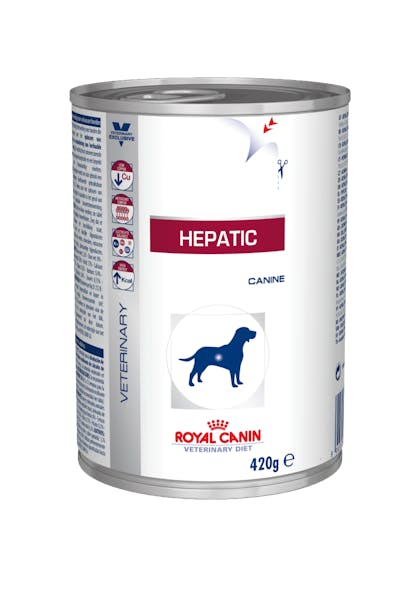 Low Copper

Low level of copper to help reduce its accumulation in liver cells.

Electrolyte Balance

Adapted electrolyte intake to help dogs with liver insufficiency.

High Energy

Adapted energy level helps maintain bodyweight in dogs with hepatic failure. L-carnitine favours fat use in the liver avoiding excessive protein catabolism and limiting the risk of onset or the progression of hepatic encephalopathy.

Antioxidant Complex

The synergistic antioxidant complex reduces oxidative stress and helps neutralise free radicals.
Composition: cereals (maize, rice), meat and animal derivatives (chicken), oils and fats, derivatives of vegetable origin, eggs and egg derivatives, minerals.





Additives (per kg): Nutritional additives: Vitamin D3: 248 IU, E1 (Iron): 30 mg, E2 (Iodine): 1.5 mg, E4 (Copper): 0.8 mg, E5 (Manganese): 14 mg, E6 (Zinc): 55 mg.

Analytical constituents: Protein: 6.5% - Fat content: 4.2% - Crude ash: 1.5% - Crude fibres: 2% - Moisture: 64% - Sodium: 0.05% - Omega 6 essential fatty acids: 1.6% and Omega 3 essential fatty acids: 0.01% - Total copper: 1.7 mg/kg.

| Can 200g | - | | - | | - | - |
| --- | --- | --- | --- | --- | --- | --- |
| Dog's weight | Lean | - | Normal | - | Overweight | - |
| kg | (g / day) | Can / day | (g / day) | Can / day | (g / day) | Can / day |
| 2 | 152 | 3/4 | 134 | 3/4 | 116 | 1/2 |
| 4 | 256 | 1 1/4 | 225 | 1 1/4 | 194 | 1 |
| 6 | 347 | 1 3/4 | 305 | 1 1/2 | 264 | 1 1/4 |
| 8 | 430 | 2 1/4 | 379 | 2 | 327 | 1 3/4 |
| 10 | 509 | 2 1/2 | 448 | 2 1/4 | 387 | 2 |
| 12 | 583 | 3 | 513 | 2 1/2 | 443 | 2 1/4 |
| 14 | 655 | 3 1/4 | 576 | 3 | 498 | 2 1/2 |
| 15 | 689 | 3 1/2 | 607 | 3 | 524 | 2 1/2 |
| | - | | - | | - | - |
| Can 420g | - | | - | | - | - |
| Dog's weight | Lean | - | Normal | - | Overweight | - |
| kg | (g / day) | Can / day | (g / day) | Can / day | (g / day) | Can / day |
| 2 | 152 | 1/4 | 134 | 1/4 | 116 | 1/4 |
| 4 | 256 | 1/2 | 225 | 1/2 | 194 | 1/2 |
| 6 | 347 | 3/4 | 305 | 3/4 | 264 | 3/4 |
| 8 | 430 | 1 | 379 | 1 | 327 | 3/4 |
| 10 | 509 | 1 1/4 | 448 | 1 | 387 | 1 |
| 15 | 689 | 1 3/4 | 607 | 1 1/2 | 524 | 1 1/4 |
| 20 | 855 | 2 | 753 | 1 3/4 | 650 | 1 1/2 |
| 25 | 1 011 | 2 1/2 | 890 | 2 | 769 | 1 3/4 |
| 30 | 1 159 | 2 3/4 | 1 020 | 2 1/2 | 881 | 2 |
| 35 | 1 302 | 3 | 1 145 | 2 3/4 | 989 | 2 1/4 |
| 40 | 1 439 | 3 1/2 | 1 266 | 3 | 1 093 | 2 1/2 |
| 45 | 1 571 | 3 3/4 | 1 383 | 3 1/4 | 1 194 | 2 3/4 |
| 50 | 1 701 | 4 | 1 497 | 3 1/2 | 1 293 | 3 |
| 60 | 1 950 | 4 3/4 | 1 716 | 4 | 1 482 | 3 1/2 |
| 70 | 2 189 | 5 1/4 | 1 926 | 4 1/2 | 1 664 | 4 |
| 80 | 2 419 | 5 3/4 | 2 129 | 5 | 1 839 | 4 1/2 |
| | - | | - | | - | - |
| Can 200g | - | | - | | - | - |
| Dog's weight (kg) | - | Lean | Normal | Overweight | - | - |
| Mixed feeding | Ration table | with | Hepatic dry | - | | - |
| | CAN(200g)+ | (g ) DRY | (g ) DRY | (g ) DRY | - | - |
| 2 | 1/4 | 36 | 30 | 23 | - | - |
| 4 | 1/2 | 55 | 44 | 33 | - | - |
| 6 | 1/2 | 87 | 73 | 58 | - | - |
| 8 | 1 | 81 | 63 | 45 | - | - |
| 10 | 1 | 109 | 88 | 66 | - | - |
| 14 | 1 | 161 | 133 | 105 | - | - |
| 15 | 1 | 173 | 144 | 115 | - | - |
| | - | | - | | - | - |
| Can 420g | - | | - | | - | - |
| Dog 's weight (kg) | - | Lean | Normal | Overweight | - | - |
| | - | | - | | - | - |
| Mixed feeding | Ration table | with | Hepatic dry | - | | - |
| | CAN(420g) + | (g ) DRY | (g ) DRY | (g ) DRY | - | - |
| 2 | 1/4 | 17 | 10 | 4 | - | - |
| 4 | 1/4 | 53 | 43 | 32 | - | - |
| 6 | 1/4 | 86 | 71 | 56 | - | - |
| 8 | 1/2 | 78 | 60 | 41 | - | - |
| 10 | 1/2 | 106 | 84 | 62 | - | - |
| 15 | 1/2 | 170 | 140 | 111 | - | - |
| 20 | 1 | 154 | 118 | 81 | - | - |
| 25 | 1 | 209 | 166 | 123 | - | - |
| 30 | 1 | 262 | 212 | 163 | - | - |
| 35 | 1 | 312 | 257 | 201 | - | - |
| 40 | 1 | 360 | 299 | 238 | - | - |
| 45 | 1 | 407 | 341 | 274 | - | - |
| 50 | 1 | 453 | 381 | 309 | - | - |
| 60 | 1 | 541 | 459 | 376 | - | - |
| 70 | 1 | 626 | 533 | 440 | - | - |
| 80 | 1 | 707 | 605 | 502 | - | - |