Renal Dry Adult
It is recommended that a veterinarian's opinion be sought before use or before extending the period of use. Initially feed Renal for up to 6 months in cases of chronic renal insufficiency and reduction of oxalate stone formation. For cases of temporary renal insufficiency a period of 2 to 4 weeks feeding is recommended.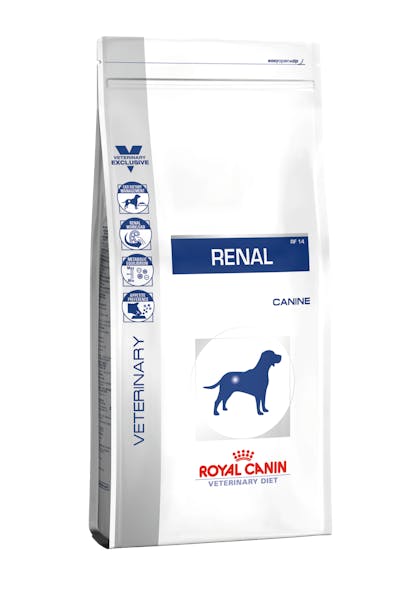 Low phosphorus

A low phosphorus intake is key to help support renal function in dogs with chronic renal insufficiency.

Vascular support

Nutrients that help support good renal filtration.

Antioxidant complex

A patented synergistic complex of antioxidants to help neutralise free radicals.

Digestive security

Nutrients which support a balanced digestive system.
Composition: rice, maize flour, animal fats, maize gluten, soya protein isolate*, hydrolysed animal proteins, beet pulp, minerals, egg powder, vegetable fibres, fish oil, soya oil, fructo-oligo-saccharides, green tea extracts (source of polyphenols), marigold extract (source of lutein).

Additives (per kg): Nutritional additives: Vitamin A: 11600 IU, Vitamin D3: 1000 IU, E1 (Iron): 46 mg, E2 (Iodine): 4 mg, E4 (Copper): 11 mg, E5 (Manganese): 59 mg, E6 (Zinc): 196 mg - Preservatives - Antioxidants.

Analytical constituents: Protein: 16% - Fat content: 18% - Crude ash: 4.3% - Crude fibres: 2.2% - Calcium: 0.7% - Phosphorus: 0.2% - Sodium: 0.2% - Potassium: 0.7% - Chloride: 0.6% - Sulphur: 0.3% - Magnesium: 0.06% - Hydroxyproline: 0% - Per kg: Essential fatty acids: 45.7 g including EPA and DHA: 4.1 g - Urine alkalinising substances: potassium citrate, calcium carbonate, vitamin D (total): 1000 IU.

*L.I.P.: protein selected for its very high assimilation.

| Dog's | Thin | Thin | Normal | Normal | Overweight | Overweight |
| --- | --- | --- | --- | --- | --- | --- |
| weight | grammes | cups | grammes | cups | grammes | cups |
| 2 kg | 65 | 6/8 | 50 | 5/8 | 40 | 4/8 |
| 4 kg | 110 | 1 2/8 | 85 | 1 | 65 | 6/8 |
| 6 kg | 145 | 1 5/8 | 115 | 1 3/8 | 85 | 1 |
| 8 kg | 180 | 2 1/8 | 145 | 1 5/8 | 110 | 1 2/8 |
| 10 kg | 210 | 2 3/8 | 170 | 2 | 125 | 1 4/8 |
| 15 kg | 285 | 3 2/8 | 230 | 2 5/8 | 170 | 2 |
| 20 kg | 350 | 4 | 280 | 3 2/8 | 210 | 2 3/8 |
| 25 kg | 415 | 4 6/8 | 330 | 3 7/8 | 250 | 2 7/8 |
| 30 kg | 470 | 5 4/8 | 380 | 4 3/8 | 285 | 3 2/8 |
| 35 kg | 530 | 6 1/8 | 425 | 4 7/8 | 315 | 3 5/8 |
| 40 kg | 580 | 6 6/8 | 465 | 5 3/8 | 350 | 4 |
| 50 kg | 685 | 7 7/8 | 550 | 6 3/8 | 410 | 4 6/8 |
| 60 kg | 785 | 9 1/8 | 625 | 7 2/8 | 470 | 5 4/8 |
| 70 kg | 875 | 10 1/8 | 700 | 8 1/8 | 525 | 6 1/8 |
| 80 kg | 965 | 11 1/8 | 775 | 9 | 580 | 6 6/8 |