Urinary S/O Adult
It is recommended that a veterinarian's opinion be sought before use. Feed Urinary S/O for 5 to 12 weeks for the dissolution of struvite stones and up to 6 months for the reduction of struvite stone recurrence.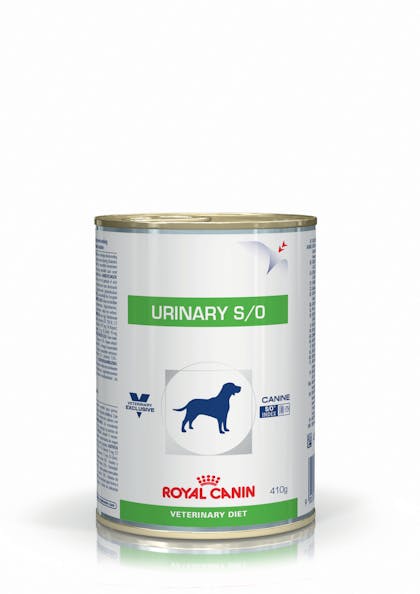 Urine dilution

Urine dilution makes the urine less liable to form struvite and calcium oxalate stones.

Struvite dissolution

Helps dissolve all types of struvite stones.
Composition: meat and animal derivatives (chicken), cereals, derivatives of vegetable origin, oils and fats, vegetable protein extracts (maize gluten), minerals, various sugars.

Additives (per kg): Nutritional additives: Vitamin D3: 190 IU, E1 (Iron): 11 mg, E2 (Iodine): 0.33 mg, E4 (Copper): 2 mg, E5 (Manganese): 3.5 mg, E6 (Zinc): 33 mg - Technological additives: Cassia gum: 2.5 g.

Analytical constituents: Protein: 6% - Fat content: 8% - Crude ash: 1.5% - Crude fibres: 1.5% - Moisture: 72% - Calcium: 0.24% - Phosphorus: 0.25% - Sodium: 0.15% - Magnesium: 0.02% - Potassium: 0.24% - Chloride: 0.2% - Sulphur: 0.15% - Urine acidifying substances: calcium sulphate (0.1%), DL-methionine.

| Dog's weight | thin | thin | normal | normal | overweight | overweight |
| --- | --- | --- | --- | --- | --- | --- |
| 2 kg | 195 g | 1/2 can | 155 g | 1/4 can | 115 g | 1/4 can |
| 5 kg | 380 g | 1 can | 305 g | 3/4 can | 230 g | 1+2 can |
| 10 kg | 630 g | 1+1/2 can | 505 g | 1+1/4 can | 380 g | 1 can |
| 15 kg | 850 g | 2 can | 680 g | 1+1/2 can | 510 g | 1+1/4 can |
| 20 kg | 1045 g | 2+1/2 can | 835 g | 2 can | 630 g | 1+1/2 can |
| 25 kg | 1230 g | 3 can | 985 g | 2+1/4 can | 740 g | 1+3/4 can |
| 30 kg | 1405 g | 3+1/4 can | 1125 g | 2+3/4 can | 845 g | 2 can |
| 35 kg | 1575 g | 3+3/4 can | 1260 g | 3 can | 945 g | 2+1/4 can |
| 40 kg | 1735 g | 4+1/4 can | 1390 g | 3+1/4 can | 1040 g | 2+1/2 can |