Weight Control Adult
Complete feed for adult dogs.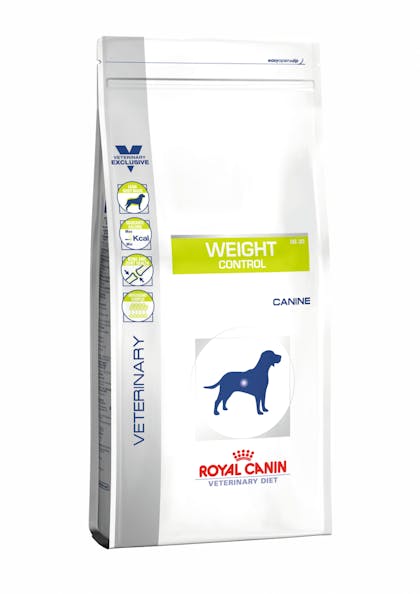 Lean body mass

High protein content to help favour maintenance of lean body mass.

Moderate calorie

Moderate calorie content to help combat excess weight gain.

Bone & joint health

Helps maintain healthy bones and joints.

Antioxidant complex

A synergistic complex of antioxidants to help neutralise free radicals.
Composition: dehydrated poultry protein, barley, maize flour, vegetable fibres, beet pulp, maize gluten, hydrolysed animal proteins, animal fats, yeasts and parts thereof, fish oil, fructo-oligo-saccharides, psyllium husks and seeds, minerals, marigold extract (source of lutein), hydrolysed crustaceans (source of glucosamine), hydrolysed cartilage (source of chondroitin).

Additives (per kg): Nutritional additives: Vitamin A: 23500 IU, Vitamin D3: 1100 IU, E1 (Iron): 30 mg, E2 (Iodine): 3.1 mg, E4 (Copper): 9 mg, E5 (Manganese): 40 mg, E6 (Zinc): 119 mg, E8 (Selenium): 0.03 mg - Preser-vatives - Antioxidants.

Analytical constituents: Protein: 30% - Fat content: 10% - Crude ash: 6.2% - Crude fibres: 6.9%.

Feeding instructions: see table. Water should be available at all times. Batch number, factory registration number and best before date: see information on packaging. To be stored in a cool, dry place.

| Dog's weight | 2 kg | - | 4 kg | - | 5 kg | - | 6 kg | - | 8 kg | - | 10 kg | - | 15 kg | - | 20 kg | - | 25 kg | - | 30 kg | - | 35 kg | - | 40 kg | - | 50 kg | - | 60 kg | - | 70 kg | - | 80 kg | - |
| --- | --- | --- | --- | --- | --- | --- | --- | --- | --- | --- | --- | --- | --- | --- | --- | --- | --- | --- | --- | --- | --- | --- | --- | --- | --- | --- | --- | --- | --- | --- | --- | --- |
| Thin | 56 g | 6/8 cup | 95 g | 1+3/8 cup | 112 g | 1+4/8 cup | 128 g | 1+6/8 cup | 159 g | 2+2/8 cup | 188 g | 2+5/8 cup | 255 g | 3+4/8 cup | 317 g | 4+3/8 cup | 374 g | 5+2/8 cup | 429 g | 6 cup | 482 g | 6+6/8 cup | 533 g | 7+3/8 cup | 630 g | 8+6/8 cup | 722 g | 10 cup | 810 g | 11+2/8 cup | 896 g | 12+4/8 cup |
| Normal | 49 g | 5/8 cup | 82 g | 1+1/8 cup | 97 g | 1+3/8 cup | 111 g | 1+4/8 cup | 138 g | 1+7/8 cup | 163 g | 2+2/8 cup | 220 g | 3 cup | 274 g | 3+6/8 cup | 323 g | 4+4/8 cup | 371 g | 5+1/8 cup | 416 g | 5+6/8 cup | 460 g | 6+3/8 cup | 544 g | 7+4/8 cup | 623 g | 8+5/8 cup | 700 g | 9+6/8 cup | 774 g | 10+6/8 cup |
| Overweight | 41 g | 5/8 cup | 69 g | 1 cup | 81 g | 1+1/8 cup | 93 g | 1+2/8 cup | 116 g | 1+5/8 cup | 135 g | 1+7/8 cup | 186 g | 2+5/8 cup | 230 g | 3+2/8 cup | 272 g | 3+6/8 cup | 312 g | 4+3/8 cup | 350 g | 4+7/8 cup | 387 g | 5+3/8 cup | 458 g | 6+3/8 cup | 525 g | 7+2/8 cup | 589 g | 8+1/8 cup | 651 g | 9 cup |