Gastro Intestinal Moderate Calorie
Gastro Intestinal Moderate Calorie is a complete dietetic food for the nutritional management of dogs formulated to reduce acute intestinal absorption disorders, and as compensation from maldigestion. Highly digestible ingredients. Increased level of electrolytes. Low level of fat. Its moderate calorie content makes it particularly suitable for dogs in which ideal weight is hard to maintain (neutering / overweight / low activity)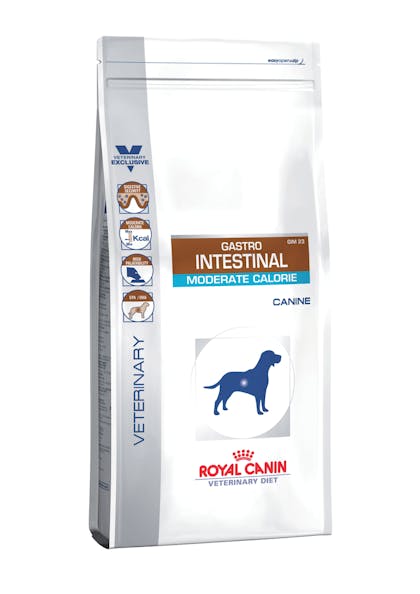 Digestive security

Combination of highly digestible proteins, prebiotics (fructo-oligo-saccharides & mannan-oligo-saccharides), beet pulp, rice and fish old to help support digestive security.

Moderate calorie

A reduced calorie content helps limit weight gain in neutered dogs or those with a tendency to gain weight.

High palability

Exceptional palatability helps support spontaneous intake in fussy dogs.

EPA/DHA

Eicosapentaenoic and docosahexaenoic acids, omega-3 long chain fatty acids, help support digestive health.
Unnið að sjálfbærri framtíð
Sú trú okkar að gæludýr geri heiminn betri, hvetur okkur og glæðir það markmið okkar lífi að gera betri WORLD FOR PETS™
Meiri upplýsingar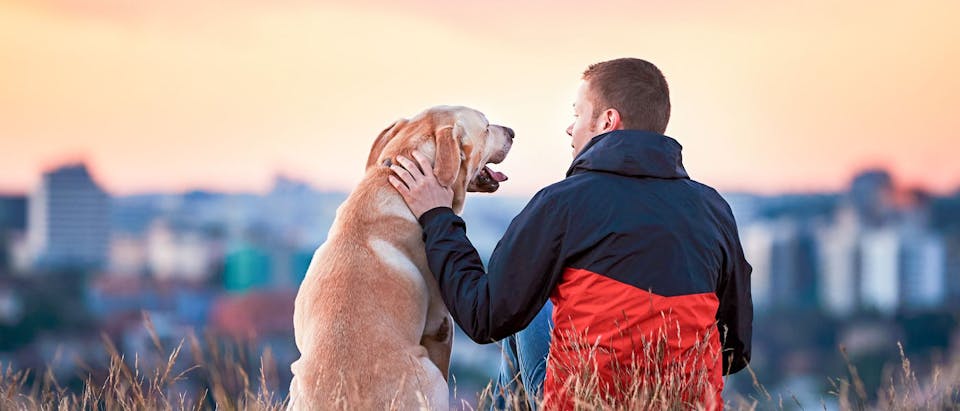 Composition: rice, dehydrated poultry meat, maize, hydrolysed animal proteins, animal fats, beet pulp, egg powder, vegetable fibres, minerals, yeasts, soya oil, fish oil, fructo-oligo-saccharides, psyllium husks and seeds, hydrolysed yeast (source of manno-oligo-saccharides), marigold extract (source of lutein).

Analytical constituents: Protein: 23% - Fat content: 11% - Crude ash: 6.3% - Crude fibres: 2.3% - Sodium: 0.4% - Potassium: 0.7% - EPA/DHA: 2.1 g/kg.

| It is recommended to divide the daily intake into 2 meals | | | | | | |
| --- | --- | --- | --- | --- | --- | --- |
| Dog's weight (kg) | Thin | - | Normal | - | Overweight | - |
| - | (g) | cup | (g) | cup | (g) | cup |
| 2 | 75 | 6/8 | 60 | 5/8 | 45 | 4/8 |
| 4 | 120 | 1 2/8 | 95 | 1 | 75 | 6/8 |
| 6 | 165 | 1 6/8 | 130 | 1 3/8 | 100 | 1 1/8 |
| 8 | 200 | 2 1/8 | 160 | 1 6/8 | 120 | 1 2/8 |
| 10 | 235 | 2 4/8 | 190 | 2 | 140 | 1 4/8 |
| 15 | 320 | 3 3/8 | 255 | 2 6/8 | 190 | 2 |
| 20 | 395 | 4 2/8 | 315 | 3 3/8 | 235 | 2 4/8 |
| 25 | 465 | 5 | 370 | 4 | 280 | 3 |
| 30 | 530 | 5 5/8 | 425 | 4 4/8 | 320 | 3 3/8 |
| 35 | 590 | 6 2/8 | 475 | 5 1/8 | 355 | 3 6/8 |
| 40 | 655 | 7 | 520 | 5 4/8 | 390 | 4 1/8 |
| 50 | 770 | 8 2/8 | 615 | 6 5/8 | 460 | 4 7/8 |
| 60 | 880 | 9 3/8 | 700 | 7 4/8 | 525 | 5 5/8 |
| 70 | 980 | 10 4/8 | 785 | 8 3/8 | 590 | 6 2/8 |
| 80 | 1.085 | 11 5/8 | 865 | 9 2/8 | 650 | 7 |