Gastro Intestinal Moderate Calorie
Complete dietetic feed for cats.
Digestive security

Combination of highly digestible proteins, prebiotics, fibres and fish oil to ensure digestive security

Moderate calorie

Indicated in the management of pancreatitis, a reduced fat content also helps limit weight gain in neutered cats or those with a tendency to overweight.

High palatability

Cats suffering from digestive troubles often show a decreased appetite and weight loss. A fine palatability fosters spontaneous consumption thus facilitating convalescence and recovery.

EPA/DHA

Eicosapentaenoic and docosahexaenoic acids, omega-3 long chain fatty acids, contribute to the health of the digestive system.
COMPOSITION: meat and animal derivatives, cereals, vegetable protein extracts, derivatives of vegetable origin, eggs and egg derivatives, minerals, oils and fats, sugars, yeasts. ADDITIVES (per kg): Nutritional additives: Vitamin D3: 220 IU, E1 (Iron): 7 mg, E2 (Iodine): 0.02 mg, E4 (Copper): 0.01 mg, E5 (Manganese): 2 mg, E6 (Zinc): 20 mg - Technological additives: Pentasodium triphosphate: 1.2 g. ANALYTICAL CONSTITUENTS: Protein: 7% - Fat content: 2.7% - Crude ash: 1.3% - Crude fibre: 1% - Moisture: 82.5% - Metabolisable energy: 709 kcal/kg - Sodium: 0.1% - Potassium: 0.11% - EPA/DHA: 0.05%. GASTRO-INTESTINAL MODERATE CALORIE is a complete dietetic feed for the nutritional management of cats formulated to reduce acute intestinal absorption disorders, and as compensation from maldigestion. Highly digestible ingredients. Increased level of electrolytes. Low level of fat. Its moderate calorie content makes it particularly suitable for cats in which ideal weight is hard to maintain (neutering / overweight / low activity).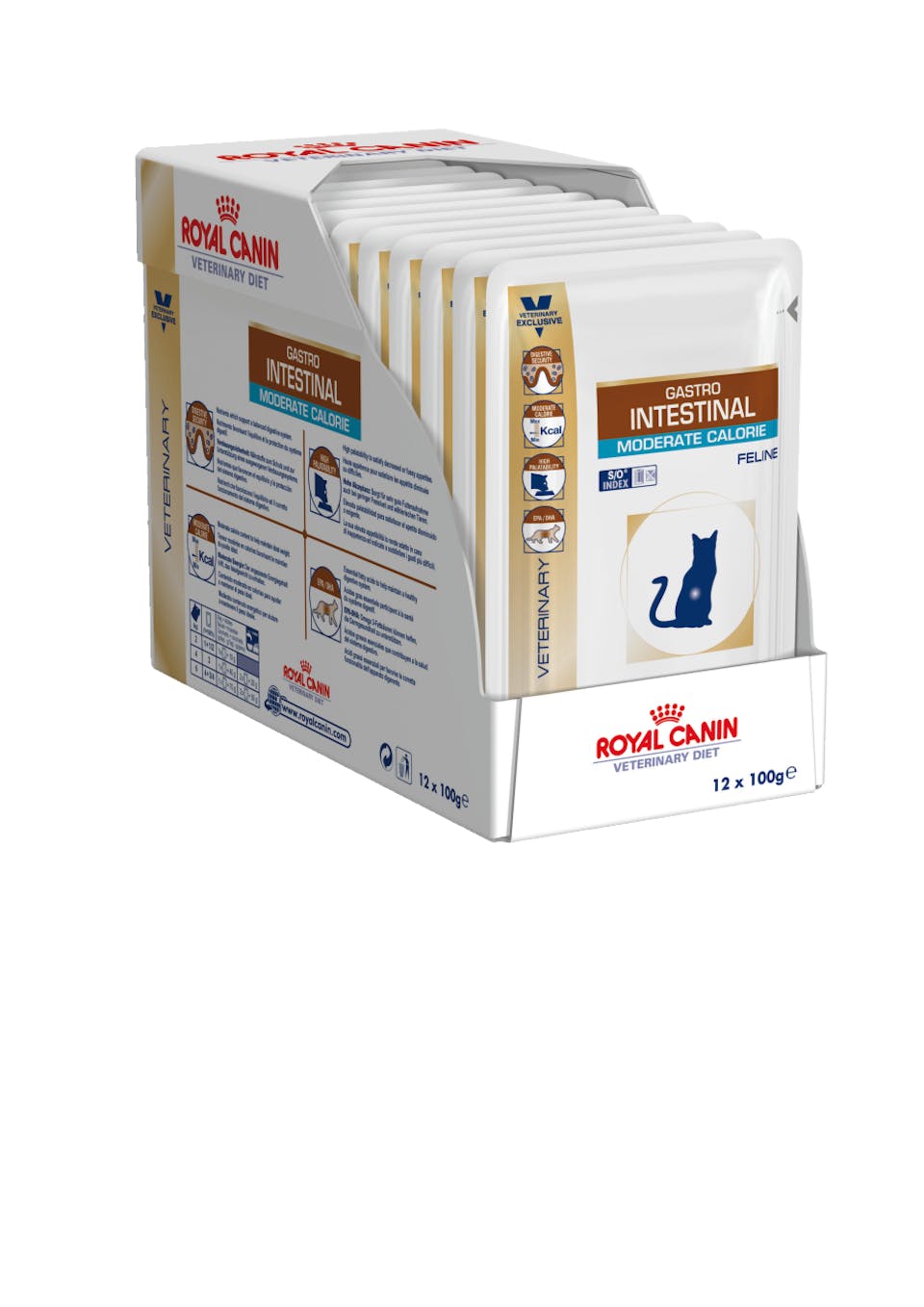 Vis dar turite klausimų apie šį produktą?
Sužinokite, kaip mus pasiekti ir susisiekite.
Užduoti klausimą