Hematuria Detection
Hematuria Detection are litter granules for the detection of hematuria (presence of blood in urine). Hematuria is a common symptom of Lower Urinary Tract Disease (LUTD), which is common in cats. Contact your veterinarian for more information.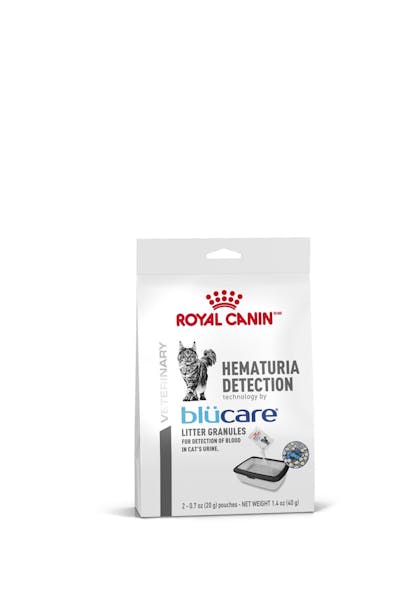 SIMPLE

Easy to incorporate granules into the litter

FAST

Clear results within a few seconds

STRESS-LESS FOR CATS

Urinary test in the cat's environment

RELIABLE

Allows detection of microhematuria which is presence of blood in urine not visible to the naked eyes

EASY TO STORE

Comes in a box of TWO 20g sachets

Claim 6

Easy to use and stress free because it requires no change to the cat's litterbox behavior.

How to use it? 1.     Spread the litter granules over your cat's litter and wait for your cat to urinate. 2.     Inspect the litter box after your cat urinates. If the granules remain WHITE, the test is negative. If they turn BLUE, the test is positive, showing the presence of hematuria (blood in your cat's urine) 3.     Contact your veterinarian to discuss your cat's results and what you can do to maintain his/her health.