CARDIAC
Complete dietetic feed for adult dogs.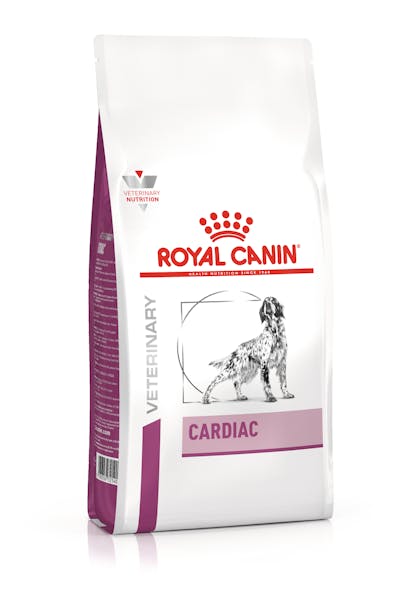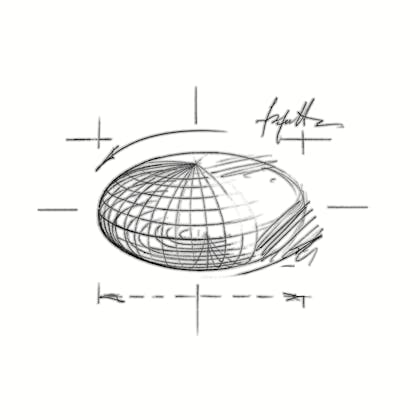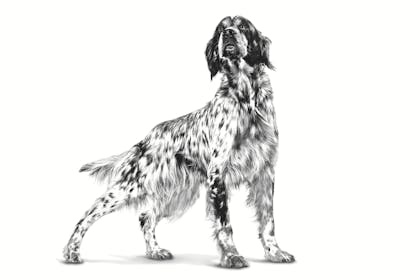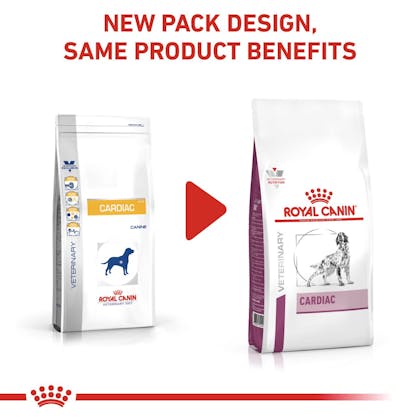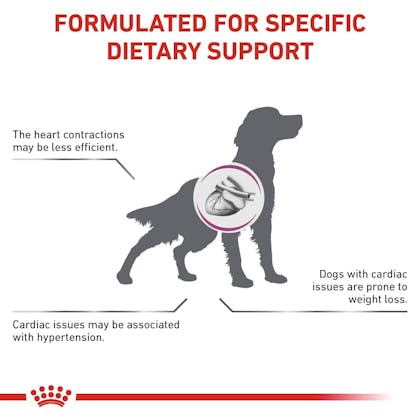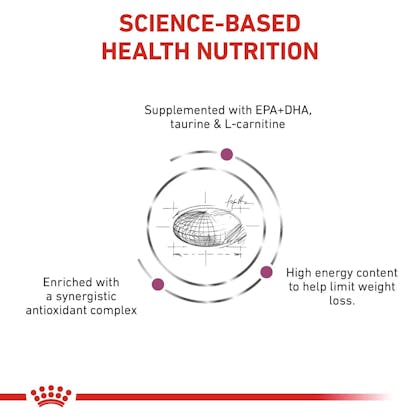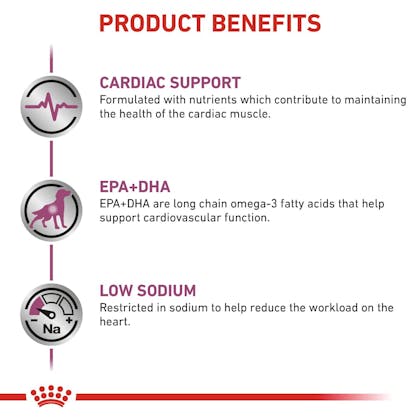 Cardiac support

Formulated with nutrients which contribute to maintaining the health of the cardiac muscle.

EPA+DHA

EPA+DHA are long chain omega-3 fatty acids that help support cardiovascular function.

Low sodium

Restricted in sodium to help reduce the workload on the heart.

PRIMARY INDICATION: - Recommended for later stages of Congestive Heart Failure (ACVIM Stage C and above)
Working towards a sustainable future
Our belief that pets make our world better inspires and gives life to our purpose of making a better A BETTER WORLD FOR PETS ™
Discover more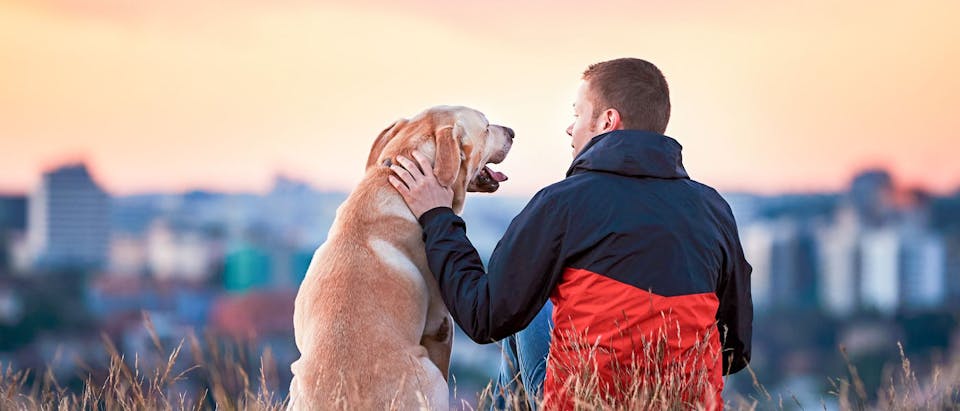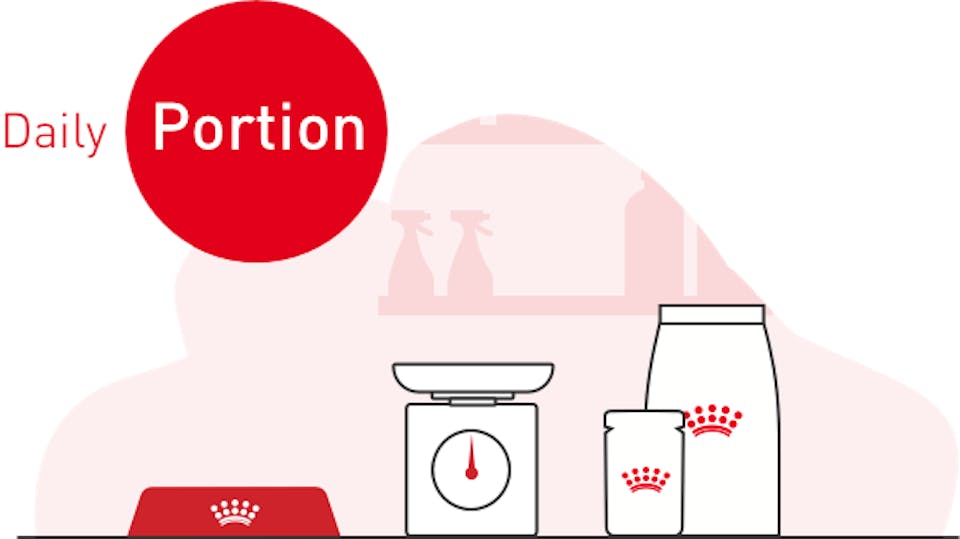 Discover our tool that calculates the daily portion for your pet. Fill in your pet's information and you will get their daily feeding recommendation. In case of weight issues, do not hesitate to consult your vet to adapt this portion. Note that this feeding recommendation is more precise than the feeding table, therefore the values may slightly differ.
Calculate
Analytical constituants: Protein: 26.0%, Fat content: 20.0%, Crude ash: 4.9%, Crude fibres: 1.7%, Sodium: 0.15%, Potassium: 0.8%, Magnesium: 0.15%, EPA/DHA: 0.38%, Taurine: 0.34%, 0mega-3 fatty acids: 0.85%, L-carnitine: 830 mg/kg.

| | | Adult weight | | | | |
| --- | --- | --- | --- | --- | --- | --- |
| | Thin | | Normal | | Overweight | |
| Dog weight (kg) | grams | cup(s) | grams | cup(s) | grams | cup(s) |
| 2 | 51 | 4/8 | 45 | 4/8 | 39 | 3/8 |
| 4 | 85 | 7/8 | 75 | 6/8 | 65 | 5/8 |
| 6 | 116 | 1+2/8 | 102 | 1+1/8 | 88 | 7/8 |
| 8 | 144 | 1+4/8 | 126 | 1+3/8 | 109 | 1+1/8 |
| 10 | 170 | 1+6/8 | 149 | 1+4/8 | 129 | 1+3/8 |
| 11 | 182 | 1+7/8 | 160 | 1+5/8 | 139 | 1+4/8 |
| 15 | 230 | 2+3/8 | 202 | 2+1/8 | 175 | 1+7/8 |
| 20 | 285 | 3 | 251 | 2+5/8 | 217 | 2+2/8 |
| 25 | 337 | 3+4/8 | 297 | 3+1/8 | 256 | 2+5/8 |
| 30 | 387 | 4 | 340 | 3+4/8 | 294 | 3+1/8 |
| 35 | 434 | 4+4/8 | 382 | 4 | 330 | 3+4/8 |
| 40 | 480 | 5 | 422 | 4+3/8 | 365 | 3+6/8 |
| 45 | 524 | 5+4/8 | 461 | 4+6/8 | 398 | 4+1/8 |
| 50 | 567 | 5+7/8 | 499 | 5+2/8 | 431 | 4+4/8 |
| 55 | 609 | 6+3/8 | 536 | 5+5/8 | 463 | 4+7/8 |
| 60 | 650 | 6+6/8 | 572 | 6 | 494 | 5+1/8 |
| 70 | 730 | 7+5/8 | 643 | 6+6/8 | 555 | 5+6/8 |
| 80 | 807 | 8+3/8 | 710 | 7+3/8 | 613 | 6+3/8 |