British Shorthair Adult
Komplett og balansert fôr til katter - Spesielt til voksne Britisk Korthårkatter - Eldre enn 12 måneder.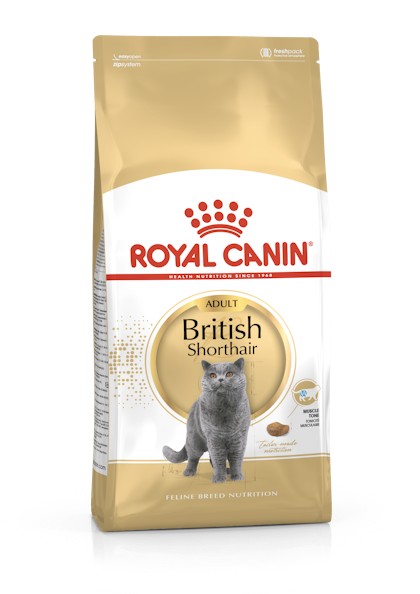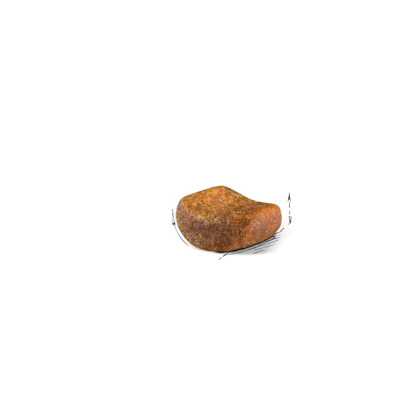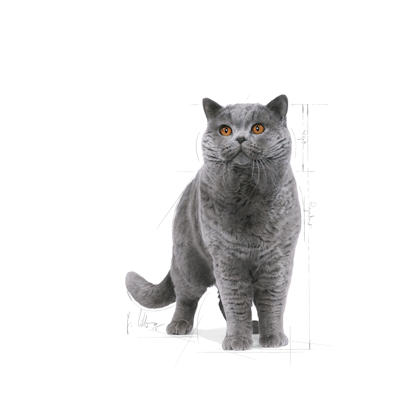 Special british shorthair jaw

This specially designed large curvy-shaped kibble is adapted to the British Shorthair cat's broad jaw. The unique kibble facilitates grasping and encourages chewing to help support oral hygiene.

Exclusive formula - L-carnitine & taurine

Exclusive formula - L-carnitine & taurine.

Muscle tone

The British Shorthair cat has a sturdy, heavy and muscular body. An adapted level of protein contributes to maintaining muscle mass.

L-carnitine

Enriched with L-carnitine, involved in healthy fat metabolism.

Bone & joint health

The British Shorthair's powerful, stocky body can place stress on her bones and joints. Formulated to support healthy bones and joints. Enriched with Omega 3 fatty acids (EPA and DHA).

Cardiac health

Enriched with nutrients such as taurine, EPA and DHA to help maintain healthy cardiac function.

ROYAL CANIN® British Shorthair Adult is specially formulated with all the nutritional needs of your Adult British Shorthair cat in mind. Due to your cat's heavy body type, the level of protein in ROYAL CANIN® British Shorthair Adult has been specifically adapted contribute to maintaining your cat's muscle mass. This food is also enriched with L-Carnitine, a nutrient involved with healthy fat metabolism. The inclusion of Omega-3 fatty acids (EPA and DHA) help to support your cat's healthy bones and joints - meaning it can maintain its normal level of activity without any discomfort. What's more, the specifically formulated balance of minerals in this food helps to support and maintain your cat's healthy cardiac function. To cater to each cat's individual preferences, ROYAL CANIN® British Shorthair Adult is also available as wet food in delicious gravy. If you're considering mixed feeding, simply follow our feeding guidelines to ensure your cat gets an accurate amount of both wet and dry food for optimal benefit.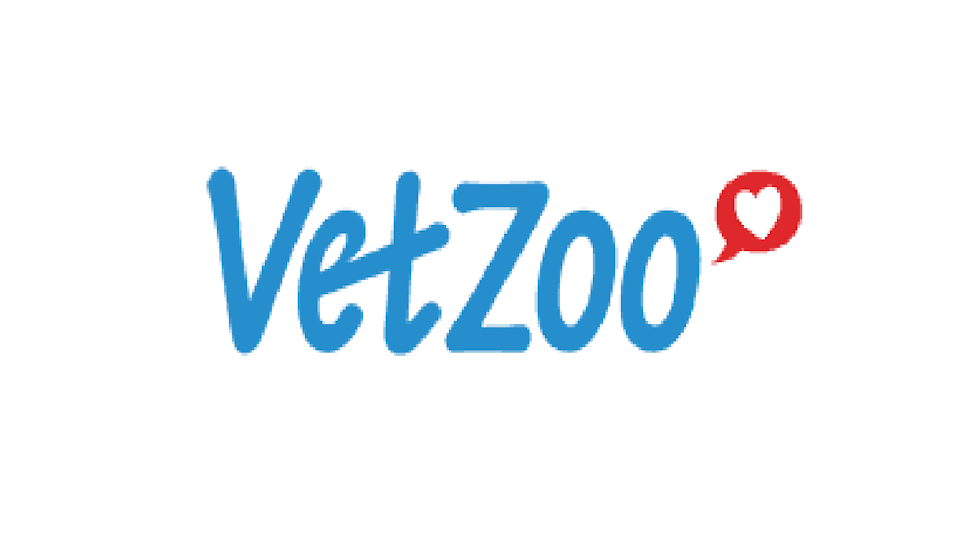 SAMMENSETNING: Tørket fjørfeprotein, ris, vegetabilsk proteinisolat*, animalsk fett, mais, maisgluten, vegetabilske fibre, hydrolysat av animalsk protein, sikorifiber, fiskeolje, soyaolje, mineraler, gjærsorter og deler av disse, fruktooligosakkarider, hydrolysert gjær (kilde til mannanoligosakkarider), boragoolje, hydrolysat av krepsdyr (glukosaminkilde), tagetes erecta ekstrakt (luteinkilde), hydrolysat av brusk (kondroitinkilde). TILSETNINGSSTOFFER (pr. kg): Ernæringsmessige tilsetningsstoffer: Vitamin A: 31000 IE, Vitamin D3: 800 IE, E1 (Jern): 40 mg, E2 (Jod): 4 mg, E4 (Kobber): 12 mg, E5 (Mangan): 51 mg, E6 (Sink): 154 mg, E8 (Selen): 0,08 mg, L-karnitin: 200 mg, Taurin: 2,6 g - Teknologiske tilsetningsstoffer: Klinoptilolitt av sedimentær opprinn­else: 10 g - Konserveringsmidler - Antioksidanter. ANALYTISKE BESTANDDELER: Proteiner: 34 % - Fett: 19 % - Aske: 6,8 % - Råfiber: 5,3 % - Pr. kg: Omega-3 fettsyrer: 9,7 g inkl. EPA/DHA: 3,5 g. BRUKSANVISNING: se tabellen. Best før dato, batch no. og registreringsnummer: se pakken. Oppbevares kjølig og tørt. *L.I.P.: Proteiner valgt på grunn av deres svært høye fordøyelighet.

| Kattens vekt | Lave energibehov | Høye energibehov |
| --- | --- | --- |
| 3 - 4 kg | 34 -41 g (15 - 23 g + 1 pose) | 42 - 52 g (24 - 33 g + 1 pose) |
| 5 - 6 kg | 49 - 55 g (30 - 37 g + 1 pose) | 61 - 69 g (42 - 51 g + 1 pose) |
| 7 - 8 kg | 62 - 68 g (43 - 49 g + 1 pose) | 77 - 85 g (59 - 66 g + 1 pose) |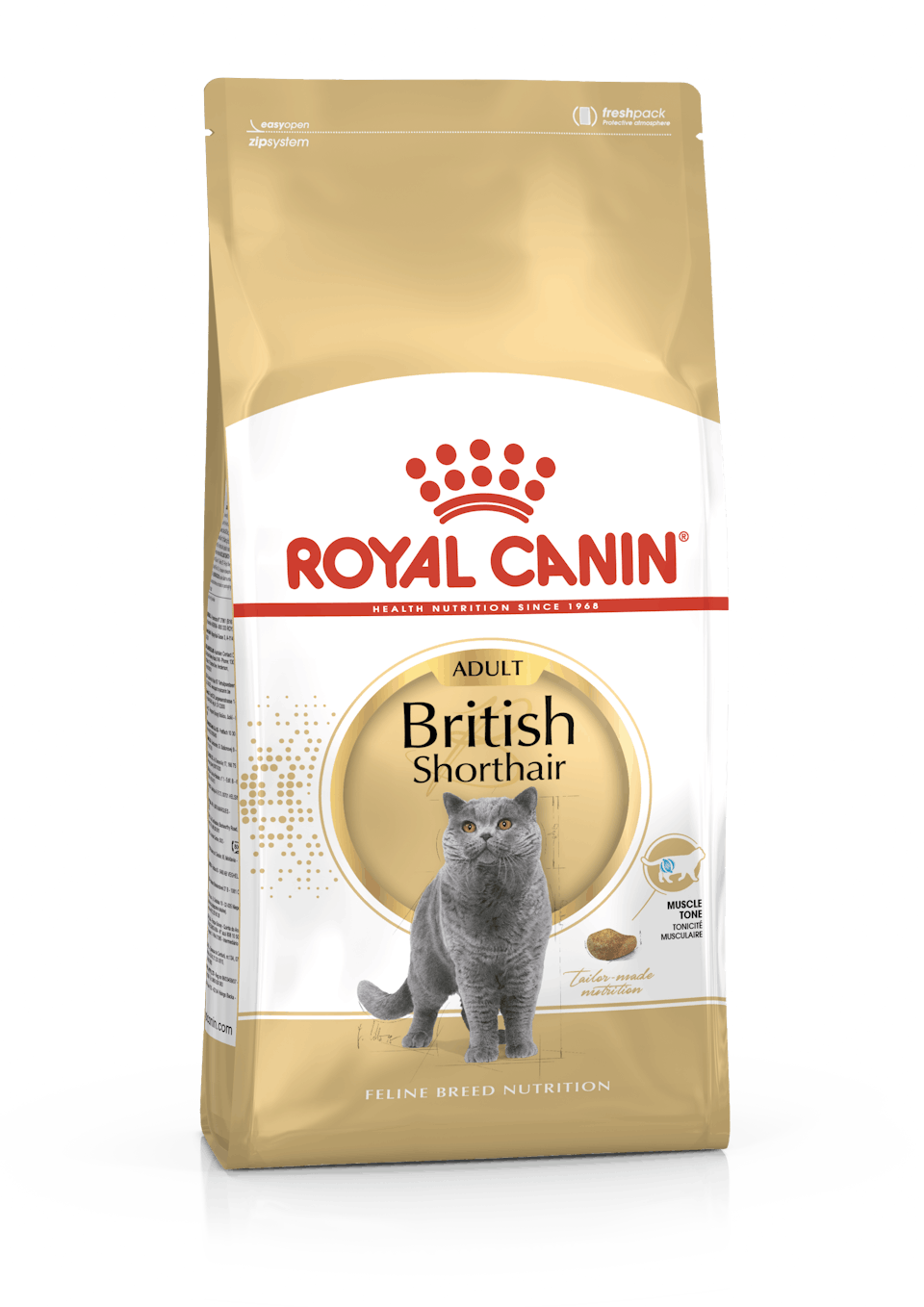 Har du fortsatt spørsmål om dette produktet?
Finn ut hvordan du kommer i kontakt med oss – vi setter pris på å høre fra deg.
Still et spørsmål