Maxi Adult 5+
Komplett fôr til eldre hunder av store raser (26-44 kg) - Over 5 år.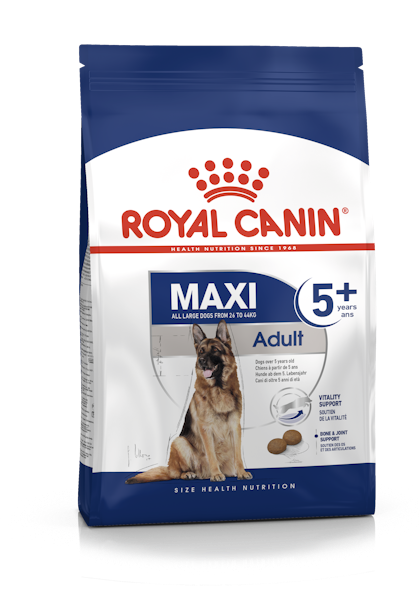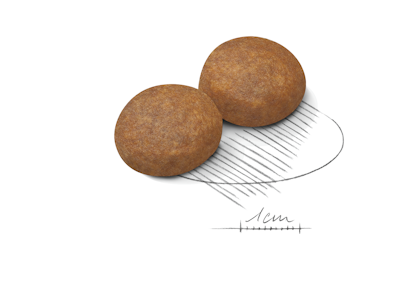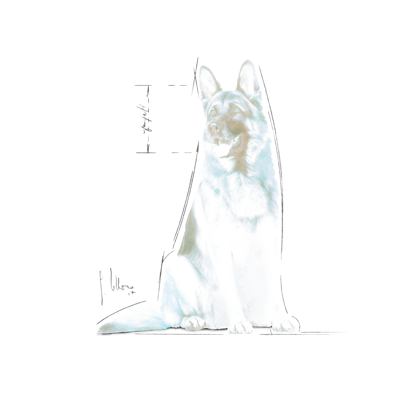 Vitality support

Adapted content of nutrients to help maintain vitality in large breed dogs facing the first signs of ageing. Contains an exclusive complex of antioxidants to help neutralise free radicals.

Bone & joint support

Helps support large breed dogs' healthy bones and joints, which can be placed under stress by body weight.

High digestibility

Helps support optimal digestibility thanks to an exclusive formula including very high quality protein and a balanced supply of dietary fibre.

Ageing in dogs can vary, but when your large dog reaches the approximate age of 5, the first signs of aging may begin to show. That's why it's important to remember that at every stage of your dog's life, a balanced diet is important to support its good health. ROYAL CANIN® Maxi Adult 5+ dog food is formulated with the nutritional needs of your middle-aged dog in mind and is suitable for large dogs aged 5 and over, with an adult weight ranging between 26kg-44kg. Middle-aged large dogs can be sensitive to weight gain at this stage, making it even more important to monitor your dog's daily intake allowance and help prevent overeating. ROYAL CANIN® Maxi Adult 5+ contains a unique and balanced blend of very high-quality protein and dietary fibre, meaning each serving gives your dog what it needs to maintain a healthy weight and support optimal digestion. ROYAL CANIN® Maxi Adult 5+ is specifically formulated to help support large breed dogs during this stage of life by supporting its bones, ligaments and joints - meaning your dog can comfortably support its weight and maintain and active lifestyle. Although your dog may now be showing the first signs of aging, it will still have plenty of energy left. That's why ROYAL CANIN® Maxi Adult 5+ contains an adapted content of nutrients, including an exclusive complex of antioxidants to help neutralise free radicals and help your dog maintain vitality and a healthy metabolism.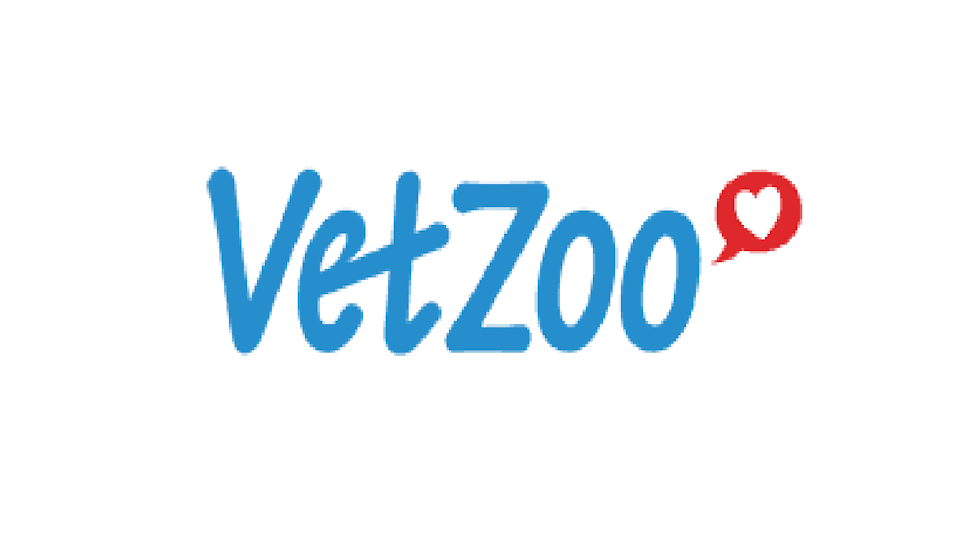 SAMMENSETNING: Tørket fjørfeprotein, ris, animalsk fett, hvete, hvetemel, maismel, vegetabilsk proteinisolat*, hydrolysat av animalsk protein, maisgluten, mais, vegetabilske fibre, betefiber, fiskeolje, soyaolje, gjærsorter og deler av disse, mineraler, psylliumfrø og -skall, fruktooligosakkarider, boragoolje, tagetes erecta ekstrakt (luteinkilde), hydrolysat av krepsdyr (glukosaminkilde), hydrolysat av brusk (kondroitinkilde). TILSETNINGSSTOFFER (pr. kg): Ernæringsmessige tilsetningsstoffer: Vitamin A: 22500 IE, Vitamin D3: 1000 IE, E1 (Jern): 41 mg, E2 (Jod): 4,1 mg, E4 (Kobber): 13 mg, E5 (Mangan): 53 mg, E6 (Sink): 132 mg, E8 (Selen): 0,09 mg - Teknologiske tilsetningsstoffer: Klinoptilolitt av sedimentær opprinnelse: 10 g - Sensoriske tilsetningsstoffer: Ekstrakt av te (polyfenolkilde): 150 mg - Konserveringsmidler - Antioksidanter. ANALYTISKE BESTANDDELER: Proteiner: 26,0 % - Fett: 17,0 % - Aske: 5,9 % - Råfiber: 2,6 %. BRUKSANVISNING: se tabellen. Best før dato, batch no. og registreringsnummer: se pakken. Oppbevares kjølig og tørt. *L.I.P.: Proteiner valgt på grunn av deres svært høye fordøyelighet.
Har du fortsatt spørsmål om dette produktet?
Finn ut hvordan du kommer i kontakt med oss – vi setter pris på å høre fra deg.
Still et spørsmål