Kitten Loaf
Complete feed for cats - Specially for 2nd age kittens up to 12 months old (loaf)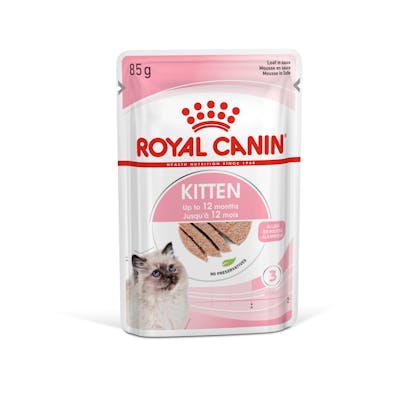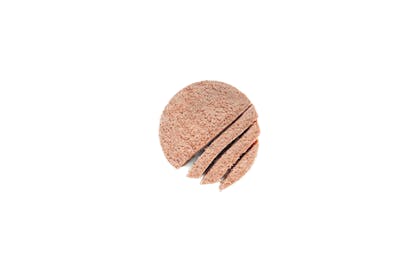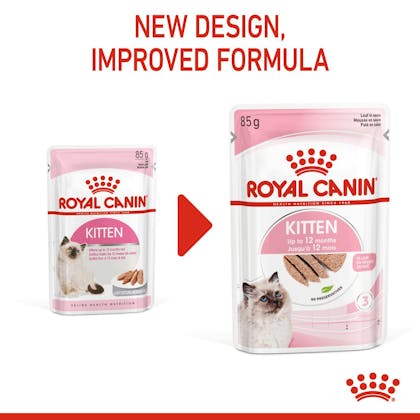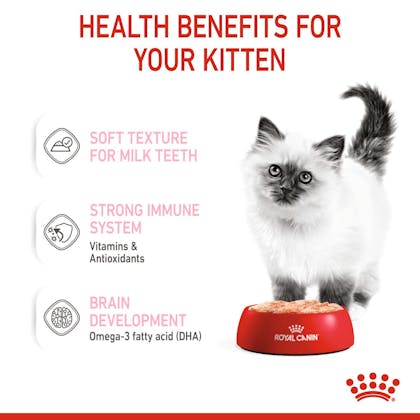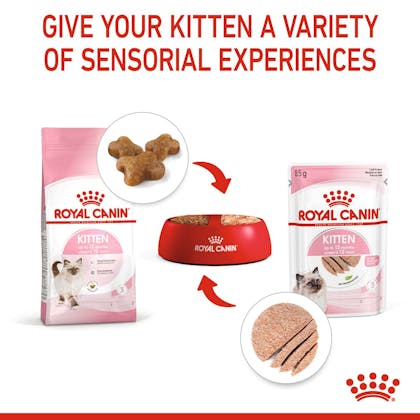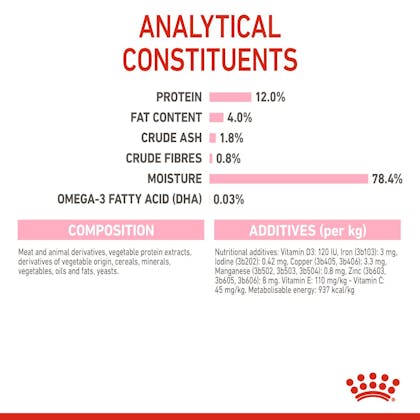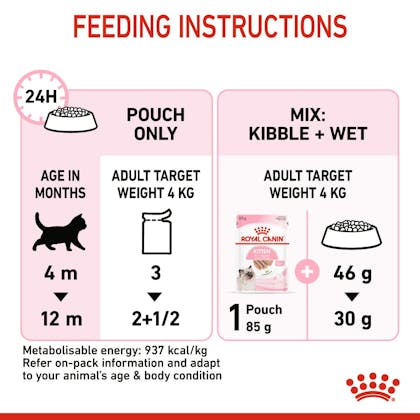 SOFT TEXTURE FOR BABY TEETH

Adapted size, texture and aroma for growing kittens

STRONG IMMUNE SYSTEM

Helps support the development of the kitten's healthy immune system with the inclusion of nutrients such as vitamins E and C.

BRAIN DEVELOPMENT

Enriched with an omega-3 fatty acid (DHA) to support the kitten's brain development and promote healthy vision

ROYAL CANIN® Kitten in Loaf is specially formulated to support the nutritional needs of kittens in the "consolidation phase" of their growth. This formula is suitable for 4 to 12-month-old kittens as they undergo a period of significant physical and behavioural changes.
Working towards a sustainable future
Our belief that pets make our world better inspires and gives life to our purpose of making a better A BETTER WORLD FOR PETS ™
Discover more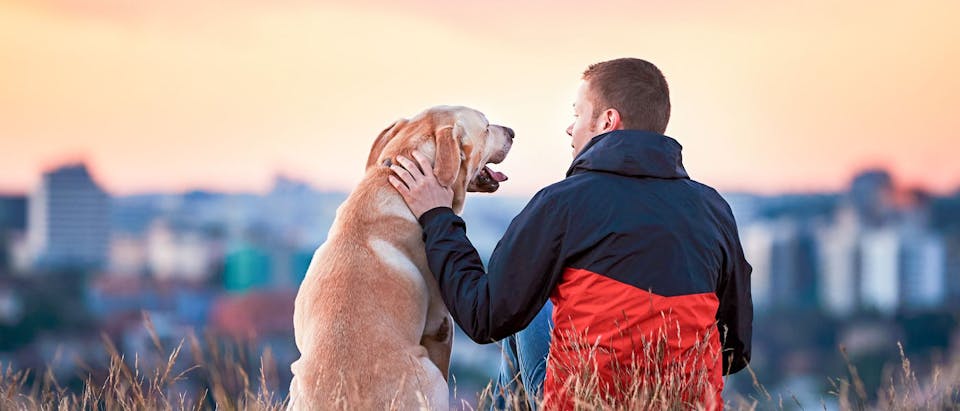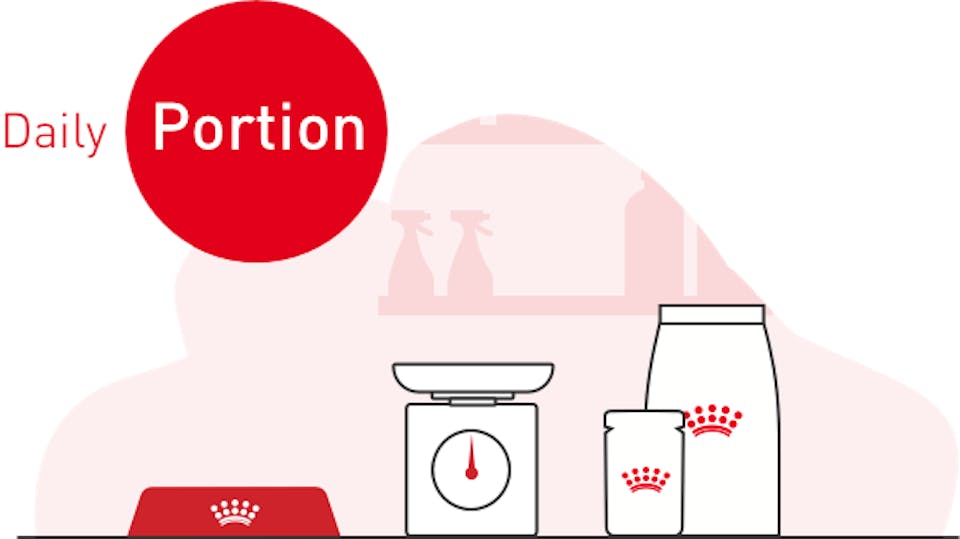 Discover our tool that calculates the daily portion for your pet. Fill in your pet's information and you will get their daily feeding recommendation. In case of weight issues, do not hesitate to consult your vet to adapt this portion. Note that this feeding recommendation is more precise than the feeding table, therefore the values may slightly differ.
Calculate
COMPOSITION : Meat and animal derivatives, vegetable protein extracts, derivatives of vegetable origin, cereals, minerals, vegetables, oils and fats, yeasts.

ADDITIVES (per kg): Nutritional additives: Vitamin D3: 120 IU, Iron: 3 mg, Iodine: 0.42 mg, Copper: 3.3 mg, Manganese: 0.8 mg, Zinc: 8 mg.

ANALYTICAL CONSTITUANTS: Protein: 12.0%, Fat content: 4.0%, Crude ash: 1.8%, Crude fibres: 0.8%, Moisture: 78.4%, Vitamin E: 110 mg/kg, Vitamin C: 45 mg/kg, Omega-3 fatty acids (DHA): 0.03%.

FEEDING INSTRUCTION: see table. Batch number, factory registration number and best before date: see information on packaging. To be stored in a cool, dry place.

| Kitten's age (months) | <1,5 | 1,5 | 2 | 3 | 4 | 5 | 6 | 7 | 8 | 9 | 10 | 11 | 12 |
| --- | --- | --- | --- | --- | --- | --- | --- | --- | --- | --- | --- | --- | --- |
| Kitten's weight (kg) | Use BABY CAT MOUSSE until 1.5 month | 0.6 - 0.9 | 0.8 - 1.2 | 1.4 - 2.1 | 1.8 - 2.75 | 2.1 - 3 | 2.4 - 3.9 | 2.4 - 3.9 | 2.7 - 4 | 2.9 - 5 | 2.9 - 5 | 2.9 - 5 | 2.9 - 5 |
| Rationing (pouch/day) | Use BABY CAT MOUSSE until 1.5 month | 2 | 2.5 | 3 | 3 | 3.5 | 3 | 3 | 3 | 3 | 2.5 | 2.5 | 2.5 |

| Kitten's age (months) | <1,5 | 1,5 | 2 | 3 | 4 | 5 | 6 | 7 | 8 | 9 | 10 | 11 | 12 |
| --- | --- | --- | --- | --- | --- | --- | --- | --- | --- | --- | --- | --- | --- |
| Kitten's weight (kg) | Use BABY CAT MOUSSE until 1.5 month | 0.6 - 0.9 | 0.8 - 1.2 | 1.4 - 2.1 | 1.8 - 2.75 | 2.1 - 3 | 2.4 - 3.9 | 2.4 - 3.9 | 2.7 - 4 | 2.9 - 5 | 2.9 - 5 | 2.9 - 5 | 2.9 - 5 |
| Rationing (grams/day) | Use BABY CAT MOUSSE until 1.5 month | 1 pouch + 18g | 1 pouch + 28g | 1 pouch + 40g | 1 pouch + 46g | 1 pouch + 48g | 1 pouch + 46g | 1 pouch + 44g | 1 pouch + 41g | 1 pouch + 37g | 1 pouch + 34g | 1 pouch + 32g | 1 pouch + 30g |