Diabetic Pouch
ROYAL CANIN® Diabetic thin slices in gravy is a complete dietetic feed for cats formulated to regulate glucose supply.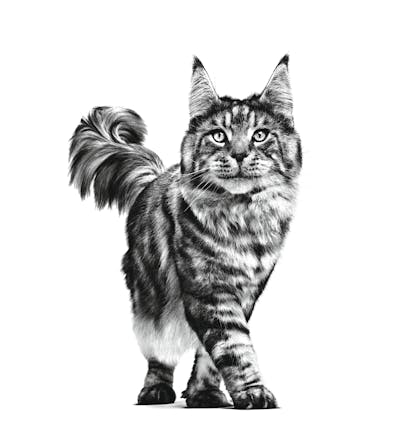 Glucomodulation

Specific formula to help in the management of post-prandial blood glucose in diabetic cats.

High Protein

High protein content. Maintenance of muscle mass is essential in diabetic cats.

Low starch

Formula that contains a reduced level of starch.

Mix feeding instruction

In the management of Diabetes it is recommended to keep the type of food and daily rationing as consistent as possible. Please ask your veterinarian for advice. See feeding guidlines below.

ROYAL CANIN®  Diabetic diet is specifically formulated to help in the management of glucomodulation in diabetic cats. A diabetic cat does not produce sufficient insulin or cannot utilise it normally, so his blood sugar levels elevate. This can cause many health issues. Eating a meal results in a rise of blood glucose levels. In diabetic cats, the goal is to maintain the levels within a safe range throughout the day. Maintaining a stable, ideal body weight is an important dietetic approach.  ROYAL CANIN® Diabetic diet  is formulated with a low level of digestible carbohydrate and a high level of protein. The moderate fat content helps maintain a healthy body weight, while rich antioxidants help maintain health and vitality. RECOMMENDED FOR CASES OF:  Diabetes Mellitus and a Body Condition Score (BCS) ¬ 6/9, Diabetes Mellitus and a BCS   7/9 (until glycaemic control has been achieved).  Please refer to the "Guide to Nutritional Management of Diabetes" decision tree for additional information.
COMPOSITION: Meat and animal derivatives, derivatives of vegetable origin, cereals, minerals, oils and fats.

ADDITIVES (per kg): Nutritional additives: Vitamin D3: 270 IU, E1 (Iron): 3 mg, E2 (Iodine): 0.4 mg, E4 (Copper): 3 mg, E5 (Manganese): 0.8 mg, E6 (Zinc): 8 mg - Technological additives: Clinoptilolite of sedimentary origin: 1 g.

ANALYTICAL CONSTITUANTS: Protein: 8.9% - Fat content: 3.2% - Crude ash: 1.7% - Crude fibres: 1.1% - Moisture: 82.5% - Essential fatty acids: 0.54% - Total sugars: 1.3% - Starch: 1.2% - source of carbohydrates: modified corn starch - rice.

FOR RSA: Guaranteed analysis g/kg: Crude protein (min) 69 - Moisture (max) 855 - Crude fat (min) 12 - Crude fibre (max) 21 - Crude ash (max) 19.

See table. Batch number, factory registration number and best before date: see information on packaging. To be stored in a cool, dry place.

| Cat's weight (Mix feeding guidlines) | Pouch | Thin - dry (g) | Thin (cup) | Normal - dry (g) | Normal (cup) | Overweight - dry (g) | Overweight (cup) |
| --- | --- | --- | --- | --- | --- | --- | --- |
| 2kg | 1+ | 22 | 2/8 | 16 | 1/8 | 9 | 1/8 |
| 3kg | 1+ | 36 | 3/8 | 27 | 3/8 | 18 | 2/8 |
| 4kg | 1+ | 48 | 4/8 | 37 | 3/8 | 26 | 2/8 |
| 6kg | 1+ | 69 | 7/8 | 55 | 5/8 | 40 | 4/8 |
| 8kg | 1+ | 89 | 1+1/8 | 71 | 7/8 | 53 | 5/8 |