Diabetic
Diabetic Wet is formulated for adult cats with Diabetes Mellitus to help regulate glucose supply. Recommended for (indications): Diabetes Mellitus Not recommended for (contraindications): Pregnancy Lactation Growth Feeding Advice: Diabetic Wet is recommended to be fed for the cat's lifetime. It is recommended that blood glucose and insulin response are monitored when starting the diet so that insulin dosages can be adapted if necessary. We recommend that a veterinarian's opinion be sought before use, extending the period of use or stopping use.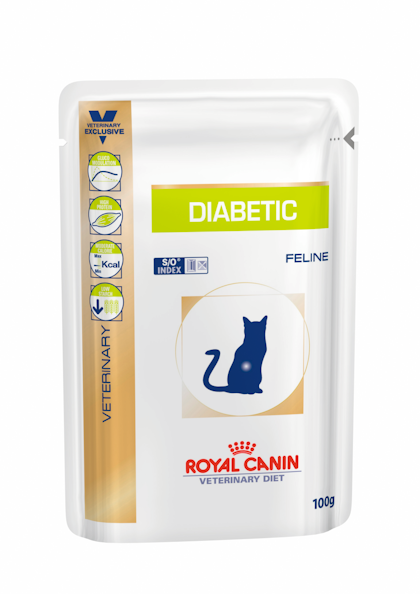 Gluco modulation

Mixing of cereals of low glycaemic index (barley, corn) in conjunction with the gelling action of psyllium mucilages reduces postpandrial hyperglycaemia

High protein

A high protein content helps reduce the net energy supply and also ensures a prolonged and progressive glucose supply (gluconeogenesis)

Moderate calorie

A moderate energy intake promotes an optimal body composition and minimises insulin resistance associated with being overweight

Low starch

Formula that contains a reduced level of starch.
Composition: meat and animal derivatives, cereals (maize), derivatives of vegetable origin, minerals, oils and fats. Additives (per kg): Nutritional additives: Vitamin D3: 220 IU, E1 (Iron): 3.5 mg, E2 (Iodine): 0.1 mg, E4 (Copper): 0.9 mg, E5 (Manganese): 1 mg, E6 (Zinc): 11 mg. Analytical constituents: Protein: 9% - Fat content: 3% - Crude ash: 1.2% - Crude fibres: 1.5% - Moisture: 82.5% - Omega 6 essential fatty acids: 0.6% - Omega 3 essential fatty acids: 0.15% - Total sugars: 1.3% - Starch: 2.3%. Metabolisable energy: 71 kcal.

| Cat's weight | Thin | Thin | Normal | Normal | Overweight | Overweight |
| --- | --- | --- | --- | --- | --- | --- |
| | grams | pouch | grams | pouch | grams | pouch |
| 2 kg | 185 | 1 + 3/4 | 155 | 1 + 1/2 | - | - |
| 3 kg | 275 | 2 + 3/4 | 230 | 2 + 1/4 | - | - |
| 4 kg | 365 | 3 + 3/4 | 310 | 3 | 255 | 2 + 1/2 |
| 5 kg | 460 | 4 + 1/2 | 385 | 3 + 3/4 | 315 | 3 + 1/4 |
| 6 kg | 550 | 5 + 1/2 | 465 | 4 + 3/4 | 380 | 3 + 3/4 |
| 7 kg | 640 | 6 + 1/2 | 540 | 5 + 1/2 | 445 | 4 + 1/2 |
| 8 kg | 730 | 7 + 1/4 | 620 | 6 + 1/4 | 505 | 5 |
| 9 kg | - | - | 695 | 7 | 570 | 5 + 3/4 |
| 10 kg | - | - | 775 | 7 + 3/4 | 635 | 6 + 1/4 |