Neutered Weight Balance Pouch
Neutering has a big effect on hormone levels in cats and while these changes have many possible positive outcomes, like more sociable behaviour and longer life expectancy, there is one thing you should know. As soon as 48 hours after surgery, changing hormones can cause a cat's energy needs to decrease by 30% but also increases their appetite by 20%*. This can lead to significant weight gain. The answer? A diet that's precisely right for your neutered pet. Neutered Weight Balance is a complete diet for adult male and female cats from neutering to 7 years old. It complements the Neutered dry foods (Young Male and Young Female) or can also be fed as a complete diet. Source: ~Kanchuk, 2003 - Source: Belisto, 2009 - * Source: Fettman, 1997 - 4 Source: Scarlett, 1994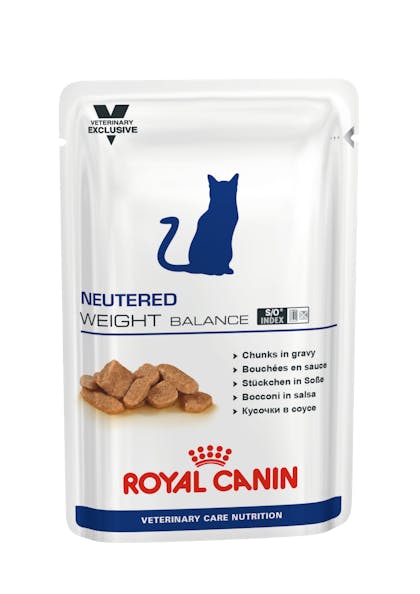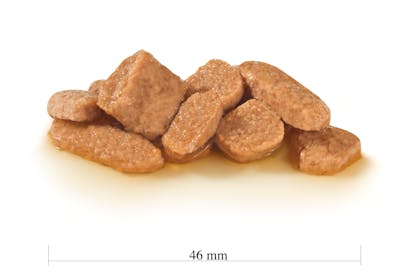 Moderate calorie

: A reduced calorie content helps limit weight gain in neutered cats.

Antioxidant complex

The synergistic antioxidant complex (vitamin E, vitamin C, taurine, lutein) helps neutralise free radicals.

ROYAL CANIN® Neutered Weight Balance is a complete and balanced diet for adult male and female cats from neutering to 7 years of age.
COMPOSITION: meat and animal derivatives, cereals, derivatives of vegetable origin, minerals, vegetable protein extracts, yeasts, various sugars.

ADDITIVES (per kg): Nutritional additives: Vitamin D3: 230 IU, E1 (Iron): 2 mg, E2 (Iodine): 0.4 mg, E4 (Copper): 3 mg, E5 (Manganese): 0.6 mg, E6 (Zinc): 6 mg.

ANALYTICAL CONSTITUENTS: Protein: 9% - Fat content: 2.5% - Crude ash: 1.6% - Crude fibres: 1.5% - Moisture: 81.5%.

FEEDING INSTRUCTION: see table. Batch number, factory registration number and best before date: see information on packaging. To be stored in a cool, dry place.

| Cat | OVERWEIGHT | - | NORMAL | - | LEAN | - |
| --- | --- | --- | --- | --- | --- | --- |
| weight (kg) | Low Energy Needs | - | | - | - | High Energy Needs |
| | (g / day) | Pouch / day | (g / day) | Pouch / day | (g / day) | Pouch / day |
| 2 | 145 | 1 1/2 | 180 | 1 3/4 | 215 | 2 1/4 |
| 3 | 190 | 2 | 240 | 2 1/2 | 285 | 2 3/4 |
| 4 | 235 | 2 1/4 | 295 | 3 | 350 | 3 1/2 |
| 5 | 275 | 2 3/4 | 345 | 3 1/2 | 410 | 4 |
| 6 | 315 | 3 1/4 | 390 | 4 | 470 | 4 3/4 |
| 7 | 350 | 3 1/2 | 435 | 4 1/4 | 525 | 5 1/4 |
| 8 | 385 | 3 3/4 | 480 | 4 3/4 | 575 | 5 3/4 |
| 9 | 415 | 4 1/4 | 520 | 5 1/4 | 625 | 6 1/4 |
| 10 | 450 | 4 1/2 | 560 | 5 1/2 | 675 | 6 3/4 |