Satiety Weight Management
Formulated for weight loss in cats, Satiety Weight Management is designed to help reduce hunger.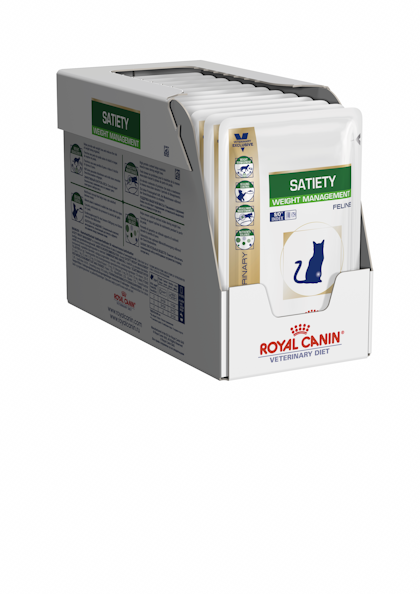 Begging control

Nutritional concept that helps keeping cats satisfied between meals.

Effective weight management

Helps provide safe weight loss and avoid weight regain.

Nutrients balance

Helps ensure optimal nutrients intake during weight loss.

Muscle mass maintenance

High protein content helps maintain muscle mass during weight loss.
Composition: Poultry by-products, pork by-products, rice flour, pork blood products, powdered cellulose, dried albumen, minerals, caramelised sugars, dextrose, marigold extract (source of lutein), hydrolysed crustaceans (source of glucosamine), hydrolysed cartilage (source of chondroitin). Additives (per kg): Nutritional additives: Vitamin D3: 235 IU, E1 (Iron): 7 mg, E2 (Iodine): 0,23 mg, E4 (Copper): 1,9 mg, E5 (Manganese): 2 mg, E6 (Zinc): 20 mg. Metabolisable energy: 64.4 kcal/100 g. Feeding instructions: see table. Weight shown in the table is the target body weight. Batch number, factory registration number and best before date: see information on packaging. To be stored in a cool, dry place.

| Cat's weight | Start | After 4 weeks | Maintenance |
| --- | --- | --- | --- |
| 2 kg | 142 g (1 + 3/4 cups) | 113 g (1 + 1/4 cups) | 150 g (1 + 3/4 cups) |
| 3 kg | 190 g (2 + 1/4 cups) | 150 g (1 + 3/4 cups) | 200 g (2 + 1/4 cups) |
| 4 kg | 233 g (2 + 3/4 cups) | 184 g (2 + 1/4 cups) | 245 g (3 cups) |
| 5 kg | 273 g (3 + 1/4 cups) | 216 g (2 + 1/2 cups) | 290 g (3 + 1/2 cups) |
| 6 kg | 311 g (3 + 3/4 cups) | 246 g (3 cups) | 330 g (4 cups) |
| 7 kg | 347 g (4 cups) | 275 g (3 + 1/4 cups) | 365 g (4 + 1/4 cups) |
| 8 kg | 381 g (4 + 1/2 cups) | 302 g (3 + 1/2 cups) | 405 g (4 + 3/4 cups) |
| 9 kg | 414 g (4 + 3/4 cups) | 328 g (3 + 3/4 cups) | 440 g (5 + 1/4 cups) |
| 10 kg | 447 g (5 + 1/4 cups) | 354 g (4 + 1/4cups) | 470 g (5 + 1/2 cups) |