Senior Consult Stage 2 Pouch
At about 7 years of age, cats' nutritional requirements change. Some senior cats, for example can start to show visible signs of ageing early - such as osteoarthritis, kidney disease and behavioural changes. Others may age slower and won't show obvious signs of ageing as quickly. It's important, therefore, to be aware of your cat's individual needs and to provide your pet with nutrition that's precisely suited to help maintain ideal body condition and health. The clinical signs of ageing are often hidden in cats so make sure you consult with your veterinarian on a regular basis. Our Senior Consult range is designed to provide your cat with the optimum diet as he or she reaches more advanced stages of life. Senior Consult Stage 2 is a nutritionally balanced diet for cats over 7 years starting to show visible signs of ageing such as changes in behaviour, mobility and eating habits.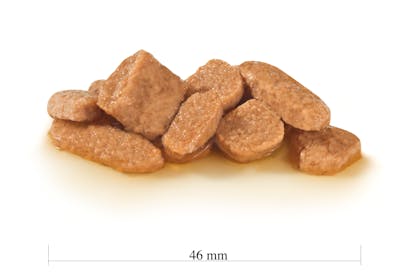 Vitality complex

Contains an antioxidant complex (vitamin C, vitamin E, lutein, taurine) and lycopene to help balance oxidative stress. Helps maintain kidney function with a low phosphorus content. Helps maintain cats' mobility with nutrients such as EPA & DHA. Provides selected proteins that contain branched amino-acids. Adapted L-tryptophan ratio.

High energy

Ageing cats may have increasing requirements in energy and decreased fat assimilation. A high fat content allows a higher energy intake whilst  reducing meal volume and decreasing intestinal load.

Senior Consult - Stage 2 is a maintenance diet for the nutritional management of mature cats aged 7 years showing obvious signs of ageing.  Ideally the diet should be fed after a senior health check is conducted.
Composition: meat and animal derivatives, cereals, derivatives of vegetable origin, oils and fats, vegetable protein extracts, vegetables, minerals, eggs and egg derivatives, yeasts, various sugars, molluscs and crustaceans. Additives (per kg): Nutritional additives: Vitamin D3: 300 IU, E1 (Iron): 3.5 mg, E2 (Iodine): 0.02 mg, E4 (Copper): 0.1 mg, E5 (Manganese): 1 mg, E6 (Zinc): 11 mg. Analytical constituents: Protein: 8.5% - Fat content: 5% - Crude ash: 1.1% - Crude fibres: 1.5% - Moisture: 78%. Metabolisable energy: 96 kcal (per 100g).

Cat
OVERWEIGHT
-
NORMAL
-
LEAN
weight (kg)
Low Energy Needs
-
-
High Energy Needs
(g / day)
Pouch / day
(g / day)
Pouch / day
(g / day)
Pouch / day
2
105
1
130
1 1/4
160
1 1/2
3
140
1 1/2
175
1 3/4
210
2
4
175
1 3/4
215
2 1/4
260
2 1/2
5
205
2
255
2 1/2
305
3
6
230
2 1/4
290
3
345
3 1/2
7
260
2 1/2
320
3 1/4
385
3 3/4
8
285
2 3/4
355
3 1/2
425
4 1/4
9
310
3
385
3 3/4
465
4 3/4
10
335
3 1/4
415
4 1/4
500
5