Urinary S/O Pouch
Complete dietetic feed for adult cats.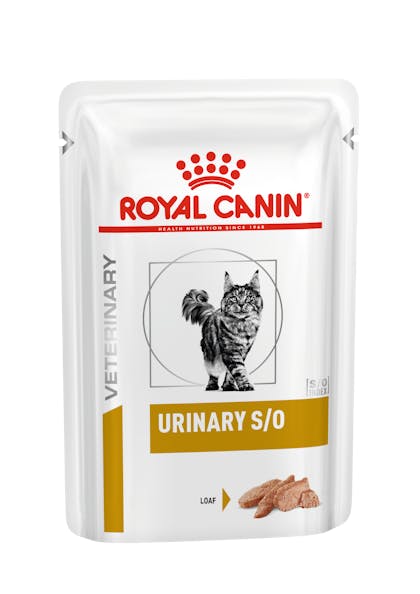 Idiopathic cystitis

The high moisture content of wet increases urine dilution. As idiopathic cystitis accounts for nearly 64 % of cases of FLUTD a wet diet is preferred in cases of recurring cystitis.

Struvite dissolution

Helps dissolve all types of struvite stones.

Low RSS

Helps lower the concentration of ions contributing to crystal formation.

Urine dilution

Urine dilution makes the urine less liableto form struvite and calcium oxalate stones.

Urinary S/O for the nutritional management of cats with struvite or oxalate crystals and lower urinary tract disease. RECOMMENDED FOR CASES OF: Dissolution of struvite uroliths | management of recurrent struvite and calcium oxalate urolithiasis | Feline idiopathic cystitis (FIC)         NOT RECOMMENDED IN CASE OF: Chronic Kidney Disease (CKD) | Heart disease (when sodium restriction is sought) | Concurrent use of urine-acidifying drugs | Growth | gestation | lactation | Hypertension.   In older cats and dogs, it is recommended renal function be checked before Urinary S/O is prescribed.
poultry by-products, pork by-products, powdercellulose, minerals, pork blood products, vital wheat gluten, starch mixture, fish oil, caramelised sugars, marigold extract (source of lutein). meat and animal derivatives, derivatives of vegetable origin, minerals, cereals, vegetable protein extracts, oils and fats, various sugars.

Nutritional additives: Vitamin D3: 50 IU, E1 (Iron): 3 mg, E2 (Iodine): 0.3 mg, E4 (Copper): 2.5 mg, E5 (Manganese): 0.9 mg, E6 (Zinc): 9 mg - Technological additives: (acidity regulator) sodium bisulfate: 0.5 g.

Protein: 11.0% - Fat content: 3.5% - Crude ash: 2.2% - Crude fibres: 1.0% - Moisture: 79.5% - Taurine (total): 0.1% - Calcium: 0.25% - Phosphorus: 0.25% - Sodium: 0.3% - Magnesium: 0.016% - Potassium: 0.22% - Chloride: 0.4% - Sulfur: 0.23% - Urine acidifying substances: calcium sulfate: 0.35% - DL Methionine: 0.029%. Metabolisable energy: 98.4 kcal.

This legal text is a long version for WET product. Do not use for packaging translation. If you see this text on EP2, thanks to contact support for product deletion.

Guaranteed analysis g/kg: Crude protein (min) 90 - Moisture (max) 825 - Crude fat (min) 15 - Crude fibre (max) 20 - Crude ash (max) 24.

| Cat's weight | Thin | Thin | Normal | Normal | Overweight | Overweight |
| --- | --- | --- | --- | --- | --- | --- |
| | grams | cups | grams | cups | grams | cups |
| 2 kg | 155 | 1 + 1/2 | 130 | 1 + 1/4 | - | - |
| 3 kg | 205 | 2 | 170 | 1 + 3/4 | - | - |
| 4 kg | 255 | 2 + 1/2 | 210 | 2 | 170 | 1 + 3/4 |
| 5 kg | 295 | 3 | 250 | 2 + 1/2 | 200 | 2 |
| 6 kg | 340 | 3 + 1/2 | 280 | 2 + 3/4 | 225 | 2 + 1/4 |
| 7 kg | 375 | 3 + 3/4 | 315 | 3 + 1/4 | 250 | 2 + 1/2 |
| 8 kg | 415 | 4 + 1/5 | 345 | 3 + 1/2 | 275 | 2 + 3/4 |
| 9 kg | 450 | 4 + 1/2 | 375 | 3 + 3/4 | 300 | 3 |
| 10 kg | 485 | 4 + 3/4 | 405 | 4 | 325 | 3 + 1/4 |