Dental Special Small Dog
Especially made for small breed dogs (1-10kg), Dental Special is a complete diet for adult dogs with dental concerns or a tendency for dental  problems. This diet limits the development of dental plaque and tartar. It is recommended that a veterinarian's opinion be sought before use or before extending the period of use.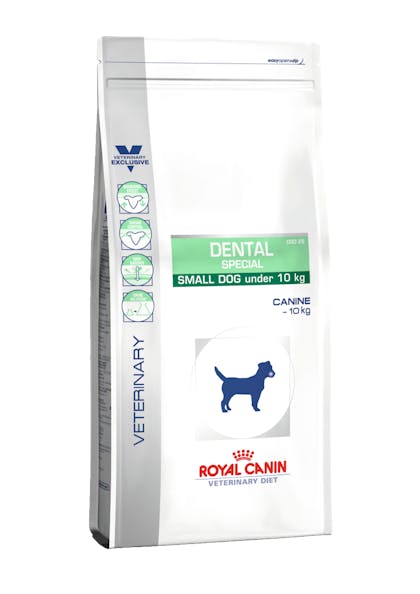 Brushing effect

The kibble's shape, texture and size help produce a mechanical brushing effect on teeth.

Tartar control

Sodium polyphosphates bind salivary calcium which effectively reduces tartar formation.

Skin barrier

Specially formulated complex of nutrients targeting the reduction of water loss through the skin by strengthening the barrier effect of the skin.

Urine dilution

Urine dilution decreases the urinary concentration of struvite and calcium oxalate crystals and promotes regular bladder wash-out.

ROYAL CANIN® Dental diets are scientifically formulated and dual acting to help manage oral hygiene. This diet is recommended for dogs under 10kg prone to developing tartar or after teeth have been scaled. This diet can be fed throughout the dog's life. For optimum results, it is recommended to divide the daily intake into 2 or 3 meals. Recommended for: Daily oral hygiene in dogs under 10kg. Limits the development of dental plaque and tartar. Helps control halitosis. Not recommended in case of: Cardiac disease (unless the dog is on ACE inhibitors as sodium intake is then well tolerated), pancreatitis or history of pancreatitis and Hyperlipidaemia.
Composition: rice, maize, dehydrated poultry protein, animal fats, maize gluten, wheat gluten*, vegetable fibres, beet pulp, hydrolysed animal proteins, minerals, fish oil, soya oil, fructo-oligo-saccharides, green tea extracts (source of polyphenols), marigold extract (source of lutein). Additives (per kg): Nutritional additives: Vitamin A: 27300 IU, Vitamin D3: 1000 IU, E1 (Iron): 41 mg, E2 (Iodine): 2.8 mg, E4 (Copper): 9 mg, E5 (Manganese): 54 mg, E6 (Zinc): 203 mg, E8 (Selenium): 0.1 mg - Technological additives: Pentasodium triphosphate: 3 g - Preservatives - Antioxidants. Analytical constituents: Protein: 25% - Fat content: 16% - Crude ash: 5.4% - Crude fibres: 4.5%. *L.I.P.: protein selected for its very high assimilation.

| Dog's | thin | thin | normal | normal | overweight | overweight |
| --- | --- | --- | --- | --- | --- | --- |
| weight | grammes | cups | grammes | cups | grammes | cups |
| 2 kg | 70 | 6/8 | 55 | 5/8 | 40 | 4/8 |
| 3 kg | 95 | 1 | 75 | 7/8 | 55 | 5/8 |
| 4 kg | 115 | 1 2/8 | 90 | 1 | 70 | 6/8 |
| 5 kg | 135 | 1 4/8 | 110 | 1 2/8 | 80 | 7/8 |
| 6 kg | 155 | 1 6/8 | 125 | 1 3/8 | 90 | 1 |
| 7 kg | 170 | 1 7/8 | 140 | 1 4/8 | 105 | 1 1/8 |
| 8 kg | 190 | 2 1/8 | 150 | 1 5/8 | 115 | 1 2/8 |
| 9 kg | 205 | 2 2/8 | 165 | 1 6/8 | 125 | 1 3/8 |
| 10 kg | 225 | 2 4/8 | 180 | 2 | 135 | 1 4/8 |