Hypoallergenic Canine
Hypoallergenic is formulated to reduce ingredient intolerances and can be used for dogs with food allergies or sensitivities - showing as either skin or digestive signs. The diet can also be used as part of a food elimination trial. Recommended for (indications): Food elimination trials Food allergy Food intolerance Inflammatory bowel disease (IBD) Chronic diarrhoea Bacterial growth Excorine pancreatic insufficiency Not recommended for (contraindications): Pregnancy, lactation and growth.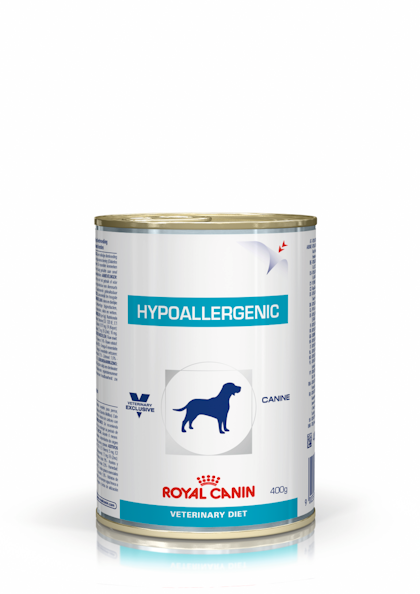 Skin barrier

A patented complex to support the barrier effect of the skin.

Hydrolysed protein

Hydrolysed protein with low molecular weight to ensure the food is hypoallergenic.
Composition : derivatives of vegetable origin (pea starch), vegetable protein extracts (soya proteins hydrolysate), oils and fats, minerals, meat and animal derivatives (chicken liver hydrolysate), various sugars. Additives (per Kg) : nutritionnal additives : vitamin A : 5000UI, vitamin D3 :340 UI, E1 (iron) 25 mg, E2 (iodin) 2mg, E4 (copper) 6mg, E5 (manganese) 32 mg, E6 (zinc) 120mg - technological additive : triphosphate pentasodique 3g. Analyticals % : protein 6, fat content 3.5 , crude ash 1.6, crude fibres 2, moisture 74.5, essential fatty acids w3: 0.3 and w6: 1.7. Metabolisable energy: 947 kcal/kg. (per 100g).

CAN 400g
-
-
-
Dog's Weight
LEAN
-
NORMAL
-
OVERWEIGHT
kg
(g / day)
can / day
(g / day)
can / day
(g / day)
can / day
2
220
1/2
195
1/2
170
1/2
4
370
1
330
3/4
285
3/4
6
505
1 1/4
445
1
385
1
8
625
1 1/2
550
1 1/2
475
1 1/4
10
740
1 3/4
650
1 3/4
560
1 1/2
15
1 005
2 1/2
885
2 1/4
760
2
20
1 245
3
1 095
2 3/4
945
2 1/4
25
1 470
3 3/4
1 295
3 1/4
1 120
2 3/4
30
1 685
4 1/4
1 485
3 3/4
1 280
3 1/4
35
1 895
4 3/4
1 665
4 1/4
1 440
3 1/2
40
2 095
5 1/4
1 840
4 1/2
1 590
4
45
2 285
5 3/4
2 010
5
1 735
4 1/4
50
2 475
6 1/4
2 175
5 1/2
1 880
4 3/4
60
2 835
7
2 495
6 1/4
2 155
5 1/2
70
3 185
8
2 800
7
2 420
6
80
3 520
8 3/4
3 095
7 3/4
2 675
6 3/4
-
-
-
CAN 400g
-
-
-
Dog's
-
LEAN
NORMAL
OVERWEIGHT
-
weight (kg)
-
-
-
MIXED FEEDING RATION TABLE with Hypoallergenic dry
-
-
-
CAN(400g) +
(g ) DRY
(g ) DRY
(g ) DRY
-
2
1/4
29
22
16
-
4
1/4
64
54
43
-
6
1/4
95
81
67
-
8
1/4
124
106
89
-
10
1/4
151
130
109
-
15
1/2
190
161
133
-
20
1/2
247
211
176
-
25
1/2
300
258
217
-
30
1
304
256
208
-
35
1
352
299
245
-
40
1
400
340
281
-
45
1
445
380
316
-
50
1
490
419
349
-
60
1
575
495
414
-
70
1
657
567
477
-
80
1
736
637
537
-