Neutered Junior Medium
Neutered Medium Junior can be fed to medium breed puppies (adult weight of 11-25kg) from the time your dog is neutered until the time it reaches adulthood (12 months). Neutered diets can help prevent obesity while providing all the nutrients needed for healthy growth.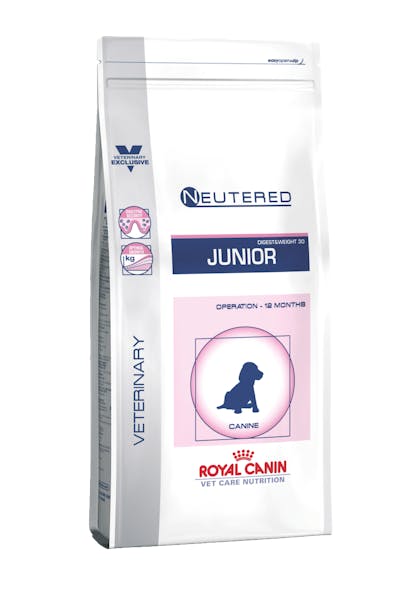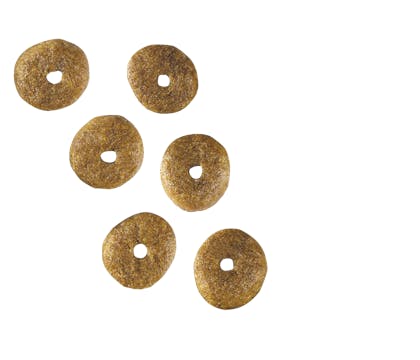 Digestive security

Combination of highly digestible proteins (L.I.P*), prebiotics, sugar beet pulp, rice and fish oil to help maintain a healthy digestive system.

Optimal growth

Combination of an exclusive formula reduced in calories with high satietogenic power, an exclusive kibble and adjusted feeding guidelines to help promote ideal bodyweight during growth in neutered growing dogs.

Skin & coat

Inclusion of several key nutrients (including omega 3 & 6 fatty acids) to help reinforce the coat's natural beauty and to help protect the skin.

Natural defence support

Association of prebiotics with a synergistic antioxidant complex including vitamin E, vitamin C, taurine & lutein, to help support the immune system of growing dogs.

This diet helps prevent obesity with a specific blend of fibres, high protein and low fat content and specific nutrients that help transform fat into energy. It is tailored to include dental support specifically for small dogs and can be fed throughout the dog's adult life.
Composition: maize, dehydrated poultry protein, dehydrated pork protein, animal fats, wheat flour, rice, barley, hydrolysed animal proteins, beet pulp, wheat gluten*, minerals, vegetable fibres, fish oil, soya oil, psyllium husks and seeds, fructo-oligo-saccharides, hydrolysed yeast (source of manno-oligo-saccharides), borage oil, marigold extract (source of lutein). Additives (per kg): Nutritional additives: Vitamin A: 17300 IU, Vitamin D3: 1000 IU, E1 (Iron): 44 mg, E2 (Iodine): 3.4 mg, E4 (Copper): 9 mg, E5 (Manganese): 58 mg, E6 (Zinc): 190 mg, E8 (Selenium): 0.08 mg - Preservatives - Antioxidants. Analytical constituents: Protein: 30% - Fat content: 17% - Crude ash: 6.7% - Crude fibres: 2.6%. Metabolisable energy 388.3kcal. *L.I.P.: protein selected for its very high assimilation.

| Adult weight | 6 months | 7 months | 8 months | 9 months | 10 months | 11 months | 12 months |
| --- | --- | --- | --- | --- | --- | --- | --- |
| 12 kg | 222 g (2 4/8 cups) | 201 g (2 2/8 cups) | 180 g (2 cups) | 161 g ( 1 6/8 cups) | 159 g (1 6/8) | 157 g (1 6/8 cups) | - |
| 14 kg | 250 (2 6/8 cups) | 232 g (2 5/8 cups) | 216 g (2 3/8 cups) | 197 g (2 2/8 cups) | 179 g (2 cups) | 177 g (2 cups) | - |
| 15 kg | 264 g (3 cups) | 245 g (2 6/8 cups) | 228 g (2 5/8 cups) | 208 g (2 3/8 cups) | 189 g (2 1/8 cups) | 187 g (2 1/8 cups) | 187 g (2 1/8 cups) |
| 16 kg | 276 g (3 1/8 cups) | 257 g (2 7/8 cups) | 239 g (2 6/8 cups) | 219 g (2 4/8 cups) | 196 g (2 2/8 cups) | 196 g (2 2/8 cups) | 196 g (2 2/8 cups) |
| 18 kg | 302 g (3 3/8 cups) | 281 g (3 1/8 cups) | 261 g (3 cups) | 239 g (2 6/8 cups) | 217 g (2 4/8 cups) | 215 g (2 3/8 cups) | 213 g (2 3/8 cups) |
| 20 kg | 327 g (3 6/8 cups) | 305 g (3 3/8 cups) | 284 g (3 2/8 cups) | 259 g (2 7/8 cups) | 236 g (2 5/8 cups) | 233 g (2 5/8 cups) | 231 g (2 5/8 cups) |
| 22 kg | 352 g (4 cups) | 349 g (3 7/8 cups) | 316 g (3 4/8 cups) | 284 g (3 28 cups) | 253 g (2 7/8 cups) | 251 g (2 7/8 cups) | 249 g (2 6/8 cups) |
| 24 kg | 376 g (4 cups) | 373 g (4 2/8 cups) | 338 g (3 6/8 cups) | 304 g (3 3/8 cups) | 271 g (3 cups) | 269 g (3 cups) | 267 g (3 cups) |
| 25 kg | 388 g (4 1/8 cups) | 385 g (4 3/8 cups) | 349 g (3 7/8 cups) | 313 g (3 4/8 cups) | 280 g (3 1/8 cups) | 278 g (3 1/8 cups) | 276 g (3 1/8 cups) |