Pediatric Junior Large Dog
Pediatric Junior Large Dog is a nutritionally balanced diet for large breed puppies (adult weight of over 25kg) 2-15 months old (or until neutered). Young dogs need nutrients to promote healthy growth while strengthening the natural defences of their immune systems. They require higher levels of protein, energy, vitamins and minerals than adults. This complete diet takes into account the specific digestive and joint maintenance needs of large breed dogs and provides support during this crucial growth stage.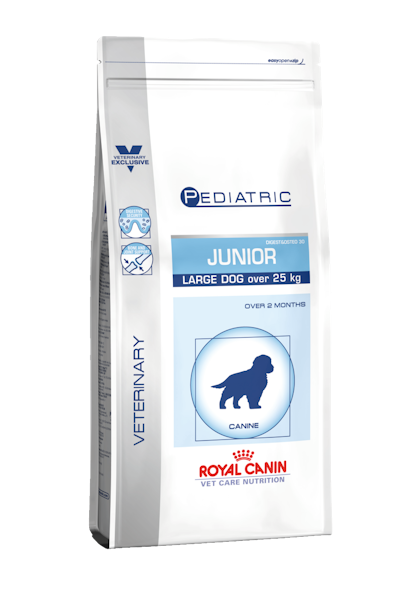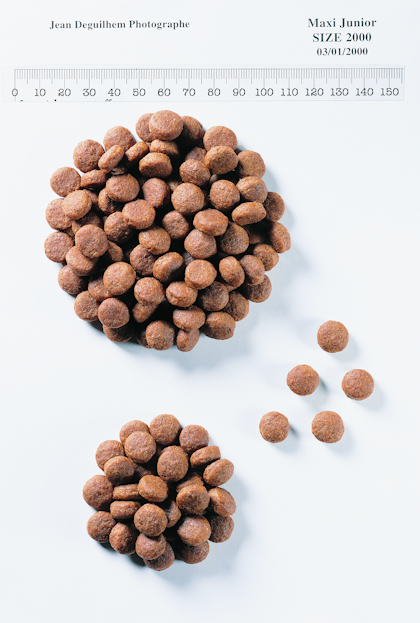 Digestive security

Combination of highly digestive proteins (L.I.P - Low Indestible Proteins), prebiotics, sugar beet pulp, rice and fish oil to ensure maximum digestive security.

Bone and joint support

Balanced protein and mineral formula with inclusion of omega fatty acids particularly EPA & DHA to protect and nourish the bones and joints of growing dogs.

Intense hair colour

Inclusion of increased contents of melanin precursors, particularly tyrosine and phenylalanine, with chelated copper, to enhance the natural colour of the coat.

Natural defences support

Association of prebiotics with a patented synesgistic antioxidant complex including high contents of vitamin E, vitamin C, taurine and luteine to support natural defences of growing dogs.
Composition: maize, dehydrated poultry protein, dehydrated pork protein, rice, wheat flour, wheat gluten*, animal fats, hydrolysed animal proteins, beet pulp, minerals, soya oil, fish oil, vegetable fibres, fructo-oligo-saccharides, psyllium husks and seeds, hydrolysed yeast (source of manno-oligo-saccharides), hydrolysed crustaceans (source of glucosamine), marigold extract (source of lutein), hydrolysed cartilage (source of chondroitin). Additives (per kg): Nutritional additives: Vitamin A: 17800 IU, Vitamin D3: 1000 IU, E1 (Iron): 45 mg, E2 (Iodine): 3.5 mg, E4 (Copper): 9 mg, E5 (Manganese): 58 mg, E6 (Zinc): 190 mg, E8 (Selenium): 0.08 mg - Preservatives - Antioxidants. Analytical constituents: Protein: 30% - Fat content: 14% - Crude ash: 7.8% - Crude fibres: 1.9%. Metabolisable energy: 381.3 kcal. *L.I.P.: protein selected for its very high assimilation.

Adult weight
25 kg
-
30 kg
-
35 kg
-
40 kg
-
44 kg
2 months
235 g
2+3/8 cup
240 g
2+4/8 cup
255 g
2+5/8 cup
280 g
2+7/8 cup
310 g
3+1/8 cup
3 months
285 g
2+7/8 cup
300 g
3 cup
335 g
3+3/8 cup
370 g
3+6/8 cup
405 g
4+1/8 cup
4 months
305 g
3+1/8 cup
340 g
3+4/8 cup
380 g
3+7/8 cup
415 g
4+2/8 cup
445 g
4+4/8 cup
5 months
355 g
3+5/8 cup
400 g
4+1/8 cup
445 g
4+4/8 cup
490 g
5 cup
530 g
5+3/8 cup
8 months
390 g
4 cup
445 g
4+4/8 cup
500 g
5+1/8 cup
550 g
5+5/8 cup
595 g
6 cup
10 months
380 g
3+7/8 cup
435 g
4+3/8 cup
490 g
5 cup
540 g
5+4/8 cup
580 g
6 cup
12 months
375 g
3+6/8 cup
425 g
4+3/8 cup
480 g
4+7/8 cup
530 g
5+3/8 cup
570 g
5+6/8 cup
14 months
370 g
3+6/8 cup
420 g
4+2/8 cup
475 g
4+7/8 cup
520 g
5+2/8 cup
560 g
5+6/8 cup
15 months
Adult<br />Large Dog
-
Adult<br />Large Dog
-
Adult<br />Large Dog
-
Adult<br />Large Dog
-
Adult<br />Large Dog