Pediatric Junior Medium Dog
Pediatric Junior Medium Dog is a nutritionally balanced diet for medium breed/size puppies (adult weight of 11-25kg) 2-12 months old (or until neutered). Young dogs need nutrients to promote healthy growth while strengthening the natural defences of their immune systems. They require higher levels of protein, energy, vitamins and minerals than adults. This diet takes into account the specific digestive and skin maintenance needs of medium breed dogs and provides support during this crucial growth stage.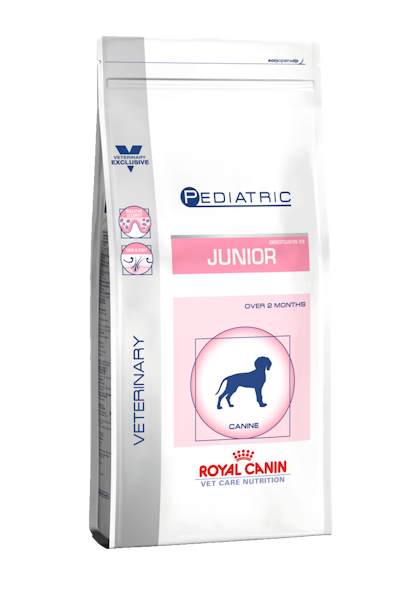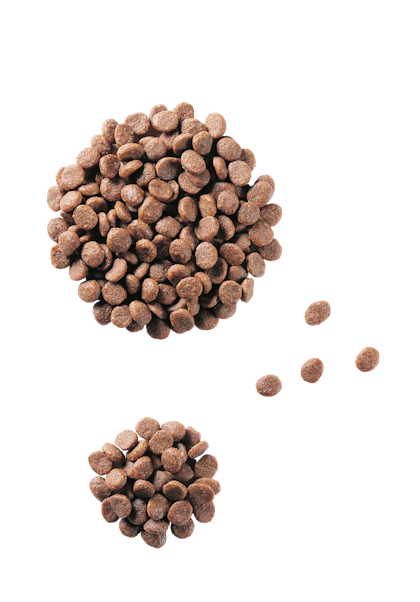 Digestive security

Combination of highly digestive proteins (L.I.P - Low Indestible Proteins), prebiotics, sugar beet pulp, rice and fish oil to ensure maximum digestive security.

Skin & coat

Inclusion of several key nutrients to reinforce the coat's natural beauty and to help protect the skin

Enhanced flavour

The specific formulation, the selection of exclusive and natural flavours, as well as the perfect preservation of the product (thansk to the controlled atmosphere), help garantee an optimal palatability.

Natural defences support

Association of prebiotics with a patented synesgistic antioxidant complex including high contents of vitamin E, vitamin C, taurine and luteine to support natural defences of growing dogs.
Composition: dehydrated poultry protein, maize, animal fats, dehydrated pork protein, rice, wheat flour, hydrolysed animal proteins, beet pulp, minerals, vegetable fibres, wheat gluten*, soya oil, fish oil, fructo-oligo-saccharides, hydrolysed yeast (source of manno-oligo-saccharides), borage oil, marigold extract (source of lutein). Additives (per kg): Nutritional additives: Vitamin A: 17600 IU, Vitamin D3: 1000 IU, E1 (Iron): 40 mg, E2 (Iodine): 3.1 mg, E4 (Copper): 9 mg, E5 (Manganese): 53 mg, E6 (Zinc): 173 mg, E8 (Selenium): 0.06 mg - Preservatives - Antioxidants. Analytical constituents: Protein: 29% - Fat content: 20% - Crude ash: 6.8% - Crude fibres: 2.4%. Metabolisable energy: 408.7 kcal. *L.I.P.: protein selected for its very high assimilation.

Adult Weight
10 kg
-
12 kg
-
14 g
-
15 kg
-
16 kg
-
18 kg
-
20 kg
-
22 kg
-
25 kg
2 months
150 g
1+3/8 cup
170 g
1+5/8 cup
190 g
1+6/8 cup
200 g
1+7/8 cup
210 g
2 cup
225 g
2+1/8 cup
240 g
2+2/8 cup
250 g
2+3/8 cup
270 g
2+4/8 cup
3 months
175 g
1+5/8 cup
195 g
1+7/8 cup
220 g
2+1/8 cup
230 g
2+1/8 ucp
240 g
2+2/8 cup
265 g
2+4/8 cup
285 g
2+6/8 cup
300 g
2+7//8 cup
325 g
3+1/8 cup
4 months
185 g
1+6/8 cup
210 g
2 cup
235 g
2+2/8 cup
250 g
2+2/8 cup
260 g
2+4/8 cup
285 g
2+6/8 cup
305 g
2+7/8 cup
325 g
3+1/8 cup
355 g
3+3/8 cup
5 months
185 g
1+6/8 cup
210 g
2 cup
235 g
2+2/8 cup
250 g
2+2/8 cup
260 g
2+4/8 cup
285 g
2+6/8 cup
310 g
2+7/8 cup
330 g
3+1/8 cup
365 g
3+4/8 cup
6 months
185 g
1+6/8 cup
210 g
2 cup
235 g
2+2/8 cup
250 g
2+2/8 cup
260 g
2+4/8 cup
285 g
2+6/8 cup
310 g
2+7/8 cup
330 g
3+1/8 cup
365 g
3+4/8 cup
8 months
180 g
1+6/8 cup
205 g
2 cup
230 g
2+1/8 cup
245 g
2+1/8 cup
255 g
2+4/8 cup
280 g
2+5/8 cup
300 g
2+7/8 cup
320 g
3 cup
360 g
3+3/8 cup
9 months
180 g
1+6/8 cup
205 g
2 cup
230 g
2+1/8 cup
240 g
2+1/8 cup
250 g
2+3/8 cup
275 g
2+5/8 cup
300 g
2+7/8 cup
320 g
3 cup
355 g
3+3/8 cup
10 months
175 g
1+5/8 cup
200 g
1+7/8 cup
225 g
2+1/8 cup
240 g
2+1/8 cup
250 g
2+3/8 cup
275 g
2+5/8 cup
295 g
2+6/8 cup
315 g
3 cup
350 g
3+3/8 cup
12 months
175 g
1+5/8 cup
200 g
1+7/8 cup
225 g
2+1/8 cup
235 g
2+1/8 cup
245 g
2+3/8 cup
270 g
2+4/8 cup
290 g
2+6/8 cup
310 g
2+7/8 cup
345 g
3+2/8 cup