Satiety Weight Management Can
Satiety Weight Management loaf is a complete dietetic feed for adult dogs formulated to reduce excessive body weight. This feed has a low energy density. Recommendation: Feed this diet until the target body weight is achieved.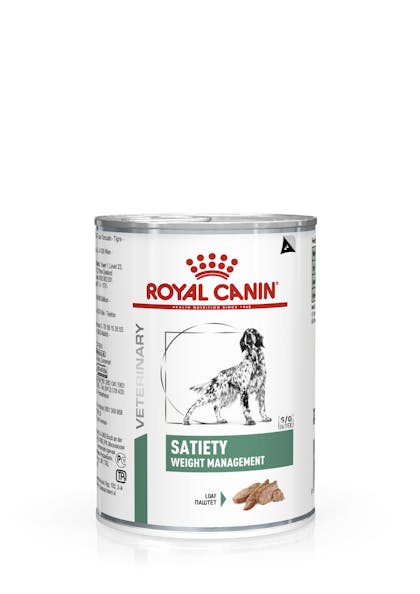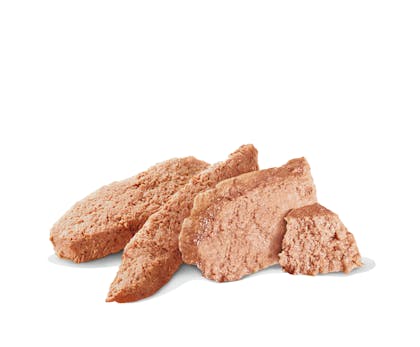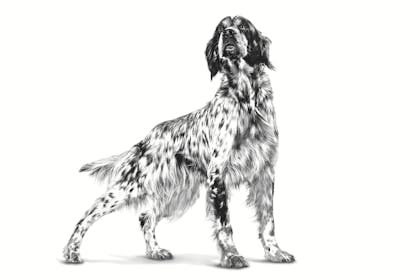 Muscle mass maintenance

High protein content helps maintain muscle mass during weight loss.

Effective weight management

Helps provide safe weight loss and avoid weight regain.

Begging control

Nutritional concept that helps keep dogs satisfied between meals.

RECOMMENDED FOR WEIGHT LOSS AND MAINTENANCE AFTER WEIGHT LOSS IN CASE OF: Overweight/Obesity | Hyperlipidemia with overweight/obesity | Stabilsed Diabetes Mellitus with overweight/obesity. NOT RECOMMENDED IN CASE OF: Growth | gestation | lactation.
COMPOSITION: Meat and animal derivatives, derivatives of vegetable origin, cereals, oils and fats, minerals, molluscs and crustaceans.

ADDITIVES (per kg): Nutritional additives: Vitamin D3: 290 IU, E1 (Iron): 6.5 mg, E2 (Iodine): 0.2 mg, E4 (Copper): 1.8 mg, E5 (Manganese): 2 mg, E6 (Zinc): 20 mg - Technological additives: Clinoptilolite of sedimentary origin: 1 g.

Protein: 8.0% - Fat content: 2.0% - Crude ash: 1.0% - Crude fibres: 2.0% - Moisture: 83.0% - metabolisable energy: 579KCal/Kg.

Guaranteed analysis g/kg: Crude protein (min) 60 - Moisture (max) 860 - Crude fat (min) 0 - Crude fibre (max) 30 - Crude ash (max) 11.

See table. Batch number, factory registration number and best before date: see information on packaging. To be stored in a cool, dry place. (for 195g only) Feeding instruction: for a 10Kg dog give 3¼ can/day or less if fed in combination with dry food. Adjust to the needs of your pet and the rate of weight loss. Batch number, factory registration number and best before date: see information on packaging. To be stored in a cool, dry place.

| Dog's weight (Mix feeding guidelines) | Can - wet | Start - dry (g) | 4 weeks after, if not weight loss acheived - dry (g) | Maintenance after weight loss - dry (g) |
| --- | --- | --- | --- | --- |
| 2kg | 1/4 | 20 | 14 | 18 |
| 4kg | 1/2 | 27 | 16 | 23 |
| 6kg | 1/2 | 53 | 39 | 47 |
| 8kg | 1/2 | 77 | 60 | 70 |
| 10kg | 1 | 53 | 32 | 44 |
| 15kg | 1 | 105 | 77 | 94 |
| 20kg | 1 | 153 | 118 | 139 |
| 25kg | 1 | 199 | 157 | 182 |
| 30kg | 1 | 242 | 193 | 222 |
| 40kg | 1 | 322 | 263 | 299 |
| 50kg | 1 | 399 | 328 | 370 |
| 60kg | 1 | 471 | 390 | 438 |