Sensitivity Control Chicken with Rice Can
Complete dietetic feed for adult dogs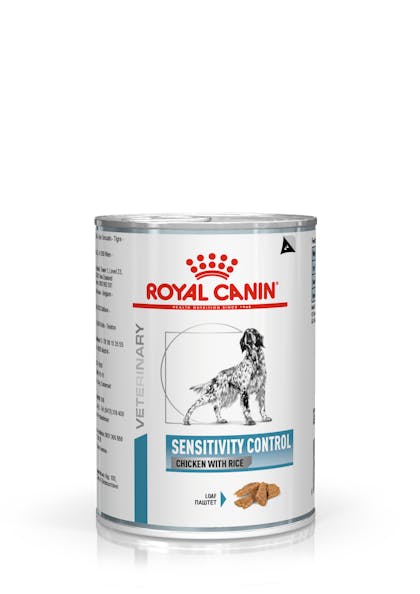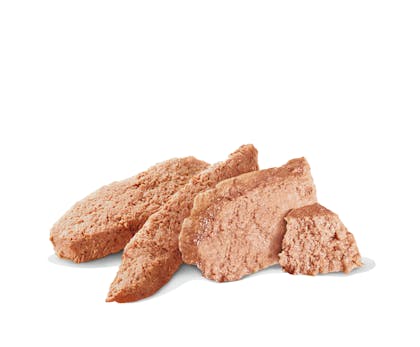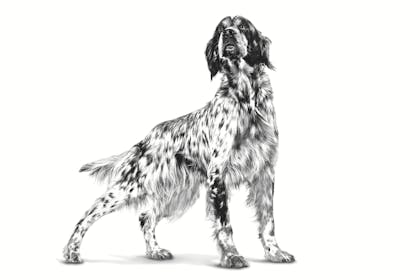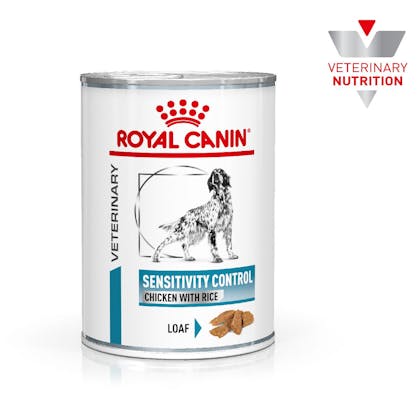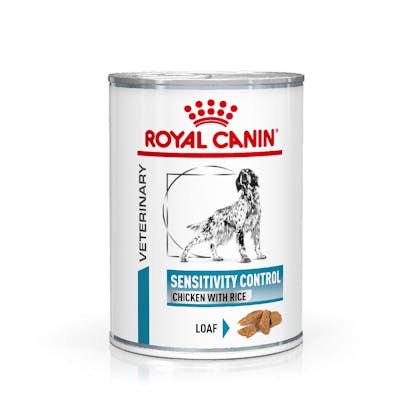 Selected Protein

A limited number of protein sources helps reduce the risk of food allergies.

Skin Barrier

Formulated to support the skin's natural protective barrier for optimal skin health.

EPA/DHA

Fatty acids to help maintain a healthy digestive system and a healthy skin.

Digestive Health

Adapted nutrients support a balanced digestive system.

Sensitivity Control is a scientifically formulated diet with selected proteins for the management of food intolerance, food allergy and gastrointestinal sensitivity. Sensitivity Control diets are useful as non-specific supportive diets for patients with gastrointestinal or dermatological disease. They are frequently used as a convenient, complete and balanced alternative to 'bland' home-cooked chicken and rice diets. RECOMMENDED FOR (INDICATIONS): Food hypersensitivity with dermatological and/or gastrointestinal signs | food intolerance | idiopathic chronic colitis| atopic dermatitis in dogs | acute or chronic diarrhoea. NOT RECOMMENDED FOR (CONTRAINDICATIONS): Pregnancy | lactation | growth | Pancreatitis.
COMPOSITION: meat and animal derivatives, cereals, derivatives of vegetable origin, oils and fats, minerals, various sugars. Selected source of protein: chicken (55%). Selected source of carbohydrate: rice (8%).

ADDITIVES (per kg): Nutritional additives: Vitamin D3: 270 IU, E1 (Iron): 6 mg, E2 (Iodine): 0.4 mg, E4 (Copper): 3.5 mg, E5 (Manganese): 1.7 mg, E6 (Zinc): 17 mg Technological additives: Clinoptilolite of sedimentary origin: 2.5 g.

Analytical Constituants: Protein: 9.5% - Fat content: 6.0% - Crude ash: 2.4% - Crude fibres: 1.5% - Moisture: 71.0% - EPA and DHA: 0.11% - Essential fatty acids (Linoleic Acid): 1.6%.

FOR RSA: Guaranteed analysis g/kg: Crude protein (min) 75 - Moisture (max) 740 - Crude fat (min) 40 - Crude fibre (max) 25 - Crude ash (max) 26.

| Dog's Weight | Thin (grams) | Thin (can) | Normal (grams) | Normal (can) | Overweight (grams) | Overweight (can) |
| --- | --- | --- | --- | --- | --- | --- |
| 2kg | 161 | 1/2 | 142 | 1/4 | 123 | 1/4 |
| 4kg | 271 | 3/4 | 239 | 2/4 | 206 | 2/4 |
| 6kg | 367 | 3/4 | 323 | 3/4 | 279 | 3/4 |
| 8kg | 456 | 1 | 401 | 1 | 347 | 3/4 |
| 10kg | 539 | 1+1/4 | 643 | 1+1/4 | 410 | 1 |
| 15kg | 731 | 1+3/4 | 643 | 1+2/4 | 555 | 1+1/4 |
| 20kg | 907 | 2+1/4 | 798 | 2 | 689 | 1+3/4 |
| 25kg | 1072 | 2+2/4 | 943 | 2+2/4 | 815 | 2 |
| 30kg | 1229 | 3 | 1081 | 2+2/4 | 934 | 2+1/4 |
| 35kg | 1379 | 3+1/4 | 1214 | 3 | 1048 | 2+2/4 |
| 40kg | 1525 | 3+3/4 | 1342 | 3+1/4 | 1159 | 2+3/4 |
| 45kg | 1665 | 4 | 1466 | 3+2/4 | 1266 | 3 |
| 50kg | 1802 | 4+1/4 | 1586 | 3+3/4 | 1370 | 3+1/4 |
| 55kg | 1936 | 4+2/4 | 1704 | 4 | 1471 | 3+2/4 |
| 60kg | 2067 | 5 | 1819 | 4+1/4 | 1571 | 3+3/4 |
| 70kg | 2320 | 5+2/4 | 2041 | 4+3/4 | 1763 | 4+1/4 |
| 80kg | 2564 | 6 | 1156 | 5+1/4 | 1949 | 4+3/4 |