Skin Support
Complete dietetic feed for adult dogs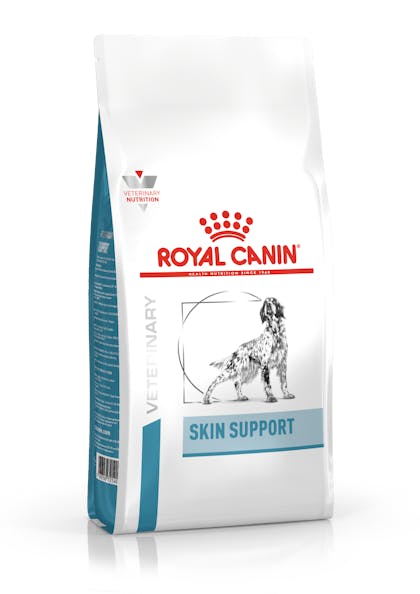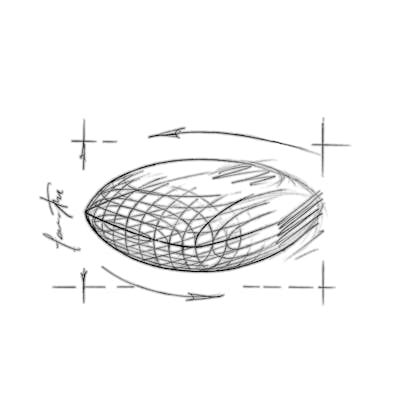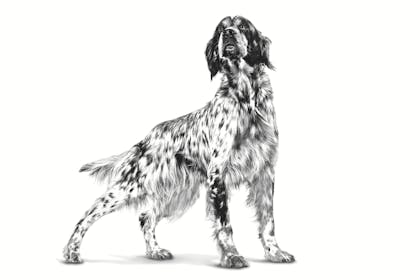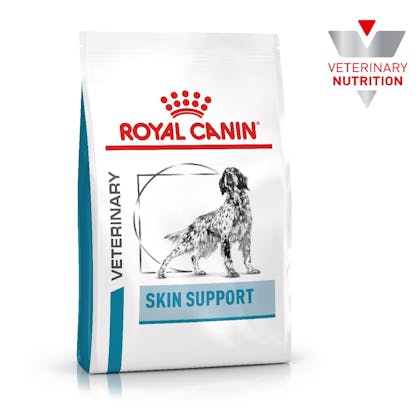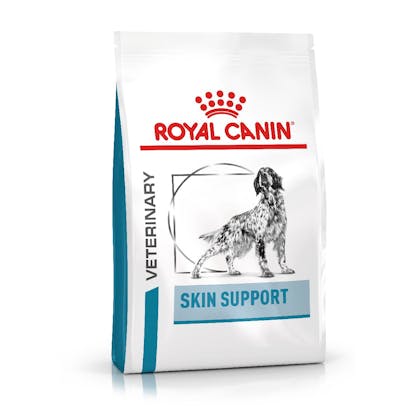 Skin support

A complex of nutrients to help support the skin's natural defences and support healing.

EPA/DHA

Fatty acids to help maintain a healthy digestive system and a healthy skin.

Skin barrier

Formulated to support the skin's natural protective barrier for optimal skin health. Enriched with Omega 3&6 fatty acids.

Antioxidant complex

A synergistic complex of antioxidants to help neutralise free radicals.

Tailored nutrition

In 1968 in the South of France, a veterinarian named Jean Cathary discovered he could help dogs heal more fully through tailored nutrition. In this visionary act, ROYAL CANIN was born. Today, using advanced veterinary science and careful observation to identify the most adapted nutrients, our 220+ individual formulas support the health of every individual cat and dog.
COMPOSITION: Rice, dehydrated poultry protein, hydrolysed animal proteins, animal fats, vegetable fibres, fish oil, minerals, beet pulp, soya oil, aloe vera extract (0.06%), borage oil, marigold extract (source of lutein).

ADDITIVES (per kg): Nutritional additives: Vitamin A: 29500 IU, Vitamin D3: 800 IU, Vitamin C: 280 mg, E1 (Iron): 39 mg, E2 (Iodine): 3.9 mg, E4 (Copper): 12 mg, E5 (Manganese): 51 mg, E6 (Zinc): 129 mg, E8 (Selenium): 0.08 mg - Curcumine extract: 4.4 g - Technological additives: Clinoptilolite of sedimentary origin: 10 g - Preservatives - Antioxidants.

ANALYTICAL CONSTITUANTS: Protein: 23.0% - Fat content: 15.0% - Crude ash: 8.1% - Crude fibres: 3.4%. Per kg: Essential fatty acid (Linoleic Acid): 30.4 g - EPA/DHA: 6.0 g - Omega 3: 12.0 g - Omega 6: 33.5 g - Taurine: 1.8 g.

FOR RSA: Guaranteed analysis g/kg: Crude protein (min) 210 - Moisture (max) 110 - Crude fat (min) 130 - Crude fibre (max) 44 - Crude ash (max) 89.

FEEDING INSTRUCTION: FEEDING INSTRUCTIONS: see table. Weight shown in the table is the target body weight. Batch number, factory registration number and best before date: see information on packaging. To be stored in a cool, dry place.

| | Thin | Thin | Normal | Normal | Overweight | Overweight |
| --- | --- | --- | --- | --- | --- | --- |
| Dog's weight | grams | cups | grams | cups | grams | cups |
| 2kg | 57 | 5/8 | 51 | 4/8 | 44 | 3/8 |
| 4kg | 97 | 1 | 85 | 7/8 | 73 | 6/8 |
| 6kg | 131 | 1 + 2/8 | 107 | 1 + 1/8 | 93 | 1 |
| 8kg | 163 | 1 + 5/8 | 143 | 1 + 3/8 | 124 | 1 + 2/8 |
| 10kg | 192 | 1 + 7/8 | 169 | 1 + 5/8 | 146 | 1 + 4/8 |
| 15kg | 260 | 2 + 5/8 | 229 | 2 + 2/8 | 198 | 2 |
| 20kg | 323 | 3 + 2/8 | 284 | 2 + 7/8 | 246 | 2 + 4/8 |
| 25kg | 382 | 3 + 6/8 | 336 | 3 + 3/8 | 290 | 2 + 7/8 |
| 30kg | 438 | 4 + 3/8 | 385 | 3 + 7/8 | 333 | 3 + 2/8 |
| 35kg | 492 | 4 + 7/8 | 433 | 4 + 2/8 | 374 | 3 + 6/8 |
| 40kg | 543 | 5 + 3/8 | 478 | 4 + 6/8 | 413 | 4 + 1/8 |
| 45kg | 594 | 5 + 7/8 | 522 | 5 + 1/8 | 451 | 4 + 4/8 |
| 50kg | 642 | 6 + 3/8 | 565 | 5 + 5/8 | 488 | 4 + 7/8 |
| 55kg | 690 | 6 + 7/8 | 607 | 6 | 524 | 5 + 4/8 |
| 60kg | 736 | 7 + 2/8 | 648 | 6 + 3/8 | 560 | 5 + 4/8 |
| 70kg | 827 | 8 + 2/8 | 728 | 7 + 2/8 | 628 | 6 + 1/4 |
| 80kg | 914 | 9 + 1/8 | 804 | 8 | 695 | 6 + 7/8 |