Fibre Response
Complete feed for adult dogs.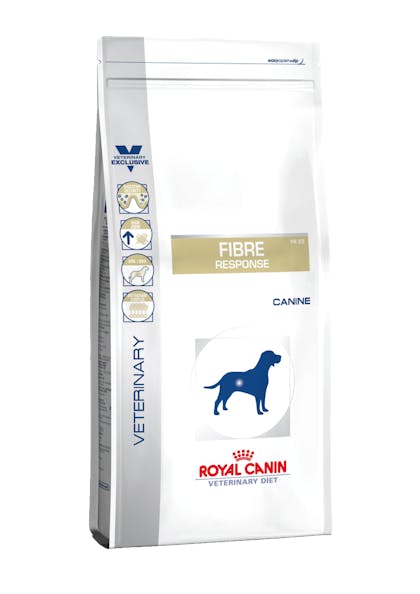 Digestive security

Combination of highly digestible proteins (L.I.P - Low indisgestible proteins), prebiotics, sugar beet pulp, rice and fish oil to ensure maximum digestive security.

High fibre

High fibre content to address fibre responsive diarrhoea and colitis.

EPA/DHA

Eicosapentaenoic and docosahexaenoic acids, omega-3 long chain fatty acids, contribute to the health of the digestive system.

Antioxidant complex

The synergistic antioxidant complex reduces oxidative stress and fights free radicals.
| Dog weight | 2 kg | - | 5 kg | - | 10 kg | - | 15 kg | - | 20 kg | - | 30 kg | - | 40 kg | - | 50 kg | - | 60 kg | - | 70 kg | - | 80 kg | - |
| --- | --- | --- | --- | --- | --- | --- | --- | --- | --- | --- | --- | --- | --- | --- | --- | --- | --- | --- | --- | --- | --- | --- |
| | (g) | Cup | (g) | Cup | (g) | Cup | (g) | Cup | (g) | Cup | (g) | Cup | (g) | Cup | (g) | Cup | (g) | Cup | (g) | Cup | (g) | Cup |
| Thin | 80 g | 7/8 | 160 g | 1+6/8 | 265 g | 3 | 355 g | 4 | 435 g | 5 | 585 g | 6+6/8 | 725 g | 8+2/8 | 850 g | 9+6/8 | 985 g | 11+1/8 | 1105 g | 12+4/8 | 1215 g | 13+5/8 |
| Normal | 65 g | 6/8 | 125 g | 1+4/8 | 210 g | 2+3/8 | 285 g | 3+2/8 | 350 g | 4 | 470 g | 5+3/8 | 580 g | 6+5/8 | 680 g | 7+6/8 | 790 g | 8+7/8 | 885 g | 10 | 975 g | 11 |
| Overweight | 50 g | 5/8 | 95 g | 1+1/8 | 160 g | 1+6/8 | 210 g | 2+3/8 | 260 g | 3 | 350 g | 4 | 435 g | 5 | 510 g | 5+7/8 | 590 g | 6+5/8 | 660 g | 7+3/8 | 730 g | 8+2/8 |